I am completely packed two days before we are to leave. I have checked the weather innumerable times expecting to see a beautiful forcast spoiled by rain.
Day 1:
I wake early to a misting, dreary morning. I eat a quick breakfast and head over to my father-in-law's. After some final tweeks, Mark and I are off feeling excited to finally be off on an andventure. The sky begins to clear and is gorgeous until we reach the TN/KY border. As we pull into a Shell station, the clouds unfurl their dark malice and the rain begins to fall. I quickly go to pull my raincover from my saddlebags and, much to my dismay, find that the bags have begun to melt themselves to my carbon fibre exhaust. In a panic, Mark and I try to think of a quick solution... Aluminum Foil! I rush into the station, grab and pay for the foil, and rush to create a barrier between my exhaust and the bag. This seems to work and we are again on our way.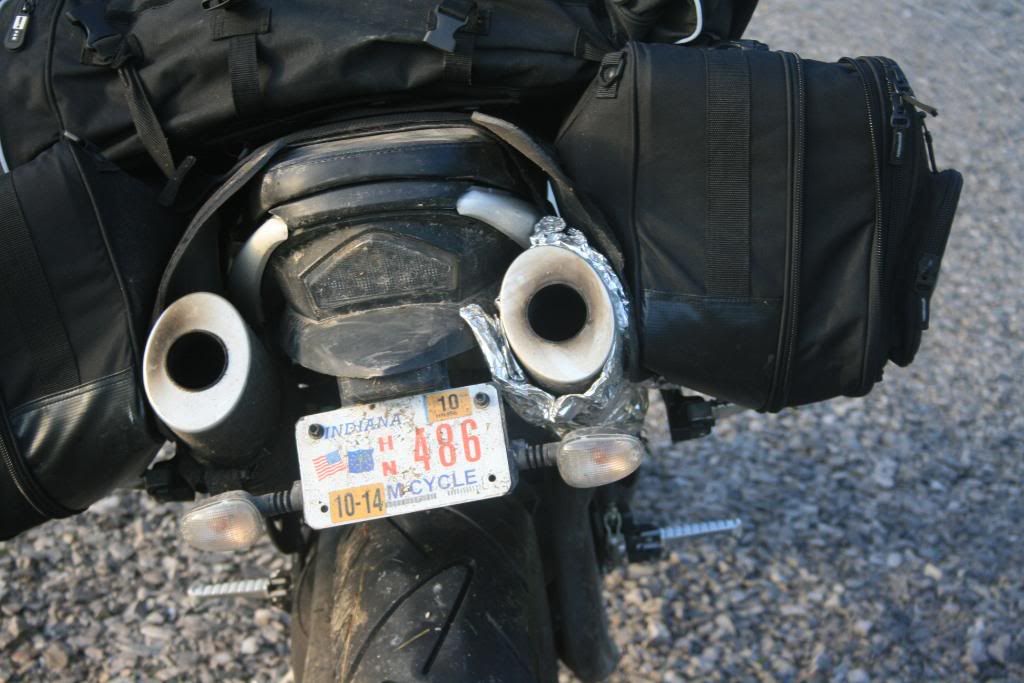 Uneventfully, we arrive in Maryville, TN and eat at Fridays. We then pick our way towards the Caney Creek Villages where I had reserved a primitive cabin for $19. As we turn south on 360, the heavens let loose once more. This time, the downpour spoils an absolutely fabulous road. Wonderfully smooth, 360 tests our fortitude with ever tightening turns slick with the new rain. We arrive thankfully at our cabin to be met unexpectedly by a group of Native Americans in traditional garb. The Overhill Cherokee Tribe is having their annual meeting and unfortunately would not pose for pictures. With the wind howling, we fall into an uneasy slumber.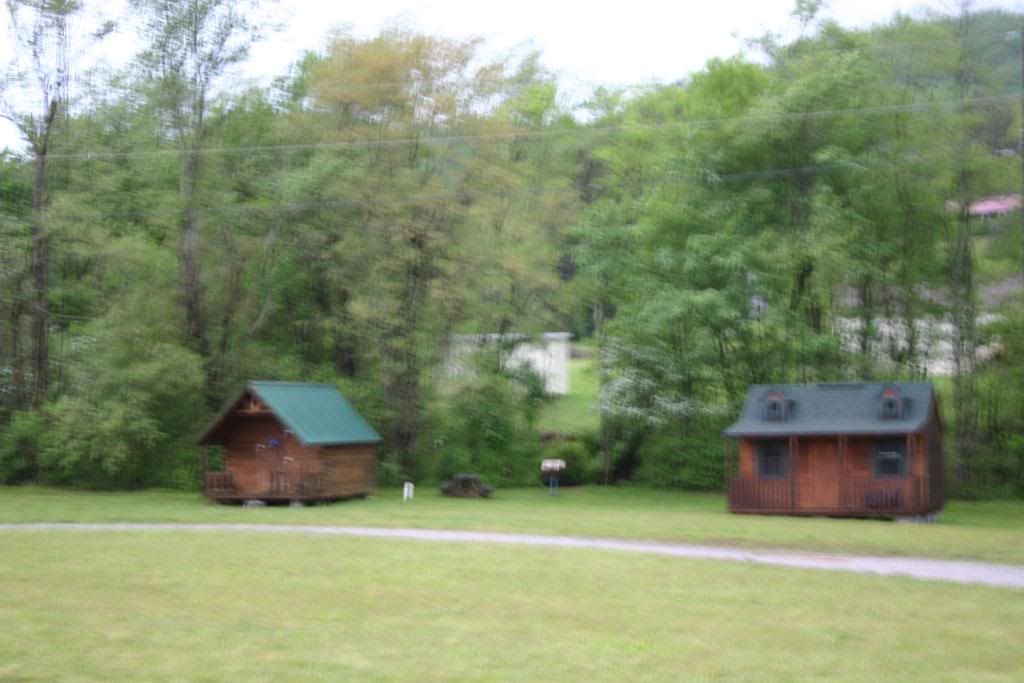 Day 2:
The previous night's storm had been a bad one, with branches and leaves strewn across the road. Excited at the prospect of challenging roads, we pack and leave early. Riding along 360, I give thanks that the weather has moved on and we were facing a perfect day. With debris on the road, we make our way conservatively towards the Cherahola Skyway. As we enter the Skyway, I relax and begin leaning into each sweeping corner. As tempting as it is to ride at a racing pace, I fight my urge and keep my speeds sane marveling at the wonders that open up at each lookout. The mountains deserve their smoking reputation. I try hard not to stop at each and every lookout knowing that we have a dragon waiting to be slain. Since everything had been closed near the cabin, we stopped in Robbinsonville, TN for a late breakfast. The Phillips Smokey Mountain Restaurant was the only place open this fine Sunday, and were gracious enough to sling out some omlettes at 10:30am when we arrived.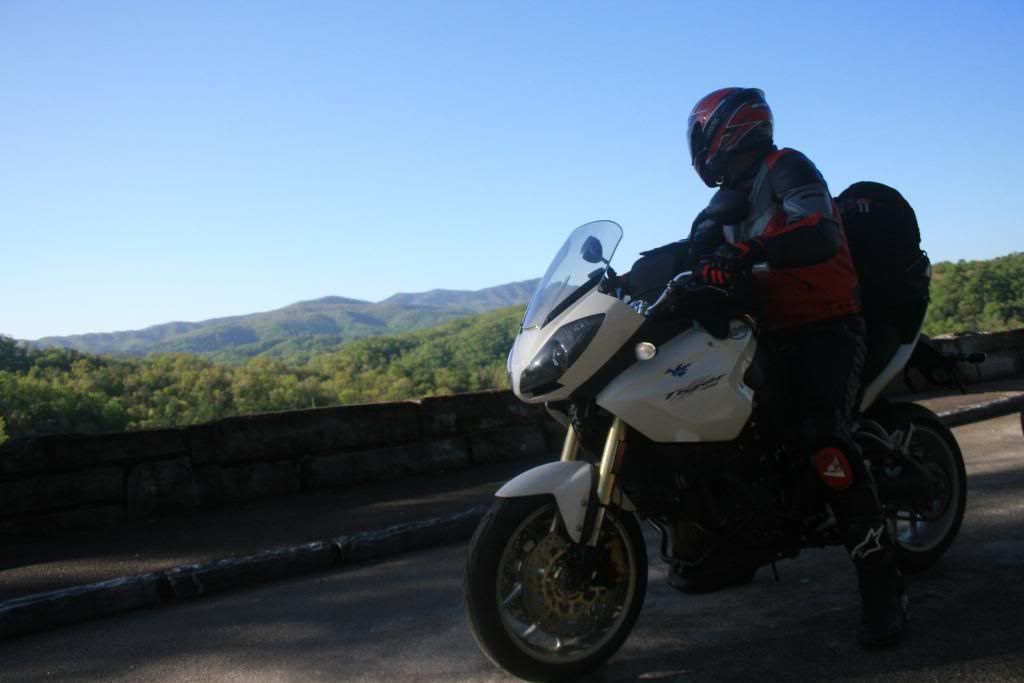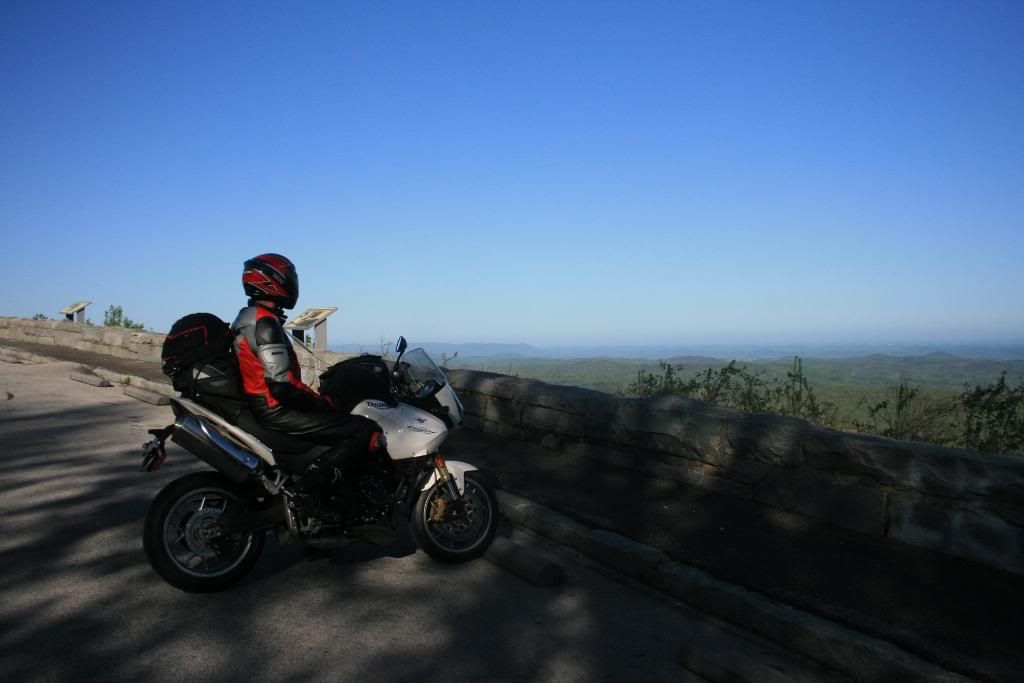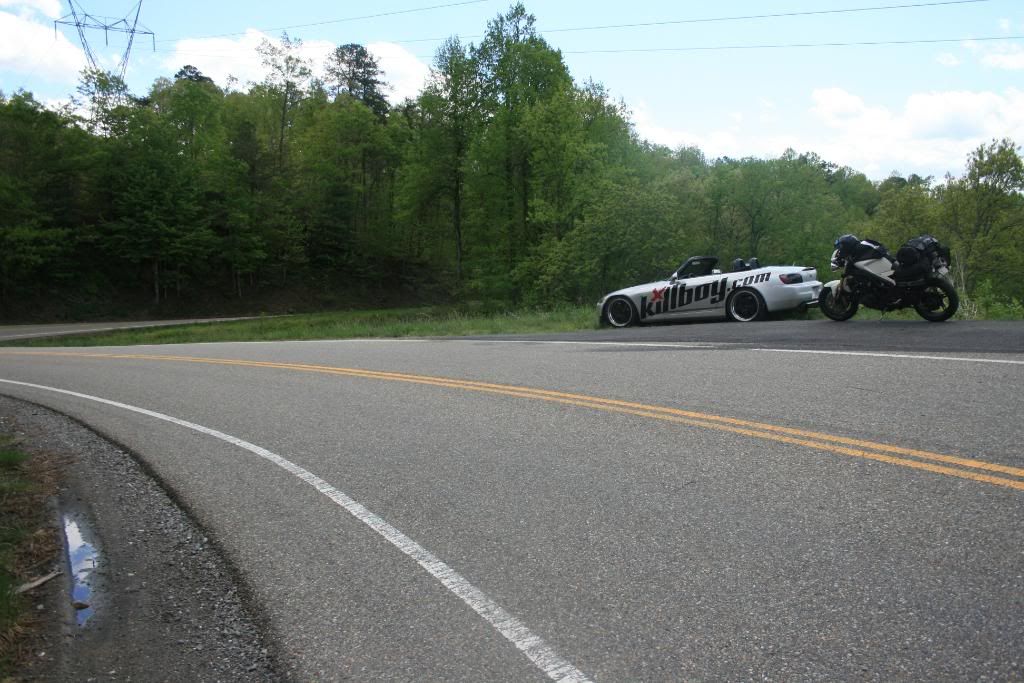 I did not expect much from the Dragon with reports of a rockslide and the police posting a "no tolerance" attitude. Boy, were we in for a treat! We entered the Dragon following a Tennessee State Trooper all the way up until one mile before the closed section. We quickly turned around as he continued, and blasted down the Dragon. That was so much fun! Each corner ever tightening with views that could capture your attention briefly then back to the road. You could not ask for better tarmac! We reach the bottom and I turn around to ride back up. Mark stays behind as I rocket once again up the mountain. I stop briefly to interview Killboy, the unofficial photography for the Dragon" then ride back to Deals Gap. Mark and I then turn south onto Moonshiner 28. What an unexpected surprise! This road was as good as the Dragon and the Cherohala! The road follows a river with serene views every 10 feet. After an hour, we somehow missed a turn and find ourselves on a fast, sweeping four lane highway. To make up time, we hit 411 south to 17 west into Helen, GA. Helen is a touristy German town with a decidedly Southern flair. We stop into Han's Restaurant for a Rueben sandwich and a cold beer. Refreshed, we leave Helen and head towards our accomodations at Two Wheel Only motorcycle resort in Suches, GA. Immediately upon leaving Helen, we make a wrong turn onto an awe inspiring road with wide, smooth pavement and very tight turns. We flog our Triumphs mercilessly until we finally realize that we are lost. Stopping for gas, we find that we are in Clayton, GA! It is 9:30pm and we are an hour and a half away from Suches. We head west on interstate 76 until we can head south on 129. Arriving at TWO, we are miserably tired and bickering with each other until we are met by two young guys camping at the resort. They are a month into hiking the Appilacian trail. We also talk to another couple who has stayed at the resort for the last 3 days. They tell us that 129 we had just ridden has 300 feet drop offs and is filled with gravel. We look at each other realizing how lucky we are to be here safely and turn in for the night.