New lil adventure bike--DR650
---
Got a Suzuki DR650 this week--an '03 with less than 2k miles on it, and some good touring mods.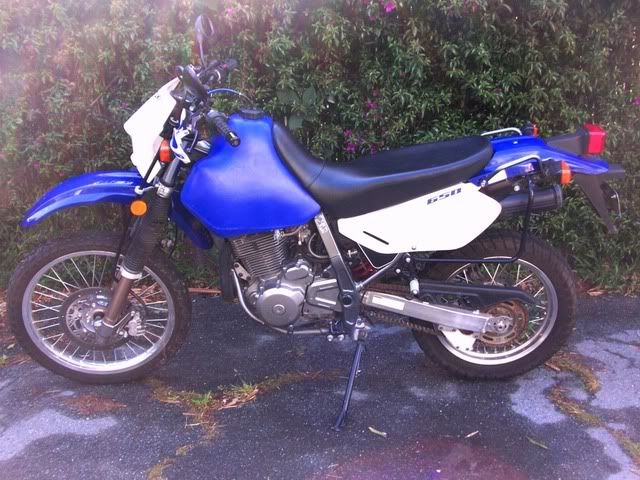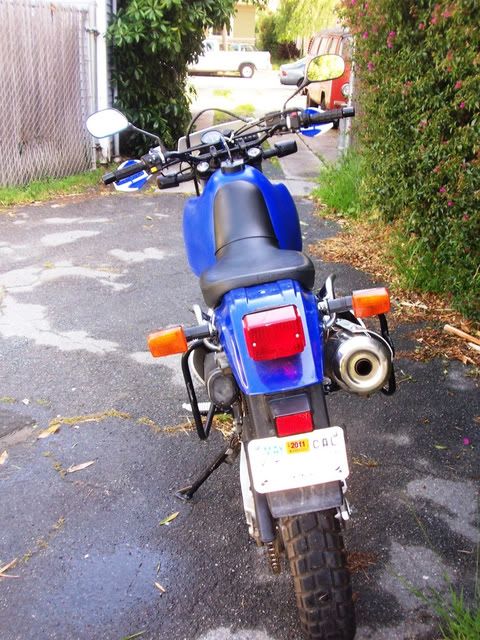 I'm looking forward to learning some dirt skills, heading down dirt roads to beautiful remote campsites, touring the southwest and maybe, someday, Alaska...
Mods so far:
IMS 4.9-gallon tank (not sure of tank range yet, should be around 200 miles)
Leather Corbin seat
Dirt Bags saddlebags/brackets and duffle bag
FIAMM horn (HONK! Used to good effect already)
Big Parabellum windscreen (will add for long tours)
Mods on the way:
EBay "BBQ" rear luggage rack
Case savers and skid plate
Giant Loop waterproof tank bag
Iridium plugs
Agri-Supply tractor manual tube, for use as tool tube
Mods wanted:
Aluminum bars and handguards (any recommendations?)
Heated grip inserts
Front and rear suspension upgrades from Cogent Dynamics
Small daytrip windscreen
Brighter headlight bulb
Avon Gripster tires
---
Very nice, so have you joined
ADV
yet? Many people there are DR riders. Great way to meet many dual-sporters that can show you the local roads, specifically the regional section.
---
Gets censored
Join Date: Jun 2009
Location: FL
Posts: 1,839
Rep Power:
1
SWEET, ive been eyeballin a drz400 around here.... thinkin about it. you'll enjoy that.
---
Yep, I've been over at the ADVrider site pickin' some brains. Between that and the local forum (Bay Area Riders Forum) I have offers for rides ranging from a day at Hollister to a trip across the Trans America Trail!
---
GLG-20
Join Date: Aug 2009
Location: Huntsville, AL
Posts: 1,362
Rep Power:
1
The DR is a good, solid bike. Another good forum can be found at
ThumperTalk
.
If you ever decide you want to change the behavior of the bike, there is a thread on a carburetor swap that is an interesting read:
Keihin 39mm FCR-MX Install, DR650 - ThumperTalk Community
It's 180+ pages now, so I wouldn't expect you to read the whole thing!
I did this to my bike and got rid of the low-RPM hiccup that the stock CV carb can cause. The stock carb does give good MPG, though.
Stu
---
'96 DR650, '01 SV650, '10 Aprilia Tuono 1000R
Fool in the Rain
Join Date: Feb 2006
Location: Louisville, Kentucky
Posts: 10,285
Rep Power:
1
"Honk!" Haha.

Good looking machine.
---
"Towards the end of the vid, it looks like she may have had a bafflectomy." - MarylandMike
congrats, that is a good looking bike, you might want to have the chain and sprocket looked at, it looks a little rusty. other than that I think you're going to really enjoy DS bike. I bought a XR650R street legal a couple of months back and have not stopped grinning since. There is whole other world out there once you get off the pavement. "Adventure Rider" and "Thumper Talk" are both great forums, with lots of good information and endless opportunities for different rides.
---
Thanks. I'm intending to use the Thumpertalk directions on how to tighten the Neutral Sending Unit screws next time I change the oil... sounds like a bit of a pain but some folks have lost the loose screws with bad results. Guess it's the DR650's version of the KLR's "doohickey".

Chain and sprox were covered with red dust--washed right off with kerosene, and now is all lubed up and lookin' good.
---
Congrats on the new ride!
I really admire your "Go-for-it attitude" for taking on new adventures Nemo.
---
Professional
Yeah! It's raining today, sadly, but I did get to install a brighter headlight bulb, a rear rack, and engine guards and a skidplate from Procycle.

Soon, new tires (gotta learn to change my own in the field if I'm gonna ride dirt, right? I'm thinking Shinko 705s) and a new Renthal bar and aluminum handguards are on the way. High time for me to learn how to install bars and grips. Got a new throttle tube and will get grips too, since I hear that the stock DR650 grips usually get trashed upon install.

It's already so much fun to ride in an urban setting, and in those tight twisties in the hills...
---
Nice! You'll love it, I have a buddy with a DR that I ride with sometimes, solid machine.
---
Superduke
R1200GS
XR650L
Posting Rules

You may post new threads

You may post replies

You may not post attachments

You may not edit your posts

---

HTML code is Off

---