I love my Tiger....
---
Yup...

I have been toying with the idea of selling and moving on to something new....

But for some reason, I just cannot do it. For an "All arounder" it does everything well I want. To get anything else (including the new Tiger) I need to give up something to add something.

For balance, I could not be happier...

28,000 miles into it, I am ready for something new...

28,000 miles into it, I am not ready to give it up...
Actually....
I am ready for decals....

If anyone has any ideas, post them here.

I want royal blue, but no idea what to do
royal blue and white tiger strips. maybe too obvious but figured I would throw it out there.
---
post some current pictures is it white? and let these photochop guys do their magic.
---
no goo dpictures of it, but I will take one soon...
here is one from a distance with the camera phone...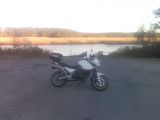 Join Date: Jan 2006
Posts: 3,705
Rep Power:
0
for you... HOT PINK stripes
---
Join Date: Jun 2006
Posts: 1,530
Rep Power:
0
what about the claw-like tears they had on them for a bit? did you take yours off? and we didn't finish our conversation the other day, my bad! call me some time.
---
Posting Rules

You may post new threads

You may post replies

You may not post attachments

You may not edit your posts

---

HTML code is Off

---