Another WristTwisters member CONVERTED....
---
Sold the Honda 919 today........ 2 weeks back, with all the spare parts and crap off the 919 --- I picked up a completely stock DR650 for $2400. I liked the bike soooo much, I started looking for a completely done, modded, DR650....... decided to put the 2003 stock DR650 up for sale.....sold that.... then bought this.....
Its a 2007 - purchased in 2008, has 3,000 miles.....and over $2,000 in aftermarket parts on it.
--- Clarke 4.5 Gal Tank, Custom Renazco seat, FMF Q2 exhaust, Mikuni TM-40 pumper carb w/ ProCycle Jetting, Eibach front fork springs, WER steering stabilizer, DR650 rear rack & engine bash plate, DR350 rear taillight conversion......and a few other fun things.....
---
This is one of the places I took my lunch break with the 'stocker' the other day.....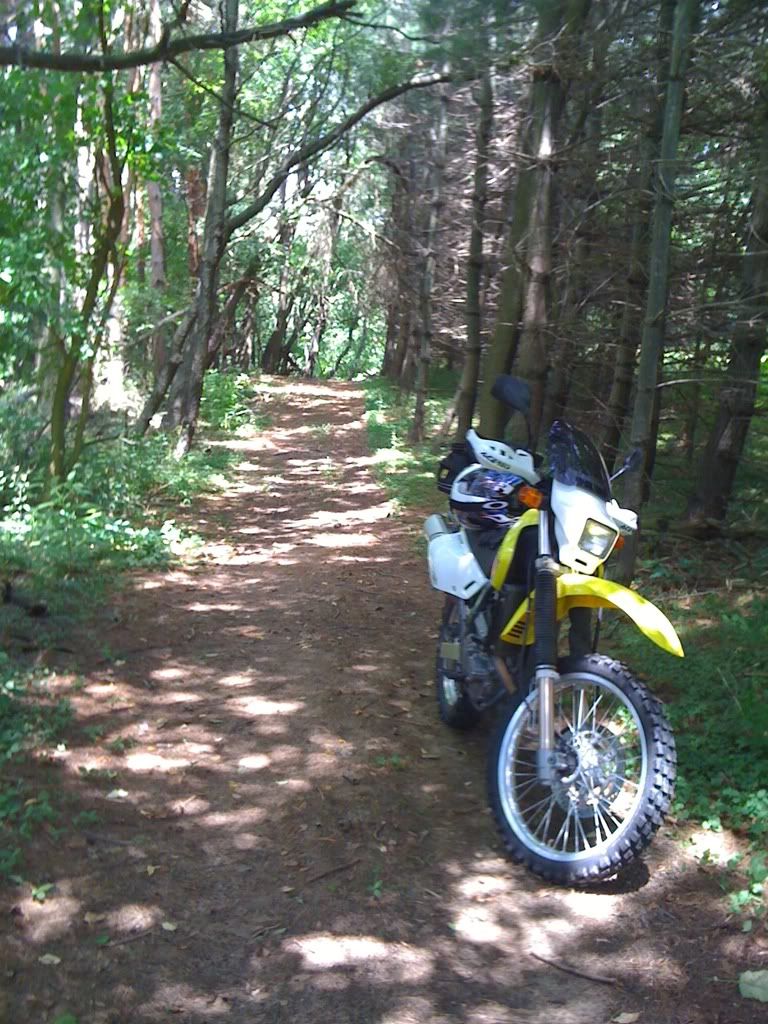 ---
Traitor. Just kidding,Nice looking bike. I like duel sports alot and would definitely get one if I had a place like that to ride.
---
Former 919er
Join Date: Aug 2010
Location: Ontario, Canada
Posts: 1,872
Rep Power:
1
Nice! Congrats.

I assume there are lots of trails where you can legally ride near by? That is a problem where I live.
---
Ride on!


Doc
---
"FRIENDS DON'T LET FRIENDS EARLY APEX."
Nice looking DR you got there, good luck with hre.
---
Tirone Choolaces
Join Date: Aug 2007
Location: USA
Posts: 11,132
Rep Power:
1
Congrats on the 9'er sale and the new DR! Enjoy.
---
Pilus Posterior
Join Date: Sep 2008
Location: New Zealand
Posts: 2,101
Rep Power:
1
Hmmmm, a spare set of 17 inch wheels with Pilot Powers on them would be fun!
---
Congrats on getting what you wanted. Makes me sad to think someone has your 9er. I would have bought that if i were closer. Hopefully the new owner takes good care of her.
Pilus Posterior
Join Date: Sep 2008
Location: New Zealand
Posts: 2,101
Rep Power:
1
That is one serious looking bike lift! Did you get it from a Harley dealer?

If I had the coin I'd be keen on a DR as a second ride - we have a lot of unsealed roads around here that lead off to interesting places. And good fishing spots!
---
.......next spring at Deal Gap its going be 50% adventure riding trails in the mountains......and 50% supermoto in the twisties......
......I might even ride the bike the 1,000 miles to get there.....
---
Dead Wrong
Join Date: Nov 2010
Location: Istanbul
Posts: 383
Rep Power:
1
Dirt riding is way too addictive...
---
Outstanding! How are you liking it?
---
Milites Gregarius
Join Date: Feb 2011
Location: South Bend Indiana
Posts: 102
Rep Power:
1
very nice, i dont know if ill be at the next trip or not will have to see how all the balls roll and land. still working on getting paid for my bike and procuring a new one.
---
Posting Rules

You may post new threads

You may post replies

You may not post attachments

You may not edit your posts

---

HTML code is Off

---