2 dollar crash bars
---
Winter vacation and I'm finally making some good progress. Was hoping to do suspension mods but money got too tight for that. Maybe next year.
For now some scrap welded together will have to do.
8 bucks in scrap steel/Alum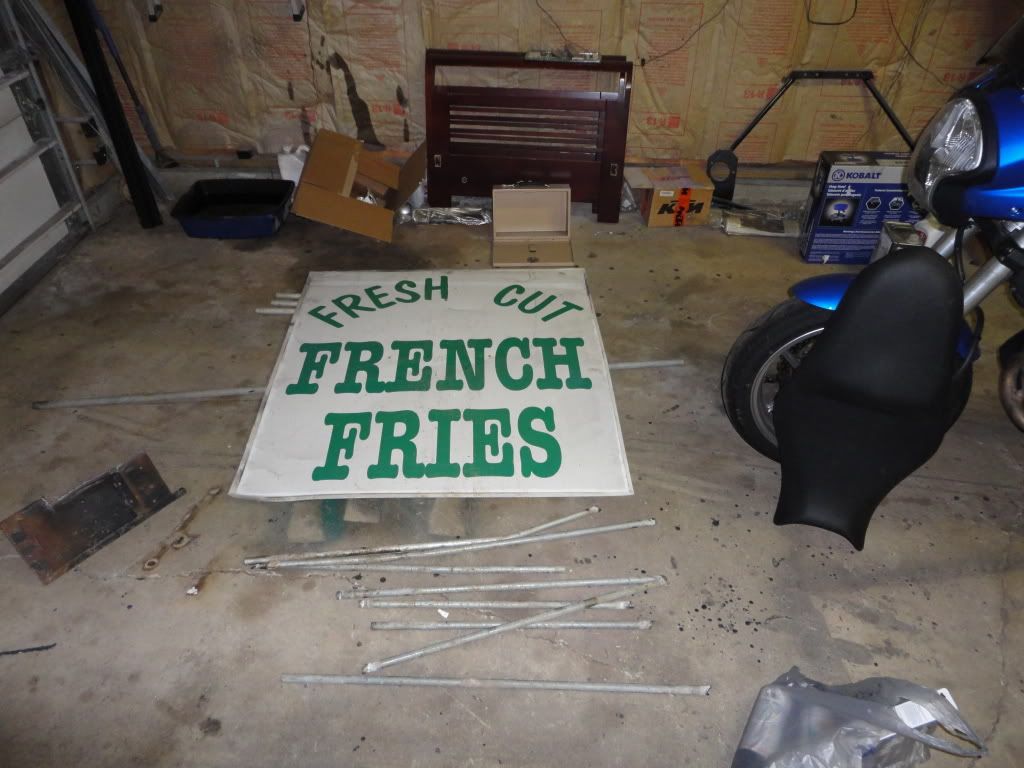 The big fries sign will hopefully morph into an Alum top box. For now I've just been working with the steel.
Here is the top rack, with an Alum plate that will serve as a base for a top box, or any other contraption I may wantt on there (bike rack for sure)
No Adv bike is complete with out crash bars. I figure I used 2 bucks worth of steel on these. Nott the prettiest but i'm confident they will be functional. I'll find out eventually.
As you can see they are no painted yet but that should be taken care of by tomorrow. Then its back to domestic dutis of house cleaning and litter box emptying. Get my chores done soon enough I can start workin on that top box. Grand scheme is to have the top box and side cases made by spring so I can go on some good long rides with lots of junk in my trunk. I'll keepeveryon posted.
---
02 919 (RIP)
07 600RR
07 CRF450X
81 XS850
09 Versys
Awesome fabbing man! The things people can do here never cease to amaze me!
---
I come from the land Down Under, Where the women blow and the men thunder!!
Looks damn good for home made, I'm jealous, I couldn't make it look that good!
---
Discen
Join Date: Jan 2007
Location: australia
Posts: 283
Rep Power:
1
handy skills you got there, i like to tackle most things myself, yet to try welding and fabricating. looks great
---
Posting Rules

You may post new threads

You may post replies

You may not post attachments

You may not edit your posts

---

HTML code is Off

---