Cal Sci Windshield
---
Considering ordering a California Scientific windshield for my '04 FJR1300, seem to get the best reviews of all the manufacturers out there.
Yamaha FJR1300 Windshields
Just sent them the following email with all my questions and concerns, companies must hate dealing with me!
I have a 2004 Yamaha FJR1300 and am interested in one of your windshields. I'm 6'2", 175lbs with a 36" inseam and I'm currently running the stock Yamaha screen with a stock seat and Helibar risers. I find that the stock screen works ok for me in most situations, however on long highway trips I have a hard time finding the right adjustment. All the way up provides good protection but also gives back pressure and a "drumming" sensation that can cause helmet vibration and blurred vision, any adjustment other than all the way up gives too much helmet buffeting and dangerous side to side movement at higher speeds.

Your size chart recommends a Medium windshield for my height and inseam, however I do not want to lose the cooling flow of air with the windshield lowered since my bike puts out major heat and I also don't want to look through the windshield with it in full up position. I'm wondering if a Short might work for me, as I see it's 1" taller than stock and when I scrunch down in my seat about an inch with the stock screen it's smoother and quieter.

So basically my questions are as follows:

- Would I be looking through a Medium in full up position?

- Would I lose cooling airflow compared to the stock screen with a Medium in down position?

- Would a Short make enough of a difference over my stock screen to make it worth the price as far as reduced buffeting and vibration at high speeds in full up position?

- How would the Short compare to my stock screen as far as airflow in down position?

- How much wider are your screens than my stock '04 screen? I don't really have an issue with wind on my arms and hands currently, not interested in going a lot wider just because of aesthetic preferences.

Thanks for any advice and guidance you can give me, I'm leaning towards trying a Short but would like to hear your feedback before ordering.
Curious to hear their responses, after serious seat time on our 1000+ mile trip this last weekend I'm looking for a better windshield alternative to the stock FJR screen.
---
Not detailed response I was hoping for, but kudos for a quick reply...

Any windshield is a compromise. That said, you would be happiest with a medium.

Our screens are considerably wider than stock, as the pictures show. This is an important part of how they work. If you're looking for something the exact size and shape of the stock shield that works just like ours, well, good luck with that.
---
With a bit more prompting I received exactly the information I was looking for:

We almost never sell shorts, maybe like 4 ever. They're for women or guys who are like 5'5". It's not for you.

I can't promise about the shield at full up, I'd need to see your riding posture. Looking through a shield at full up is not awful, it means you have the option for extra protection in unexpected weather.

Airflow will not be greatly reduced at full down.

I've ordered a Medium Cal Sci FJR windshield, looking forward to trying it out!
---
Well I can't ride it but I got the new windshield mounted up on the FJR today. It's about 3" taller and a couple inches wider on each side than the stock one and has two vent holes cut near the bottom edge which are supposed to eliminate back pressure and buffeting with the windshield all the way up.
Anxious to get this knee healed up so I can go test it out!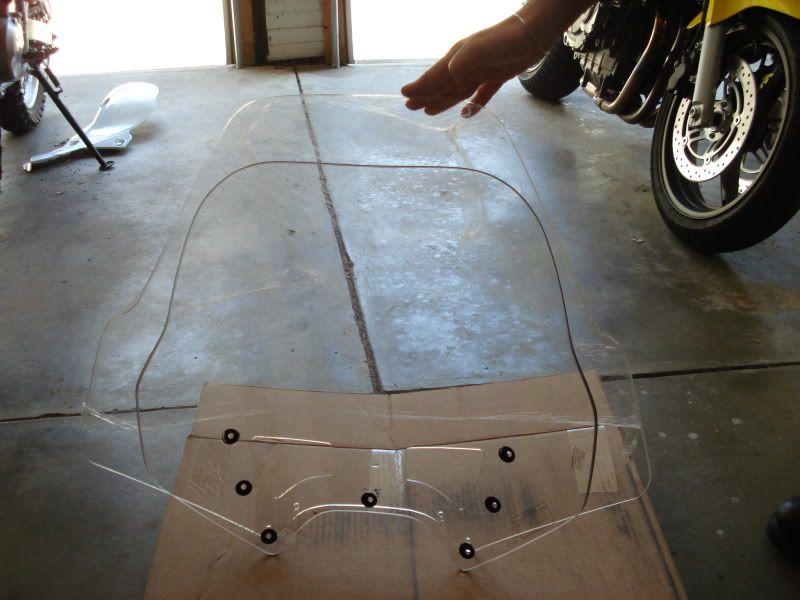 ---
Windshield looks interesting (I wonder sometimes how a big one would work on my 9er, I have none now). Justin sounds pretty good. Looks a LOT like his dad.
In fact the bottom video on your link, I thought it was Steve.
---
"No freeman shall ever be debarred the use of arms."
---Thomas Jefferson 1776.
I've heard nothing but good about the Cal-Sci shields and they've got enough "stuff" on their website to keep you reading for years, hope you like the new shield. On a side note it looks like parts are falling off the XR.

Dan
---
Dan
Posting Rules

You may post new threads

You may post replies

You may not post attachments

You may not edit your posts

---

HTML code is Off

---