Royal Enfield Test Ride Review
---
Test road a RE Classic Chrome 500 today:
Here are my brief opinions/thoughts, nothing too technical here:
Ride: Vibrations are plentiful with this thumper and you feel everything through the handlebars; engine knock, vibrations, suspension travel, even tire grip. Seemingly there is not much of a front suspension and each nuance of the road bypasses the spring suspension and comes right on through to the bars, creating a very rough feel when riding over anything other than a smooth road. However, on said smooth road, the bike thumps and hums along giving a pleasantly sublime feel to driving. Just please, please, please avoid those potholes, unless you want chiropractor bills stacking up, especially with that springer seat.
Handling: Surprisingly, this little kanipchen fit of a bike has great handling! A short rake and snug bars make turns very tight and smooth while the lightness of the frame allows it to be whipped around in corners, or tossed back and forth effortlessly in tight hairpin turns. It's almost like riding a toy; on that you can throw around here and there without anything more than a thought. It's unfair to compare of course, but my Tuono is very light and tossable, but this RE is a feather to turn in and take a line, providing some great smiles.
Brakes: The front brakes are very competent at stopping the lightweight bike. They are firm and stiff (that's what she said) but grip nicely. The rear's?.....well, I pressed hard onto what felt like a pedal traveling further an further into my grandmother's couch cushion from the 60's. The rear pedal just kept going and going without ever gripping. After what seemed to be at least 45 degrees worth of push on the rear brake, it gripped.....very loosely.
Build: The salesman told me the RE's were hand built ad assembled and he wasn't joking. On close inspection, you notice the flaws, quirks, and 'quality' of build in these bikes, every bit of it a bit suspect. The welds are not good, just on the tank, I noticed multiple weld areas where too much acetylene was used. Paint lines were rough and the curvature of the circle around the RE logo on the gas tank was not true. I could see areas on the crank case that had been hand-buffed more than other areas. Rivet-heads with 'smiley's' and the chain guard mount with an elongated fastener hole. These were found just on a brief inspection, (please note that I am a aircraft mechanic and was a maintenance tech inspector in the military), but in my opinion they were easily noticeable.
Still though, I thought about it in the best light I could and it kind of reminded me of my preference for tattoos. When getting my ink done; I don't want a cookie-cutter, flash, computer drawn design from a printer transferred to my skin then traced by a 'tattoo artist.' No that's bullshit. All my tattoos have been hand-drawn, hand laid-out, and tattooed free-hand by what I consider an artist, making each tattoo I have unique to itself. In the end; I feel someone buying one of these RE's would feel the same way about the bike and perhaps even
want
those minor blemishes or 'character marks to be present, making their Enfield unlike any other. Truly the kind of bike it is.
Smiles: I shit you not, as soon as I sat on the bike I had a smile on my face. Neat is a terrible adjective to use but it was just that. It was a unique feel/ride/experience something along the lines of finally having that toy you always wished for as a kid, but your parents never bought you. I hammered the throttle out of the dealer parking lot and
gradually
accelerated to speed. Alright, it's not going to break any speed records with it's ~28hp 500cc engine pulling along ~410 lbs of bike and my ~215lbs of meat, but it did ok. I suppose if you own one, you know the riding style and expectations for this particular bike that you're going to have. It still made me smile, it still was gnarly and 'rusticly' cool.
Final thoughts:
In my opinion at $6,100 brand new it is too much money, there's just no way around it. If I were to buy one I would feel more comfortable at the $4k to $5k mark out the door. The build quality is suspect, the parts/support even more sketchy, and the reliability has yet to be tested. For fun/cool factor I give it props and it would be one of those 'Sunday Funday' rides to church and then out for a leisurely ride through the countryside type bikes. Anything more than that and I think it's more of a novelty rather than a serious motorcycle to own. However, compared to the Triumph modern classics, I think the RE has more character and a 'likeability' factor that I haven't found in many bikes on the market these days. If I had the money to burn and if it was the right price, it'd be one of those things I'd love to have just for the sake of saying I own a Royal Enfield.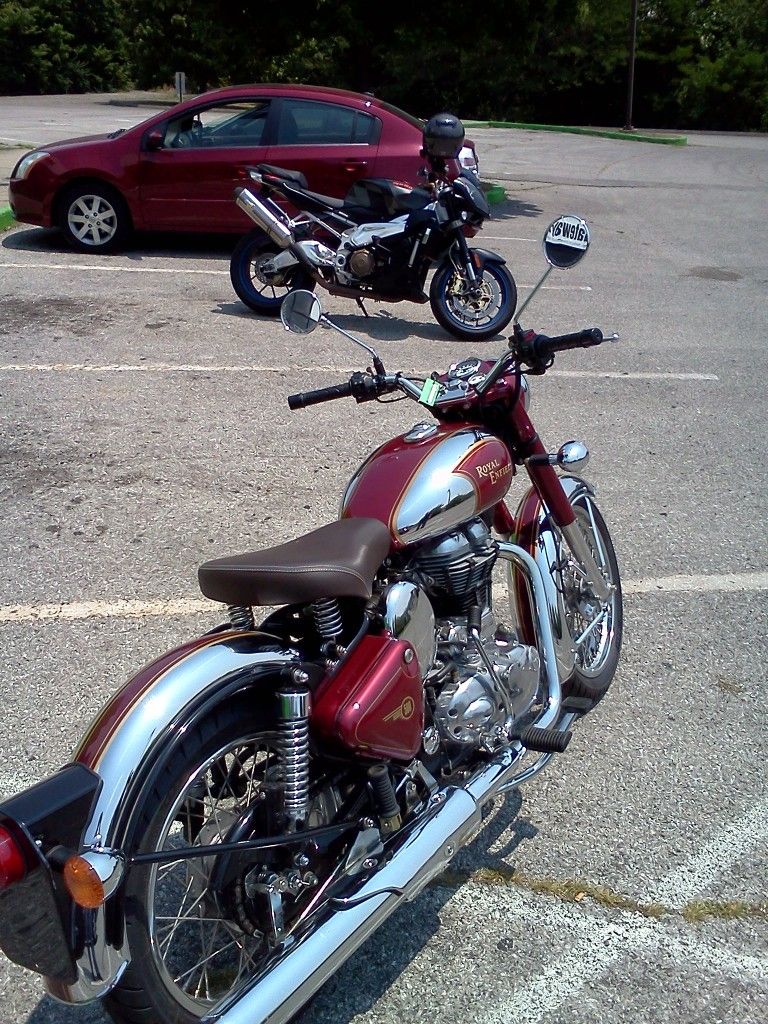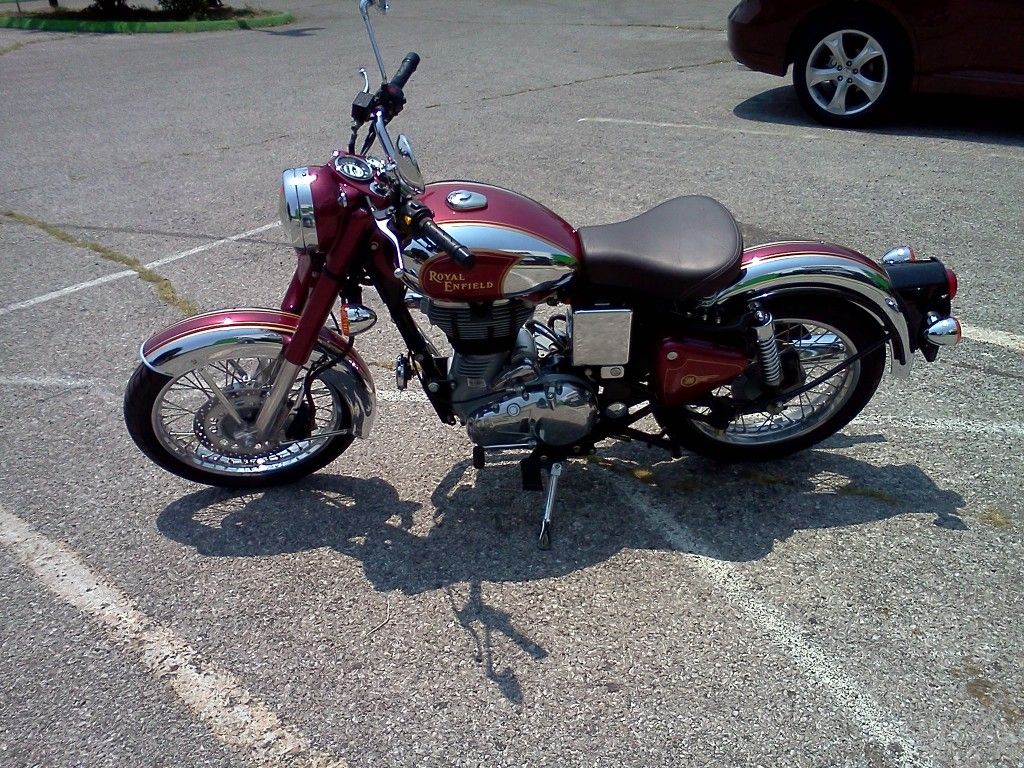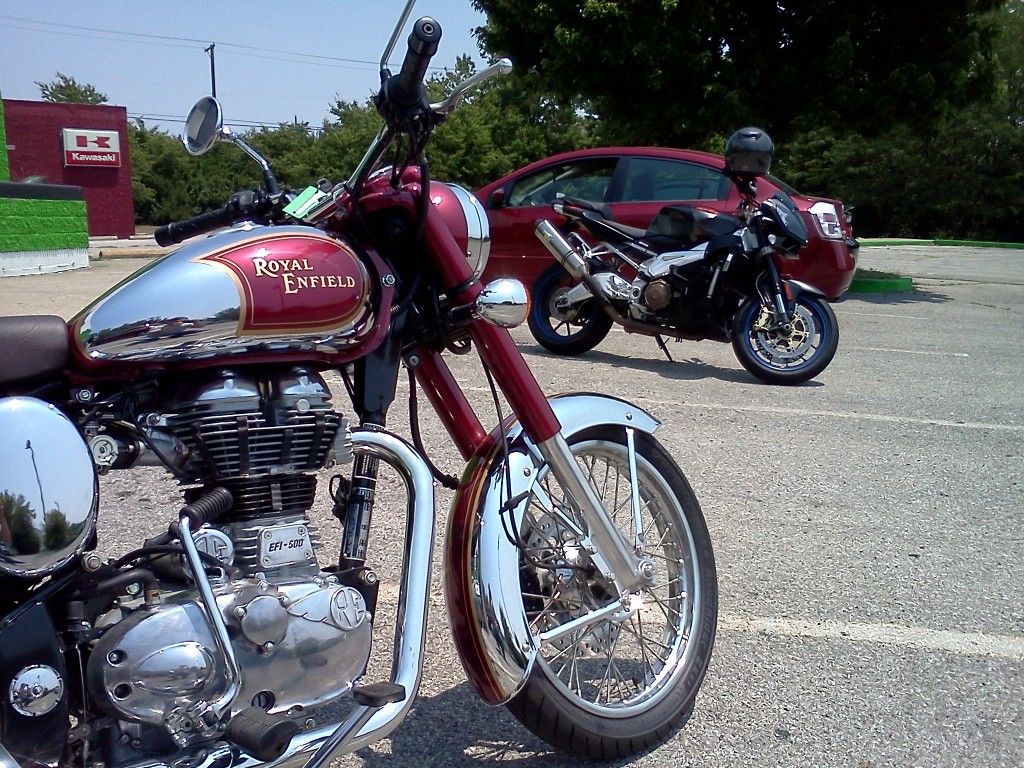 ---
Slow is smooth, smooth is fast.
Nice review! Thanks for taking the time.

REALLY not my kind of bike, but I see the appeal now that you described how to enjoy a bike like this.
---
Nice review. I don't suppose there are many other bikes that are hand built these days.
---
Thanks for the review, Nathan.

I've thought a few times about buying an RE, and I completely agree that the $6,000 cost is too high for what you get. for $4500, I'd seriously consider it. These bikes have serious character.

I've had the opportunity to sit on a couple, but I've never ridden one myself, so I'm glad to hear your opinion.
---
Well, fire the engines! Spur this iron space-pony on!
"The Shadow"
Posting Rules

You may post new threads

You may post replies

You may not post attachments

You may not edit your posts

---

HTML code is Off

---