Jay Leno's Garage 1975 Suzuki RE5
---
1975 Suzuki RE5
The only Japanese production rotary-engined motorcycle
Link
---
I remember that bike when it first hit the market. It was certainly different, maybe a little too different. Many a dealer was stuck with them. I wonder how much one is worth today in pristine condition?
---
Join Date: Sep 2007
Posts: 3,339
Rep Power:
0
How cool ! Ive got a 1976 with 1400 original miles ! Gotta love those bikes !
---
I will never again visti Jay's garage.

It frustrates me!
---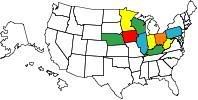 I would love to go see that garage in person!! that was a very cool bike, 2ohno do you ride it or stored?
---
Join Date: Sep 2007
Posts: 3,339
Rep Power:
0
Unfortuanatly, Its store right now - I need to go in the carbs and do some cleaning, but, Im not sure if I can get the parts Ill need . Ive got a guy checking on it, so, maybe, just maybe I will be able to take it to the vintage days @ Barbers this October.
---
Great video. I reely reely enjoyed it!!!!



I tried to kick start one of those back then. I could not budge the lever.
---
"I said I never had much use for one.
Never said I didn't know how to use it."
Mathew Quigley
Posting Rules

You may post new threads

You may post replies

You may not post attachments

You may not edit your posts

---

HTML code is Off

---