What a difference....
---
Well went to my second track day(
www.sportbiketracktime.com
) last sunday. While I was there, I decided to have my springs done for my bike. What a difference. I am a happy guy. Ken did a great job. Pluss I just added the ultra low bars and I like the wider bars. Should have done the suspension a lot sooner!!!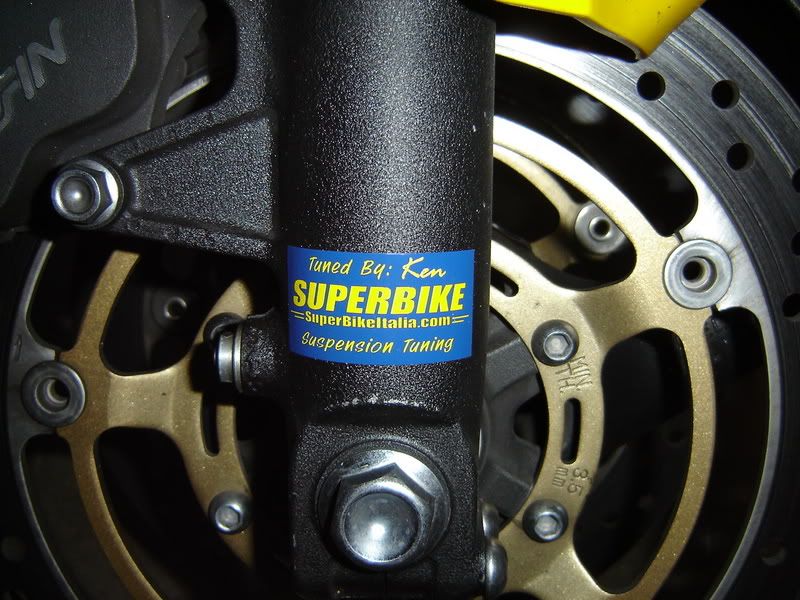 Bitten
Join Date: Jan 2006
Location: Virginia Beach
Posts: 5,451
Rep Power:
1
Suspension is by far the best mod for a sport bike (or a bike that will be ridden sportlike).

I have played with the oil weight and level on my Tiger. The results have been trememdous.
He ain't lyin' either. I rode the Tiger before and after. Two totally different bikes.

Suspension is the one mod you always get your money's worth in return.
---
What exactly did he do to tune the suspension?
---
'04 919
Quote:
What exactly did he do to tune the suspension?
+1 what he said
---
I'd love to have my suspension tuned! Everyone tells me its personal preference when I want to do something with it????
I'm not even sure what I want...
---
Me too! Where do you start?
---
'02 Honda 919 - She's the only one for me!
Well, I just had my seals replaced and when Ken took my forks apart, he found like over 2" difference in fluid level between the forks. Then my clickers on top of my forks were not right. One would turn one full revolution and the other one would turn half that. So he fixed those, the fluid level and then put in different springs for my weight. Then he set the sag for my bike. After all of that, it's like I have a new bike.
You are running F4 forks, correct?

Yes, suspention mods pay off HUGE.
---
Yea. If you ride the bike (not just have it for looks) then the best mod ever is the suspension. I put f4i forks and a penske damper. Most places that sell the parts can tell you what springs are best for your application. I used traxion dynamics. Even the stock forks with springs and 10w oil work so much better your will wonder why you waited so long.

A good shock is great since the damping is adjustable from Cadilac soft to lowered mustang stiff for touring to good hard sport riding.

I droped about 700 on front springs and a penske shock.
---
Best $700 you ever spent on a bike, wasn't it.

Smart Man.
---
Posting Rules

You may post new threads

You may post replies

You may not post attachments

You may not edit your posts

---

HTML code is Off

---