RC51 forks on a 919 - will other triple clamps work?
---
I have most of the parts to install RC51 forks on my 919, but I just can't find an RC51 triple clamp anywhere.
I have an extra 919 lower triple & stem, so I have the correct sized stem to press into an RC clamp if I could just find one.
Will any other clamps work with the RC51 fork legs and wheels? I've seen a lot of used CBR 900, 929/954, 1000RR clamps for sale, but I don't know if the dimensions are all the same.
I'm worried that a clamp other than the RC clamp might be wider or narrower and require different wheel spacers, and possibly throw off the alignment of the brakes. Are most of the newer Honda clamps the same?
This has also been posted in the Naked Bike area, and was suggested to post in the Heavyweight Sportbike forum as guys would probably know more about this topic.
Any help would be appreciated!
Thanks,
Mike
---
I can check some measurements on my 954, heading to work tonight, then I'm off a couple days will try and get it done tomorrow or Thursday
---
"He was a wise man who invented Beer"--Plato
Here's what u do.
Find out what size clip ons the RC takes.
If its 50mm, you have a winner and all triples from the 929/954/1000rr will work.

The next question is, do these triple fit you're bike?

If your 919 forks, triples are the same as the 600rr, which if I remember correctly, are the same or look the same.

Then you're all set and ready to do the swap.

Oh, and 1000rr wheels may be a tad too wide for the RC forks, so you'll have to get custom spacers or use RC wheels, which you probably have anyway.
51 legs in a 954 triple, get the top triple from bill...have the 919 stem pressed into the 954 lower

depending on your combination, custom hat spacers will be needed
---
mdtoney and I have been going and back forth on this very subject. . .this is why my 919 is looks like this: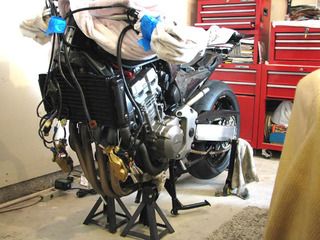 It's waiting for a new custom CNC riser upper triple and a 954 lower modified with the 919 stem from Bill at Full Throttle Inc. Both triples will be modified to accept the 919's head light bracket support frame. Both triples will be powder coated satin black. The upper will be made to adapt the 919's OEM instruments. Forks are RC51 SP2 and the front wheel is an RC51 SP1 six-spoke Enkei that has been freshly powder coated in gloss black to match my rear 900RR six-spoke Enkei rear wheel. Calipers are 954 with '06 1000RR rotors. I had found new Brembo Radial Gold calipers and Brembo Radial Adapters for the RC51 forks. But I decided to sell them at a very nice profit to a lucky RC51 racer. The Brembo Radial Adapters are VERY RARE. Those brakes would've looked cool but really an overkill for the 919. I'm hoping that the '07 600RR front fender that I'm planning to use has its mounting points line up to the RC51 forks, of course after trimming the bottom front mount on the fender.
The project should be finished in a couple of weeks. I'll post pics once everything is bolted up. All this nonsense is really for the inverted fork look that the 919 should've been built with from the factory in the first place. Anyways, I like tinkering around. This should be the last mod for my 919. . .
---
9nineteen, dude, that description made my thingy twich.
Its never done that for a 919 before.
CAN NOT wait to see this...
---
Quote:
mdtoney and I have been going and back forth on this very subject. . .this is why my 919 is looks like this:
Way to take the lead on this project Roy!!
Your bike is gonna look amazing! As soon as I get another 919 I'll be right there with ya. I just need to collect a few more parts and a little more $$.
---
Posting Rules

You may post new threads

You may post replies

You may not post attachments

You may not edit your posts

---

HTML code is Off

---