CBR 600 rear suspension evaluation
---
I have extensively evaluated the '03 - '04 CBR 60 rr rear shock link setup and find it to be a work of art not only from the general concept of it, but also due to it's adjustability if you are creative and know what you are doing. An evaluation follows.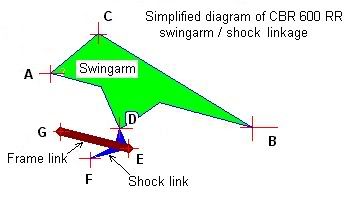 Look at cbr linkage diagram, drawn directly from a transparent view from (I assume) Honda advertising copy. As the suspension compresses, the distance G-D increases, drawing point E forward and moving point F upward, compressing the shock absorber. As angle G E D increases toward 90 degrees, the rate of shock compression decreases, making a falling rate. When angle G E D is 90 degrees, mechanical advantage is at minimum (cosecant 90 degrees = 1), giving maximum suspension compliance. If spring / damping rates and sag are adjusted properly for the rider's style, track, and tires, this "sweet spot" will correspond to the desired suspension position while in a corner, increasing control at this critical time. In order for this to function properly, compression damping must be carefully dialed in. A too low compression damping rate will allow the swingarm to move past the sweet spot , then try to return, causing a pogo effect as the optimum comes and goes until equalibrimum is established, if indeed it ever does before exiting the corner changes the dynamic. Too high compression damping will delay settling in, causing insufficient suspension movement entering the corner and a vague or unsettled feel midcorner. Either condition points to compression damping being considerably more important than rebound as least as relates to entering corners. Rebound takes over when exiting corners, preventing excessive rise rate and possible loss of traction when on the throttle while still leaned over.
This also explains why longer lowering links mess up the handling: the sweet spot occurrs so far near bottomed out that it essentially never happens under normal conditions, which makes spring preload and damping rate adjustments very critical and fussy. A shorter shock would have the opposite effect, causing the sweet spot to move toward topped out, essentially useless. I suppose a combination of the two might work, but would require very careful selection of parts to pull it off.
What does this mean to the rider who wants to lower his CBR while maintaining its sharp handling? It seems to me that the only way to adjust the ride height without effecting link geometry would be by changing point G, the frame attachment point: perhaps using a selecton of plates which would bolt to the chassis with differing G positions. I have not looked at the frame with an eye toward modification, but it would not surprise me if Honda cast in bosses for just this sort of setup. Caution here: loads are very high.
Rob
---
If it has already been done, it is safe to assume it is possible to do it.
On the other hand, if it has not been done never assume it is impossible to do it.
------- Rob --------
double whoa....
---
"He was a wise man who invented Beer"--Plato
Join Date: May 2006
Posts: 1,379
Rep Power:
0
I am just glad you didn't say sinusoidal.
---
Very true. The setup is awesome in every way except that when dialed in it doesn't become "optimally" compliant until you are in or near that 90 degree 'sweet spot'. Although if you aren't riding it hard enough to even be able to take advantage of this and not able to even get the linkage to crank that far in in the first place you probably wouldn't need to worry about the compliance.
And if that's the case, you probably never dialed in your bike in the first place and shouldn't buy such a cool bike.
Good write up dood.
It's "equilibrium"
---
'02 RC-51
'10 Unicycle
Posting Rules

You may post new threads

You may post replies

You may not post attachments

You may not edit your posts

---

HTML code is Off

---