Join Date: Apr 2009
Posts: 13
Rep Power:
0
Honda 919 Sato Exhaust, TCP Shark Fairing, frames sliders
---
I have a set of excellent condition Carbon Fiber Sato Exhaust cans. Maybe with 1,000-2,000 miles on them. No dings/scratches. Asking $800 or $700 if you send me your excellent condition stock pipes w/ or w/o the bafflectomy.

Also I have a TCP shark fairing. It does well blocking the wind for me (5'11) and the lights are good. It has minor surface scratches on the some of the plastic and screen but isn't bad. Also the bottom mounting points are broken but honestly doesn't cause any issues. No vibrations or shaking at any speed. Mounts easily with little modification. I'd like to get $150 or may trade for an excellent stock headlight.

The frame sliders are fading on the surface facing the sun but still dark on the under side. $15

I'm also looking for PAIR block off plates and the original decal stickers.

Email me at raycotting at gmail.com

Picture included of my bike.
All prices are shipped.

Thanks
---
Optio
Join Date: Apr 2007
Location: Alberta, Canada
Posts: 963
Rep Power:
1
PM sent about fairing.
---
2016 Honda Africa Twin
2007 Honda 919
1998 Kawi ZX9R (Sold)
Join Date: Apr 2009
Posts: 13
Rep Power:
0
Added pictures to show condition of items.

Make me an offer if you'd like. You never know.
---
Welcome and good luck with your items, just so ya know it's considered good forum manners to introduce yourself before you start selling stuff.

Where in Indiana are you?
---
Join Date: Apr 2009
Posts: 13
Rep Power:
0
Hello and thank you. Not a whole lot to say about me. Just another guy keeping his head up, living the good life.

I'm near West Lafayette, IN.
---
I'll take the frame sliders. how much plus shipping?
---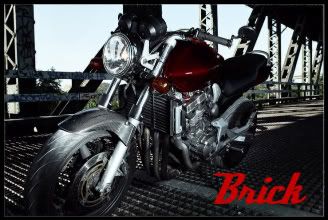 Sato cans
---
PM and email sent on your Sato cans...
---
Thx for the Satos!....
---
They sound awesome!
---
Join Date: Apr 2009
Posts: 13
Rep Power:
0
Thanks, Glad you like the pipes googl3it!

The only thing left is the front fairing. I am still searching for a stock headlight and would add cash to trade for one.
---
Posting Rules

You may not post new threads

You may not post replies

You may not post attachments

You may not edit your posts

---

HTML code is Off

---