Stebel relay installation
---
Has anyone installed their stebel air horn relay inside the headlight ? I have searched and can't find 2000tj's thread about cutting and relocating the compressor. Anyway i still have 2 connections to go and don't want to ruin the wiring harness. They are #'s 86 & 87 on the stebel diagram one goes to the horn + side and one goes to the horn switch, i think i will use the OEM wires instead of running new ones. My question is are the wires black/brown and light green ?
---
-Mark-
There's gold in them hills
Anything running to the + side of the horn shouldn't be OEM as that's the high amperage side of the relay/horn.

My relay was in the tail section near the stock blinker, i don't see why you couldn't put it in the bucket as long as you have room for a clean install.. The stock wires running to the OEM horn provided control current(86) and ground(85) for the relay i used. Use your multi-meter to deterine which is +/- and you are good to go.

Hope that helps.
---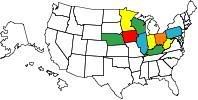 Ok Thanks
---
-Mark-
There's gold in them hills
Thanks TJ
I am a bone head when it comes to electrical so I asked.
After you mentioned the high amperage side, I rethought the install, now having no reason to use the stock wires, installing inside the headlight makes no sense. No need to cut the harness. Thank you WRISTTWISTERS being able to view the wiring diagram on a 24 inch screen is awesome.
---
-Mark-
There's gold in them hills
Posting Rules

You may post new threads

You may post replies

You may not post attachments

You may not edit your posts

---

HTML code is Off

---