Exhaust Pipe Length
---
Hey Guys,
So i have my 900RR header on its way, but ive started thinking. The header im getting is a Vance & Hines 900RR header and looks like its missing the midpipe compared to the other 900RR headers.
It exits right about past the motor i believe.
My plan is to put a stubby exhaust muffler on it and have it exit just ahead of the rear tire sort of like hacks setup: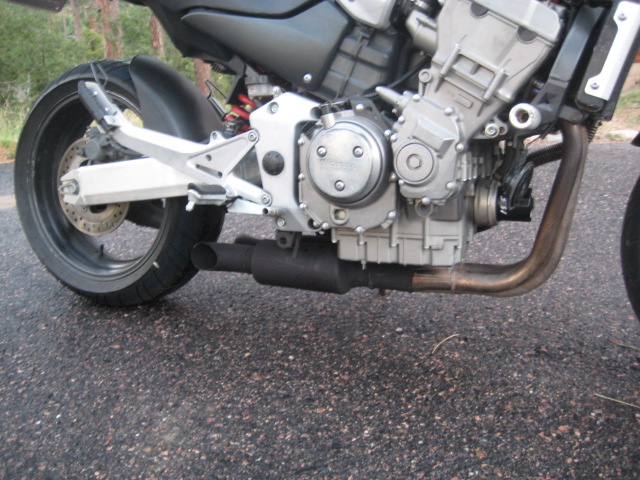 im starting to worry that the shortened exhaust length is going to try drastically effect performance. I have a PCIII but i dont know if its enough to compensate. I still want good driveability, im not a high rpm rider.
What do ya'll think?
---
Tirone
Join Date: Dec 2014
Location: Shepherdsville
Posts: 79
Rep Power:
1
SG,

My experience in this category is that loosing length produced loss of torque. While I cannot say what the outcome will be with your design, the effect will likely be similar. To me it comes down to what you want. The reasons for shortening must out weigh the compromise in power, and that is a perfectly OK decision if it is what you want. Keep in mind this; the abundance of torque on 919's has many factors besides the pipe. Port size, valve size, cams, throttle body size ECT... Even if you loose a pound or two, or possibly move it up a few hundred RPM, the bike will still retain a good amount of torque. In many cases more than most other inline 4's of that displacement.

In the end, it is your bike, make it what you want it to be and enjoy the results.

Anyway, that is my 2 cents.
---
picked up the 900RR Vance & Hines exhaust for $200 from a salvage guy, he didnt have the v&h intermediate pipe so he gave me one off a stock 900rr header. below are the pics. along with a sweet fastback wasting away at the shop next to the salvage guys... if i had the money and ability i'd be all over it
im still tempted to skip the intermediate pipe and plop on one of these guys:
2013 GSXR 600 GSXR600 Shorty Moto GP Black Mini Exhaust Pipe 099 | eBay
---
That will depend on how much "rowdy" you can live with...
---
Sweet fast back! Nab it if you can!
---
Quote:
That will depend on how much "rowdy" you can live with...
a fair amount, i just dont want to negatively effect performance too much. other then that i am having a hard time finding an affordable, compatible exhaust below $100ish
i really dont want to go over $300 total on this swap
---
Posting Rules

You may post new threads

You may post replies

You may not post attachments

You may not edit your posts

---

HTML code is Off

---