JakeWilson.com Experience
---
I just wanted to pass along my great experience with JakeWilson.com.

First, they had the best price I could find on Pilot Roads for the 919 (about $96 front, $110 rear.) They also had all the tools I needed to change the tires, except a bead breaker for a 180, I think I'll try the 2x4 method. Plus, I got to use the jw009 promo code.

Second, my shipment was indefinitely delayed due to a UPS train derailment. When I contacted Jake Wilson customer service about it they immediately shipped a whole new order, 2 Day Air, which arrived today, the same day that the original was supposed to have arrived. They handled UPS, and my original shipment will go back to them if/when it ever gets picked up off the tracks.

Third, no additional cost to me!

I've rarely had service like this, especially from an online retailer. Please, the next time you need to order parts or accessories, give them a look. I can't speak highly enough of them or my experience. And remember, the same people also operate RockyMountainATV.com
---
I've been hearing a bunch about these guys lately. Thanks for the info.
---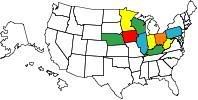 2nd Day Air on tires! That must've cost a bit for them...or maybe nothing if they're in good terms with UPS. Going to pick up a set of Pilot Power from them. Last I checked, 185 shipped before discount... DEALS!
---
I have ordered from them and find them to be excellent.
---
Tirone Choolaces
Join Date: Aug 2007
Location: USA
Posts: 11,144
Rep Power:
1
Just ordered a set of Pilot Road 2's from Jake Wilson...coupon code CSJW10...$235 shipped. Thanks for the info...seems like they have some great prices.
---
I bought a pair of conti sport attacks from them. Best price around and free/fast shipping. I'll definitely order all my tires from them.
---
Posting Rules

You may post new threads

You may post replies

You may not post attachments

You may not edit your posts

---

HTML code is Off

---