Milites Gregarius
Join Date: Apr 2006
Location: Gallipolis, OH
Posts: 165
Rep Power:
1
My new (to me) V-Strom
---
A week and a half ago I got a 2006 V-Strom 650. This bike was a replacement for the 2002 919 that I got rid of last summer. I just thought I would post some impressions for anyone who would be interested.

First of all, I loved my 919. I was an excellent bike that I enjoyed riding. A 919 is well built and will last for years. It has lots of midrange power and is fairly easy to ride. But, there were some things I wasn't crazy about. It didn't have enough leg room for me and the seat sucked. I wished it had more storage, a clock, better suspension and less vibration.

I ended up getting a V-strom 650 and I am happier with it. It is definitely slower on any smooth asphalt than a 919 but not by as much as you might think. Acceleration is noticably less but handling is pretty close. On the other hand, it handles bumpy roads better. It has more leg-room, a great engine that is plenty for any semi-legal riding you might do, and a more refined ride. The throttle and brakes are not as touchy as my 919 and it has more underseat storage along with a rack to strap more stuff on the back. I also enjoy exploring the dirt roads I used to ride past. The 919 was a much sharper looking bike IMO but that was reduced by the Givi box I had to put on the back.

Basically, both are great bikes but for me the V-strom 650 is better. It's more comfortable, smoother, more practical and still has plenty of performance for me. I enjoy riding it quickly but also taking it easy and exploring those hard to reach areas. Oh, mpg in the mid 50's is nice too. On the other hand, if you ride above 90 mph don't get a v-strom. Lots of guys won't want to give up the extra oomph of the 919. That's fine for them but I'm happy with my choice.
---
Banned
Join Date: Jun 2008
Location: Saint Joseph Missouri
Posts: 1,686
Rep Power:
0
I've also heard nothing but great things about the VSTROM, in fact, the liter version is on my want list.
---
Milites Gregarius
Join Date: Apr 2006
Location: Gallipolis, OH
Posts: 165
Rep Power:
1
It sounds like the liter version would have about the same power as the 9er. They say it's not quite as smooth as the 650.
---
The Vstrom was what make me go riding again - summer hollyday 2008 on Crete, Rent'a'bike thing, and off we went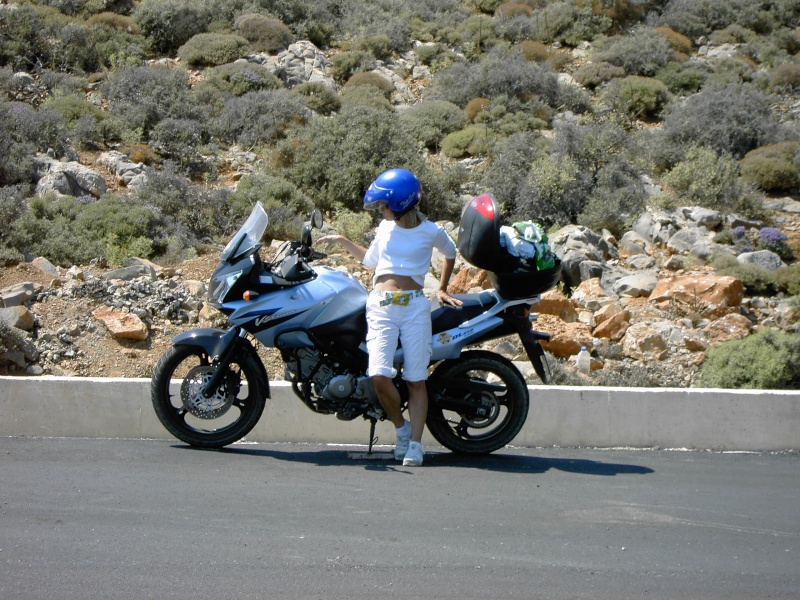 (talking of hard shoulders!)
Back home there was no turning back -
"but handling is pretty close"
- not by miles within the handling of the 919, ohh'yes indeed offroad, but on tarmac - never !
It's just to complety different bike's, only two thing I miss, the low down "grunt" of a V2 engine and, I'am 190 cm. high and round 100 kg. heavy and was pretty comfortable on the Vstrom, I might once i a while miss the truly good fairing found on the Vstrom, but I'am a "tarmac" rider..
919 great for everything on tarmac road
Vstrom great explore bike for every road
Congrat's with the Strom
Hans - Denmark
---
Good luck with the new steed!
---
It's good to hear you're enjoying your new bike.
I just bought an 09 Bandit after riding an 06 919 for 3 yrs.
The 919 was a great bike, but in many ways the Bandit is better ( for me )
There is life after 919 !

Jeff
---
09 Bandit 1250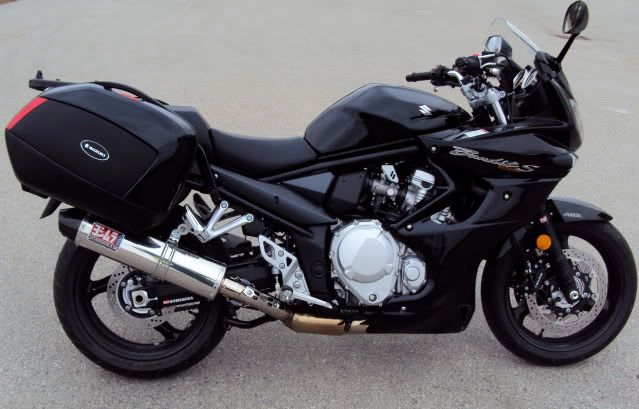 Tirone Choolaces
Join Date: Aug 2007
Location: USA
Posts: 11,178
Rep Power:
1
Congrats on the Strom Timbo. It was on my short list when I got the 9'er. Glad to hear that you like it
---
Very cool. It's all about getting out there! Enjoy it and post pics.
---
Cornicen
Join Date: Jul 2009
Location: Henderson, NV
Posts: 596
Rep Power:
1
Strom
---
Until I got an Ohlins rear shock on my 919, I was looking for a 1000 Strom. Stroms are good bikes, even if they are a bit "aesthetically challenged" in many people's opinion. RICOR makes some great shock upgrades for the Strom...check them out if you get the urge to upgrade the handling/ride quality.
---
Fool in the Rain
Join Date: Feb 2006
Location: Louisville, Kentucky
Posts: 10,288
Rep Power:
1
Congrats on the new bike. Let's see some pics.
---
"Towards the end of the vid, it looks like she may have had a bafflectomy." - MarylandMike
Tirone
Join Date: May 2010
Location: Ohio
Posts: 3
Rep Power:
1
I really like my V-Strom. Best bike I've ever owned for all-around riding. I hope you enjoy yours as much.
Thinking about selling my ST1300 for one of these. Looking into the 1000 version. Just a thought I really like my ST though.
Posting Rules

You may post new threads

You may post replies

You may not post attachments

You may not edit your posts

---

HTML code is Off

---