Kenosha riders...
---
Impromptu evening ride tonight ?
All are welcome.
Loop: Start at burger king 18th st and 22nd ave. Follow (L) to 31 n. until it joins with 32 n.
32 n to 100 w to 36 s to burlington, catch the 83 s. to the 50 and back in.
A ride's a ride, right? What time do we wanna start?
---
Very tempting. Work may be an issue for me as I am in the middle of a migration that has to kick off after-hours. I'll let you know.
---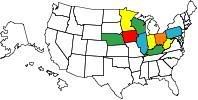 Goodnuf. You've got my number.

Bueller? bueller?
---
Love to have ya on the ride ! You could meet us on the hunnert in lower milwaukee if that works for you. Or if teej can't make it I can just buzz up the 94 and meet ya and go from there ?

I'll be gearing up to leave soon. PM'd ya.
---
Posting Rules

You may post new threads

You may post replies

You may not post attachments

You may not edit your posts

---

HTML code is Off

---