BrokeRecord
Join Date: Jul 2007
Location: West Monroe,La
Posts: 1,180
Rep Power:
1
DT's
---
I wonder if any of you are having DT's and withdrawal pains because of the bad weather we've had this past week?
---
[
Quote:
I wonder if any of you are having DT's and withdrawal pains because of the bad weather we've had this past week?
What kind of bad weather did you have?
It was in the 70's and 80's in NC all of last week. I rode every day.
Today it is 40, but forecast says 70 by week's end.
I've been having DT's since early November.....
---
Proud member of Wristtwisters, where we drill things the right way.
to the extent that I'm buying a dirt bike just to ride around my yard for something to do , The wife isn't going to like me killing her grass.
---
BrokeRecord
Join Date: Jul 2007
Location: West Monroe,La
Posts: 1,180
Rep Power:
1
Rain wind and 50*
---
[
It got cold and windy here in NC Saturday. I rode Friday night (46 degrees) and was ready to put her up when I got home. It's only Monday and I've got the DT's.
Join Date: Jun 2006
Posts: 1,530
Rep Power:
0
i'm having DTs from no money to go to the track right now
---
Old, Bold rider
Join Date: Jan 2007
Location: Aurora, Colorado
Posts: 2,356
Rep Power:
1
Got up Friday, ate a large breakfast, and got ready to go to work -- 3 degrees Celsius on the thermometer (BRRRRR). Sure to be ice on the road down in the valley as it rained last night. Ah, well. Suited up with extra layers of wool under the Joe Rocket jacket, polar hiking pants, Polartec neck guard, Teknic roadracing boots, and barely adequate winter gloves. Did slide across the inevitable ice, but not too bad. Was 15 miles down the road before it occurred to me that I have a truck -- this brought a smile to my face while I gripped the cylinder head with both hands at a red light, which didn't last long enough for the heat to soak through the gloves. Just another commute in paradise. No DTs for me as it doesn't snow very often in Malibu and I always ride to work.

Rob
---
If it has already been done, it is safe to assume it is possible to do it.
On the other hand, if it has not been done never assume it is impossible to do it.
------- Rob --------
Yeah, I woke up this morning and went out to check the thermometer and said 32 degrees. Frost over everything.

You're a braver man than I Rob. Gonna be nice later though.
---
'02 Honda 919 - She's the only one for me!
Join Date: Jun 2006
Posts: 1,530
Rep Power:
0
yeah man good god you're hooked. i did 30 degrees once and swore never again.
---
Optio
Join Date: Apr 2007
Location: Alberta, Canada
Posts: 953
Rep Power:
1
I was so excited this spring when it started to get above 0 degrees Celsius that I had to go for a ride. It was 3 degrees when I headed out. It was cold but I'll do it again in the spring. Probably won't be as bad as the niner has a little wind protection.
Some pics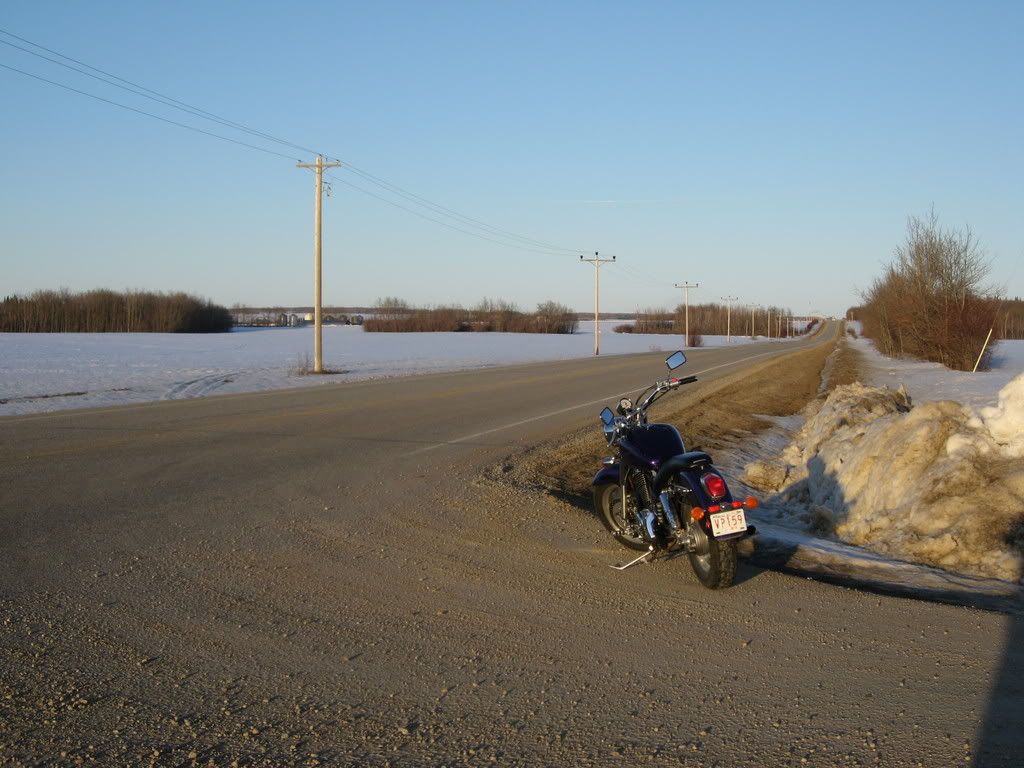 ---
I just got back from riding. I'm going again on Christmas Day.
Christmas Eve, I drive. I have presents to deliver.
---
Join Date: Mar 2007
Posts: 2,196
Rep Power:
0
It was weird in PA on Friday it was rainy and around 42 degrees and I saw more bikes on the road with their riders getting soaked than I have seen in a couple of months ,I thought I missed a bike holiday or something.
---
No riding here. Bike is stored. I have an 8 x 10 on the wall I stare at all day! LOL! I also have it on my screen saver and even though it's an old game I still play Road Rash to get my riding aggressions out.
---
Four wheels move the body ... two wheels move the soul.
Posting Rules

You may post new threads

You may post replies

You may not post attachments

You may not edit your posts

---

HTML code is Off

---