Why sleep when you can ride??
---
I went to bed this evening at about mid-night. Unfortunately there wasn't a chance in hell of me actually falling to sleep as I had way too many things runnign through my head; nothing important really, just petty little hobby related stuff.
Soooo, let's go for a ride I said....to myself. I had been wanting to put some more testing into the fuel cell rig so I threw it on the bench and pulled out the foam as I was planning. I mounted it up to the feshly painted brackets which were back on the bike, installed the clear shield on my helmet and took off towards the employer sponsored fuel pumps.
I found that foam in the Summit fuel cell was displacing almost exactly .5 gallons. The 4g cell now officially adds 3.25 gallons to my Tiger's 5.2g tank. All in all not a bad upgrade. Of course I'm not going to make a claim as to how much is useable, yet.
After filling up I headed out west into the farmland. I had a blast using my 110watt PIAAs to drive much more smoothly into the night than ever before on the 919 and especially on this Tiger which has absolutely horrid lights from the factory. <<<< hard to describe how bad they are, and then you factor in major front end dive from the undersprung front and it just gets arse puckeringly worse from there. Don't worry though, HIDs are on the way which coupled with the PIAAs willl be awesome.
So, with a nearly empty main tank and fuel AUX tank I decided to finally get a bead on this Tiger's fuel guage behavior and run the main dry so I can see how it reads. I turns out I got exactly 18 miles past "zero mile to go" before she conked out. So where was I when she died? I was in the middle of a rather rough construcion site (used to be a highway) in the pitch black between 5"-8" ruts in very loose gravel. It was a real trip to be on pretty bad terrain and then have the motor die. I had to kill the ignition really quick because at that time I had 110watts worth of AUX lighting and my grip heaters on high. The dash mounted voltmeter was already red for a few miles BEFORE the engine died. So, sitting there in the dark I reached behind me and pulled the lever on the AUX tank....and sat. I only sat for about a minute as it was kinda creepy sitting in the middle of nowhere, with earplugs in and a helmet on my head. I felt a bit, oh, vulnerable? She fired right up and I was on my way. The gravel was fun, running the tank dry was educational, and watching the gas gauge go UP while driving down the road was marvelous.
I'm so glad I didn't go to sleep.
---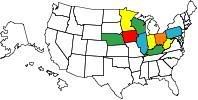 Fool in the Rain
Join Date: Feb 2006
Location: Louisville, Kentucky
Posts: 10,288
Rep Power:
1
Pretty cool little writeup. I bet having it die on gravel was a nice chance to test your clutch grabbing skills.
---
"Towards the end of the vid, it looks like she may have had a bafflectomy." - MarylandMike
Posting Rules

You may post new threads

You may post replies

You may not post attachments

You may not edit your posts

---

HTML code is Off

---