Where I'm (and the 919) at.
---
Quick time line -

Feb 15th, purchased 2004 silver 919 - 5460 miles, $3300. Chain & tires were in awful shape.

Oil changed.
Pilot Road 2's purchased.
Brakes bled.
Renthal UL bar installed after being advised by WT'ers.
Tank Tredz.

After talking to Sandy "mcromo44" (and looking out for my lady passenger - ss pipes get hot), I went with Yoshi's titanium pipes.

Li race battery (2 lbs)
Corbin installed.
Ebay bar end mirrors installed.
Ebay shortys installed.
Metisse screen installed (tks to Luke - "Asphalt 919")
Honda center stand installed (tks to Eddie - "Old Smoky")
PCIII installed (tks to frikjmaser)
got a handful of maps thanks to Sandy

Also wanted to give a shout out to Brad "arctic954", as he's helped me a lot as well.

We finally got some nice weather this wkend - actually more like just today. Yesterday, we had to chase nice weather - got caught in a hail storm, but found good weather after a couple of hours. Today hit 60, except in higher elevation.
Yesterday ~ - northern and central VA.
Today - Rt211 into West VA - got beat-up when we had to hit West VA's highway to beat a storm back home (locals were passing us, and we were doing 85).
Over 530 miles the last two days - 7 hours yesterday, 8 hours today. We managed to keep the highway riding under 100 miles. Single/two lane mountain roads are what I always search for.

Haven't taken any great pictures, but here's one from today (gas station in "bfe", West VA and one from yesterday (started raining right as we left).
---
Those gas prices make me feel a little better about paying 3.52 here in Missouri. Awesome little mod list you've got going there. Seems like you bought it and immediately dropped another grand on the bike.
---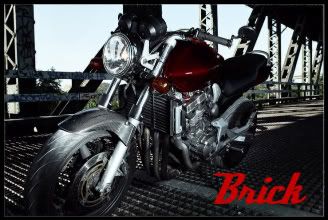 Seņor Calamares
Join Date: Aug 2009
Location: San Diego, CA
Posts: 513
Rep Power:
1
regular gas is 4.05 here where I am (san diego,ca). its getting
[email protected]
#k!ng ridiculous
very nice list of mods there in such a short period of time. nice work shmoo!
---
Yeah, don't remind me on how much I've spent on this thing. My riding buddies are all telling me that I can't make this into a sport bike. Bleh on them.

I'll be riding almost daily since the gas prices are so bad. My car takes premium, so she'll be sitting for a while.
---
Posting Rules

You may post new threads

You may post replies

You may not post attachments

You may not edit your posts

---

HTML code is Off

---