Sidecar rigs
---
does anyone here have experience running a sidecar rig? I've always admired a nice looking hack, and I wonder about how it would feel to pilot one. I'm curious what other folks think about em.
Here's a pretty nice rig based on a Suzuki Bandit 1250...note the heavily modified front end and square tires...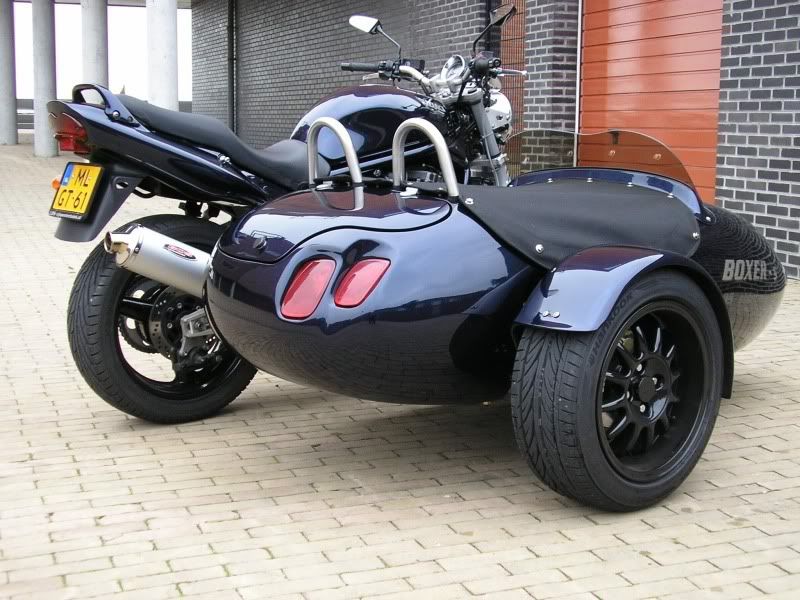 ---
Well, fire the engines! Spur this iron space-pony on!
"The Shadow"
Ever since I watched some english 'car monkeys go dirt trackin on them I've been relatively amazed, so please, put me on the pro-hack side.

Seen some nice customs like that zook there. Also seen some hack hackwork too! If I had 12 g to spare? Ural, baybeee.
---
x2. By the time you done, it will be close to ural price minus reverse gear that you get on ural
---
And that is a two seater so I can see the increase in tire size due to the increase in with of that side car.

I dig them, just not that wide.
---
I Can and will ride anything!
Bikes I own:
New addition 1978 CB750Four
2006 919
1994 home built springer
1984 KLR 600
1953 Servi-car (I gotta get this put back together)
1942 WLA (Gotta finish this one as well)
1985 Honda 200M ATC
1985 Honda ATC 70
1997 Yamaha Big Bear 350 4X4 ATV
Early 1984 Ironhead Sporty (Wife has laid claim to this bike)
1986 Sporty that I am putting a ironhead engine into
YEA BIGDAA I Gotta GUN!
It's not that I am punishing YOU, I am just taking YOUR money and giving it to LAZY Asses who refuse to get off the TIT of the Government...Obama to Joe the Plumber
I forget. What's the term for lifting the third wheel ?
---
I've always wanted to try a sidecar. That one there looks pretty dang good. Resembles the back end of my old 928S.
But it's true, you can get a new URAL with reverse for around $12k.
---
I'm waiting for someone to put a bmw engine in one and make it highway useable.
---
Posting Rules

You may post new threads

You may post replies

You may not post attachments

You may not edit your posts

---

HTML code is Off

---