Never make a deal with the Devil.
---
...... this is my thread/place to vent, so I will. If you don't like reading long stories/posts? Move on.....there's nothing to see here...... if you're a guy who has the perfect marriage and your wife is a track-day rider with you?..... I hate you, you're a lucky bastard!
Don't EVER make a deal with the devil, it will bite you in the ass.......
After years of scaring the crap out of my wife while on the back of my different bikes...... she finally decided to go out and get her motorcycle endorcement via. a local MSF course. We proceeded to look for motorcycles that would suit her well...... there was one thing she needed. PURPLE.
Seriously?!!! oh key-doke..... Purple it is. So we looked and looked, finally found a purple bike for her.....(oddly enough, we bought the bike from a guy) As the story goes..... we TRIED to ride together.... to be honest... I was ALWAYS a mental wreck hoping she wouldn't go into the ditch on every corner.... and OH..... she wouldn't go over 30 MPH, or on the highway, or through town, or through construction zones.... and she felt the need to ALWAYS lead anywhere we went. Heck, she tried.
Need I not go into......me having to wash/wax the bike for her, having to change its oil, and constantly montitor every nuance to make the bike run perfectly for the 1x a month she rode it.... well..... maybe I cut a few corners now and again.
One day...... decided to take it 'sport riding' while my other bike had some mechanical problems (It was a Honda 954).....well, you could probably imagine the look on everyones face when I showed up on the purple princess..... I'll have you know.... that little ninja was tits. 125 MPH TOP speed......sure, you had to bounce it off the REV limiter while going down hill for 5 miles to get it there..... but, it would do it!
Life was all fine and dandy.....I was starting to live with the little purple princess.....Until that fateful day my wife got mad at it...... Yep, she took the bike to the local craft/Rubber stamp store ---- and DROPPED it in the parking lot. Couldn't get the bike back up.... had to ask a passer-by to pick it up for her..... just wasn't the same after that. Never to be ridden again. After sitting in the garage for months, we both agreed to sell it.
So......one day........ I found the perfect bike I had been looking for. I owned a Suzuki TL1000R at the time...... but JUST had to have it. It was a 1998 KTM Duke I Supermoto --- an original and for ONLY $2400.... with the upgraded FCR41 carb, Brembo Brakes, Magura bars, yada, yada...... a REVOLUTION for a 1998.....seriously? they made supermoto's in 1998? who knew?
Yep --- I made a DEAL with the DEVIL. I told her we were purchasing the bike for her! What was I thinking!!!!!!!!!
So ---- her we have this beautiful supermoto in the garage....... she WON'T let me do ANYTHING to it!!!! No exhaust system......no new paint or track-day plastics...... no new gadgets/levers.......no re-jetting......no high-performance brake pads for those beautiful Brembo calipers/rotors........NOTHING. ......"Don't you touch MY bike"!!!!
The days of dreaming about taking the DUKE to a track day were just that......DREAMS. After one summer of that crap ------ sold it without her knowing it. She was pissed......
But sometimes a guy's got to do what a guy's got to do. Take one for the team.....and let someone else enjoy it....it was a shame to just let a bike like that sit there in the garage. She had to go.
Heres to you 1998 KTM Duke...... and to ALL the other bikes I've loved and lost over the years.......
---
Pilus Posterior
Join Date: Sep 2008
Location: New Zealand
Posts: 2,101
Rep Power:
1
Cool bike - would be really nice with a pipe .......


bawahahahahahahah
---
Fool in the Rain
Join Date: Feb 2006
Location: Louisville, Kentucky
Posts: 10,288
Rep Power:
1
That's a couple of nice bikes.
---
"Towards the end of the vid, it looks like she may have had a bafflectomy." - MarylandMike
well..... there IS actually a happy ending to this story, I eventually bought a supermoto that was FOR ME. With explicit instructions that my wife wasn't to ride it. No deal with the DEVIL this time. I learned.
A 2005 KTM 625 SMC.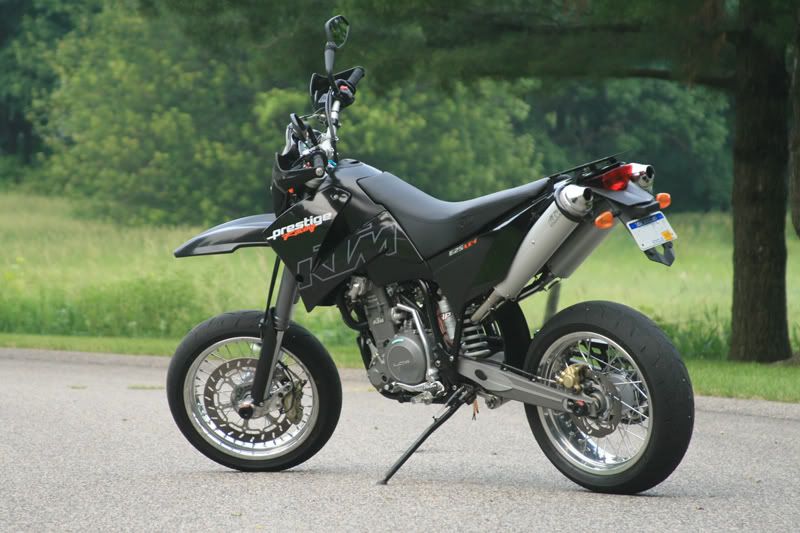 ---
arctic... sounds like you need to be a little bit more supportive of your wife... then there wouldnt be a "devil".....
---
plain and simple they all are the devil!

Sexy bikes! ... i had contemplated gettin a current ktm 530 supermoto and throwing some 17inch rims on it.... it would be TOO much fun... damn things pump out some SERIOUS power. and are wicked light.... too bad it would set me back quite a bit o monies.
---
A friend of mine had converted an older KTM 520.

Man, that thing was a TORQUE monster.
---
Purple is my favorite color I would have totally rocked that bike
Oddly enough I want one of these and will be actively searching for a clean one again once my VTR250 is completed
1987 EX500 Pearl White with the red seat.
---
Are you one of those guys who still rocks the 80's white leathers w/ red Datona's? Ha, ha.....
---
I'm looking for a purple & hot pink set of fieldsheers as I type
---
ha, ha.......
......"I can't....drive...55!"....
---
Too cool...I had one of those Spencers back in the day!
I had and still have the bigger brother 900 though..
White and red leathers for me..Still have them and the DO still fit!
---
That'll work........
dude, that ktm is sweeeeeet!!.i'd have traded the ninja AND the devil for that.
as a bonus look at all the extra closet space for riding gear
---
'04 Honda 919, Candy apple red met., 17/44t sprockets,f-16 windscreen,delkevic ss exhaust,Tharbars,givi engine bars, billet alum. led turns w/ running lights,red adj.levers from china, bar end mirrors,grip heaters,adj. foot peg brackets,adj. bar risers,dunlop Q2(that are better than your pp 2ct,lol)bike wired for gps and phone charger
Posting Rules

You may post new threads

You may post replies

You may not post attachments

You may not edit your posts

---

HTML code is Off

---