BMW S1000RR Valvetrain at full bore **Video**
---
YouTube - BMW S1000RR Technical Video - Valves in Motion High RPM
Quote:
Originally Posted by Autoblog
It takes a ton of engineering prowess to create any functional internal combustion engine, but especially one that's capable of spinning itself up to 14,200 RPM... without blowing itself to bits in the process, of course. Such high rotational speeds are rarely seen on the street – except in high-performance motorcycle engines such as the BMW S 1000 RR's new 1000cc four cylinder mill.

BMW's most powerful production motorcycle engine cranks out 193 horsepower at 13,000 RPM and 82.5 pound-feet of torque at 9,750 RPM. Reliably. Perhaps the most impressive piece of engineering in such a high-strung engine is the valvetrain, which in this case is comprised of two intake and exhaust valves per cylinder made of lightweight and strong titanium. Each valve is operated by tiny single cam followers with camshafts driven by a very short sprocket driven via an intermediate gear.

This technology was borrowed from BMW's Formula 1 racing endeavor and is put spectacularly on display in the video that you'll find after the break. Trust us, seeing the valves clicking away at 14,200 RPM is not to be missed, and be sure to keep an especially close eye on those springs as they spin on their perches while constantly being pounded into submission from overhead. Amazing.
---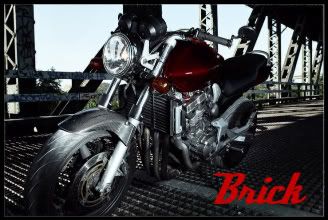 That is crazy impressive.
---
After many years and many dreams I have realized my goal of riding in all 50 states!
Now the rest of the world!
Every now and then go away and have a little relaxation. To remain constantly at work will diminish your judgment. --Leonardo Da Vinci
Allons-y!
Join Date: Nov 2009
Location: Clarion, IA
Posts: 864
Rep Power:
1
Too bad they didn't have a view of the tach so you could see how many RPMs they were running.
---
"Reason is not automatic. Those who deny it cannot be conquered by it" ~ Ayn Rand
Would have been a lot cooler if they had used a strobe light. And it was already a cool vid.
---
02 919 (RIP)
07 600RR
07 CRF450X
81 XS850
09 Versys
that's awesome, I've wondered just what that stuff looks like in 5 digit RPM's.
---
I Don't try to explain to people why I ride a motorcycle
"For those who understand, no explanation is needed.
For those who don't understand, no explanation is possible."

'08 Yamaha WR290R/X
'09 KLX140L (wifes bike)
Fool in the Rain
Join Date: Feb 2006
Location: Louisville, Kentucky
Posts: 10,288
Rep Power:
1
Cool watching the springs dance.

I kept waiting for the BOOM!
---
"Towards the end of the vid, it looks like she may have had a bafflectomy." - MarylandMike
Posting Rules

You may post new threads

You may post replies

You may not post attachments

You may not edit your posts

---

HTML code is Off

---