(Quintus) Pilus Prior
Join Date: Dec 2007
Location: San Antonio, TX
Posts: 2,777
Rep Power:
1
biker friendly
---
Biker Friendly
Someone on a chatroom I frequent (#motorcycles on efnet) posted this, thought I'd share.
---
I don't really understand the intent. What do you make of it?
---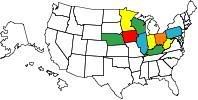 Is it bikers putting 'biker friendly' stickers on their car to help raise awareness of motorcyclists? It all seemed like common sense to me. It was like motorcyclists telling other motorcyclists to watch out for motorcycles. Good idea, I guess, but maybe a little redundant.
---
Press Any Key To Continue.
(Quintus) Pilus Prior
Join Date: Dec 2007
Location: San Antonio, TX
Posts: 2,777
Rep Power:
1
I think it's more for "Hey, I ride too...if you need a blocker, I'm here for you brother"
---
Posting Rules

You may post new threads

You may post replies

You may not post attachments

You may not edit your posts

---

HTML code is Off

---