9/11 Memorial Charity Ride
---
Got up early on Saturday morning 9/09/07 as I couldn't really sleep anyhow. The bike was prepped last night so only had to throw on the gear and attach the tank bag. It was relatively warm already (65) but elected to wear the leather anyhow and stuff the textile into the tank bag.
Pulled out of the driveway and headed to the BP for a breakfast/power bar and some crappy coffee while I wait for my buddy Mike to show up. He was supposed to be there between 8 and 8:15 but as usual he was late. He finally shows up around 8:30 and tops the trike off (2003 Gold Wing converted to a trike). I throw my gear from the tank bag into the trikes trunk as it mean less crap that I have to carry. It is then off to the Howard Johnsons up the road to meet up with the group.
We pull into the HoJo's about 8:45 and see my buddy Bobby and his crew. They are a local Yamaha group that primarily rides Yamaha Star motorcycles, but they have a few others that belong on Harley's, Honda's ect...All are cruisers, not a sport bike in the mix. When we pull in they make a beeline for Mikes bright yellow trike (things a frigging magnet) and start bombarding him with questions. I walk around and introduce myself to members of the group trying to get a feel of what I am getting into.
Turns out that the chapter is a real stand-up group of guys who take riding very seriously and had an actual waiver that guests had to sign in event someone decides to ride like a moron they could be removed from the ride. That was fine with me and I started to feel a little more comfortable considering we had about 35 bikes.
We pull out of HoJo's at 9:15 sharp with the 2 tail riders stopping traffic while the rest of the group fell in line. It was then off to Tramonitn Harley Davidson/Honda in New Jersey about 35 miles away. I knew I was in for a long day as every single bike in the group seemed to have after market pipes and BRAAAAAPPPP BRAPPPPPPPP BRAPPPPPPPP we went down the highway (thank God I had ear plugs).
We pull off exit 12 and head towards the dealership. You couldn't miss it as there were ladder trucks fully extended with the the American flag draped across the roadway (very cool). As we entered the dealership property we are directed towards a grassy field in the rear. There are probably 700 to 800 bikes alreay there at this point. I take a quick scan and see maybe 4 sport bikes total (holy crap am I out of my element). I get the obligatory "what are you doing here?" and "what the hell is that thing?" stares as we ride to our designated parking spot.
We dismount and I get out of my leather garb (it's getting reallllyyyyy hot) and meld into the crowds. We walk around and check out the surroundings, lots of chrome, beer guts and tats but I manage to look the part by spitting a lot, yanking my pants up and throwing the occasional belch at a passerby.
The shop really did a nice job catering to the crowds as they had free soda, water, coffee, donuts and hotdogs. I did my best to make sure there were no leftovers as it would just be rude to leave them with all that food. They also had a pretty decent live band and Chaplins from various cities to bless the event before we rode. We also had a very respectful tribute and moment of silence to honor the fallen.
The ride started promptly at 11:00 with a contingient of NJ State Police leading the way. I would say we were about mid pack of around 1200 bikes which in itself was pretty amazing. I myself, have never been in the midst of so many bikes at one time. I guess it is one of those things you have to experience to understand. This is probably the only time I have really enjoyed riding the super slab.
It was pretty cool being on I-80 with no cages at all other than the state police blocking off all the off and on ramps. As far as the eye could see in either direction were bikes. I wish I would have gotten some pictures of it but I had my darn camera tucked deep inside the tankbag.
The ride was pretty uneventful (other than BRAAAAAPPPPP BRAAAAAAPPPPP the whole way...) on the way to the city, but as we drew near and the skyline came into view the enormity of the event started to sink in. Now mind you I commute into the city every day of the week but this was a feeling unlike any that I've felt in quite some time. It is something else that words fail me to describe.
We arrived at the Holland Tunnel somewhere around 12:30 and stopped for aproximately 15 minutes. It was enough to suck down some water and stretch the legs (I was dying at this point as it was 90+ and I'm still in leathers). At this point this started to get interesting as there were throngs of people along the road way cheering at us and waving. There were police officers everywhere giving us the thumbs up as we started through the tunnel.
As we came out of the tunnel and made our way to the West Side Highway the crowds grew. There were people everywhere waving at the bikes and cheering. It was a very sureal moment to see NYFD trucks with firemen on board looking at us waving, cheering and urging us on. I mean c'mon guys, you are the "HEROS!" we're just out for a ride to hopefully raise a couple bucks. We then cam upon Ground Zero and something happened that I totally did not expect. My eyes welled up with tears and my throat threatened to close up. I mean I pass this place every single day but today was different. I felt emotions well up inside of me that I never expected, the last of which was unbridled anger at the monsters that made this ground what it is today. Is this the end? Not by a long shot, the road that we must travel will be long and arduous. The safety of our country, the lives of our families, the well being of our friends and co-workers will be filled with trial and tribulations. Yet only WE can make a difference.
We didn't stop in front of Ground Zero, only made a slow pass by as we made our way to the Brooklyn Battery tunnel. We came out of the tunnel and into Brooklyn where again poeple lined the streets cheering and waving. It was pretty damn amazing if you ask me. Our journey ended on the streets of Brooklyn near some small HD shop. The bikes lined the streets for blocks and there as well was a live band and food for all. Mike and I hung out only long enough to say thank-you to a few of the firemen and police in attendence, use the facilities grab a water and headed towards home.
All in all in was a great day, one of which I will never forget. I am proud to have done something for those that protect and serve us without hesitation on a daily basis, and I look forward to the next time that I may play a little part as well.
I had some camera issue throughout the day but here are some of our journey.
Meeting at HoJo's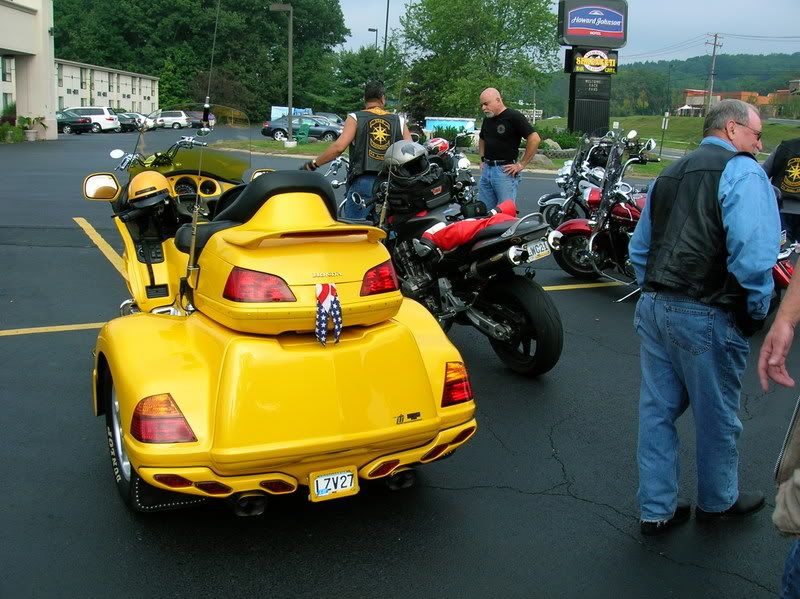 In New Jersey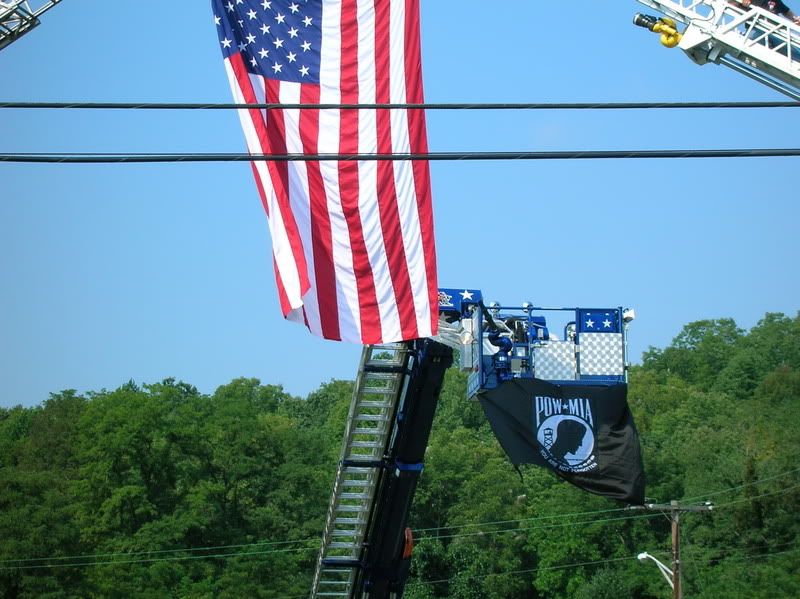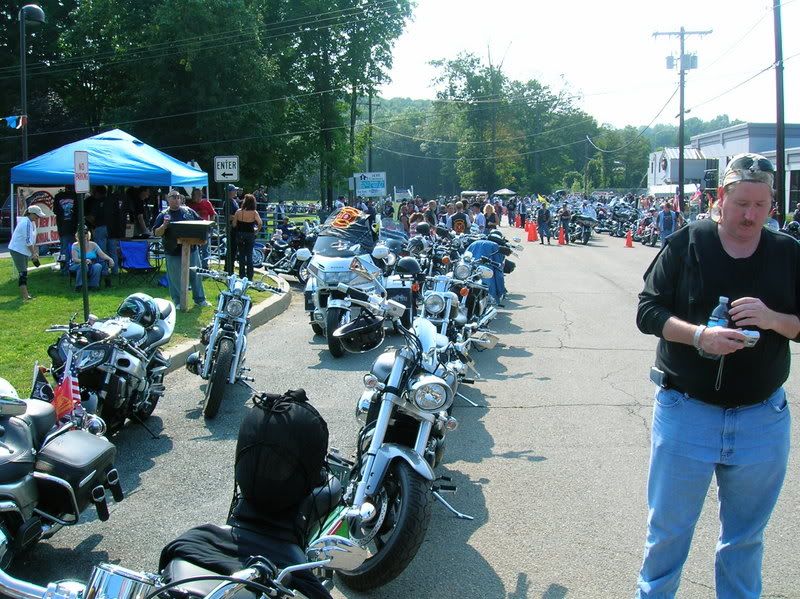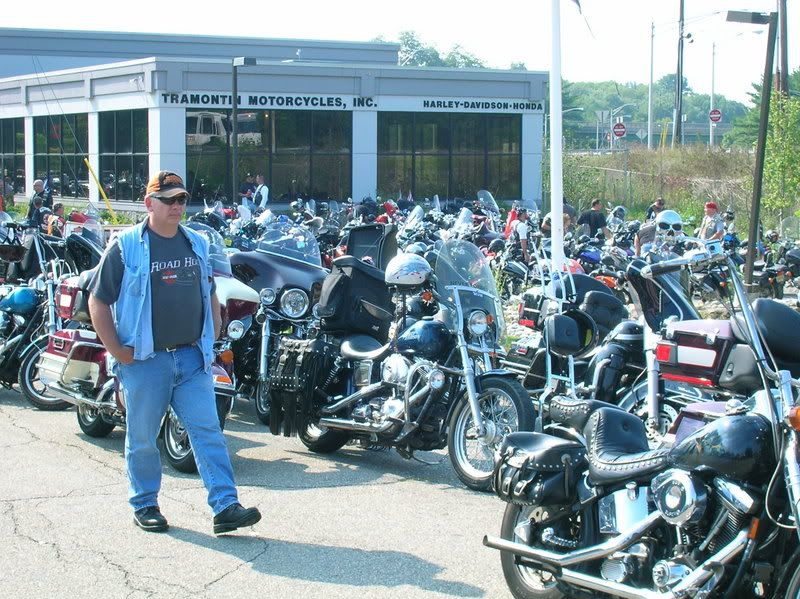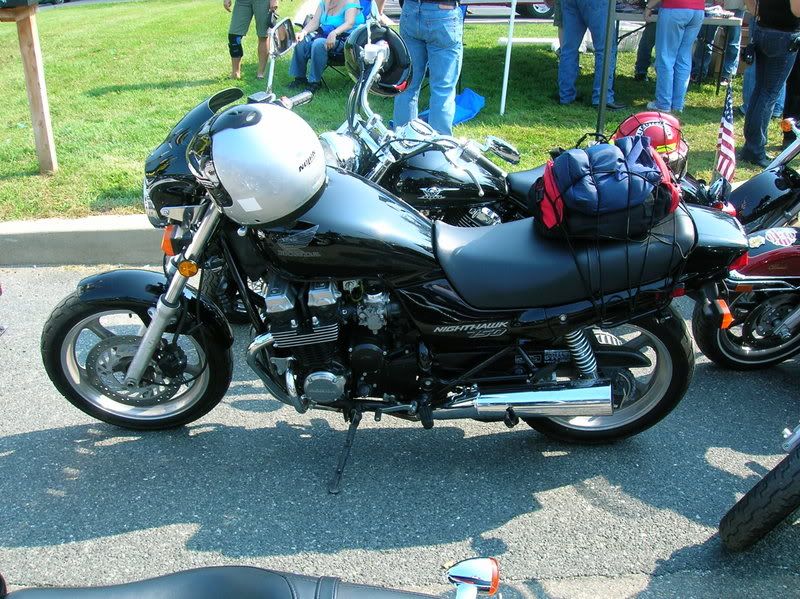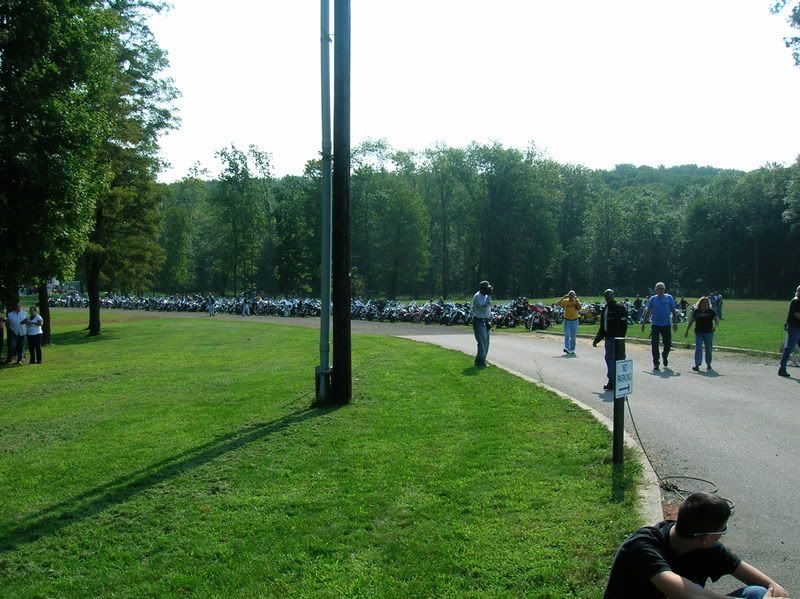 Chaplin from Detroit MI blesing the riders before we left.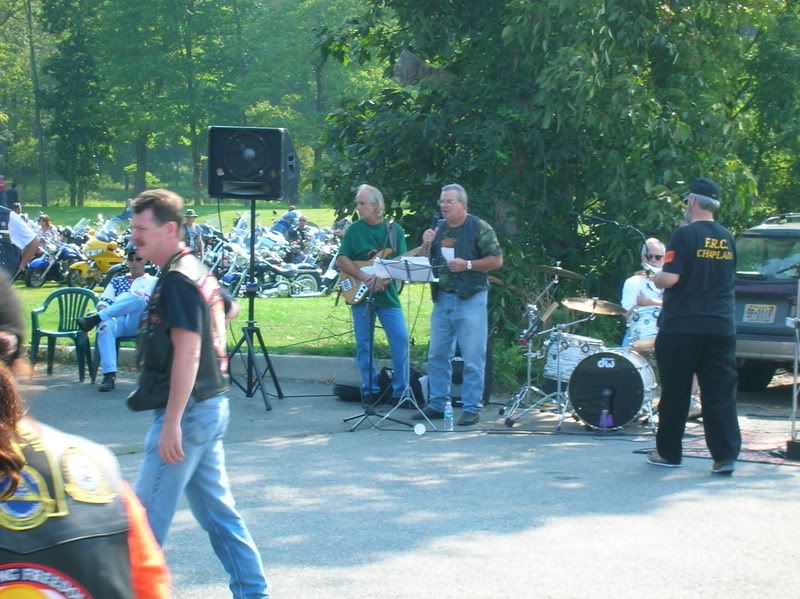 Waiting to go through the Holland Tunnel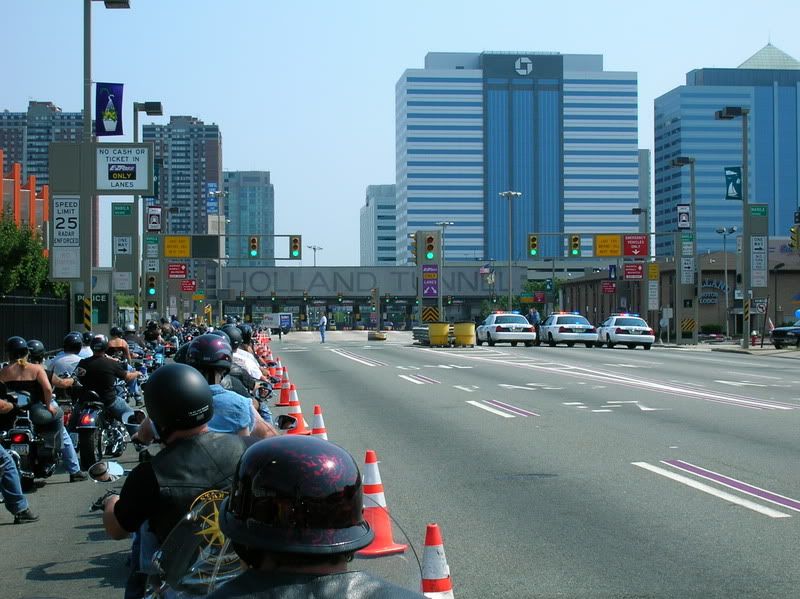 In Brooklyn
Michigan State Troopers
Some of our escort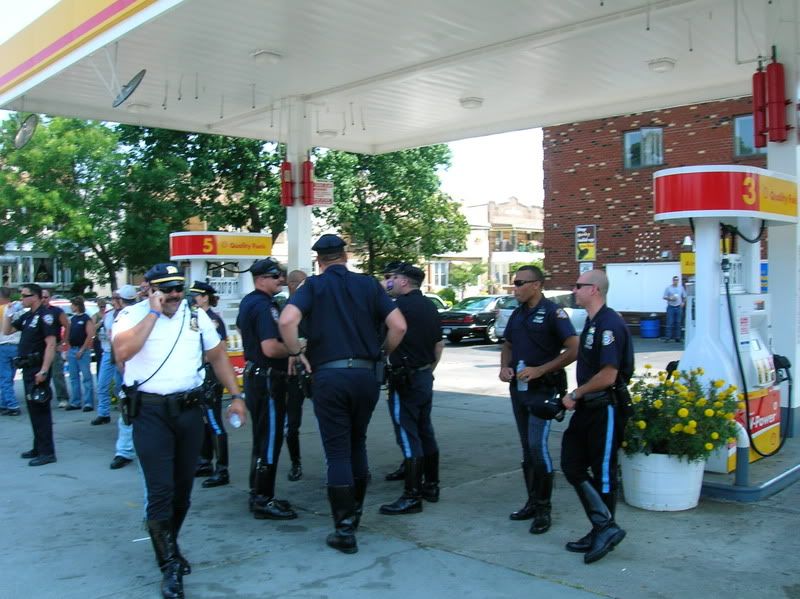 And lastly.....don't know what the hell this is.
---
Proud member of Wristtwisters, where we drill things the right way.
Kewl ! Did you put up the dough right off, or di you have to find "sponsors" prior to the ride ?
---
Quote:
Kewl ! Did you put up the dough right off, or di you have to find "sponsors" prior to the ride ?
Nope, just put the $$ up front.
---
Proud member of Wristtwisters, where we drill things the right way.
Excellent ride report, I'm sure you feel good inside for taking part in it.
---
Fool in the Rain
Join Date: Feb 2006
Location: Louisville, Kentucky
Posts: 10,288
Rep Power:
1
Quote:
Excellent ride report, I'm sure you feel good inside for taking part in it.
+1. Good job.
---
"Towards the end of the vid, it looks like she may have had a bafflectomy." - MarylandMike
Join Date: Jan 2006
Posts: 3,705
Rep Power:
0
Great write-up Mark!!!
Glad you got out for that & were able to share.
---
shoulda done this, our local ride was cancelled last night....only an intrepid few made it out

first time in 6yrs weather was an issue
---
Quote:
shoulda done this, our local ride was cancelled last night....only an intrepid few made it out

first time in 6yrs weather was an issue
I got really lucky, missed a major t-storm by about 30 minutes on the way home. If we would have stuck around with the rest of the group we would have been hammered.
---
Proud member of Wristtwisters, where we drill things the right way.
Thanks for sharing your ride with us. I'm sure it helped in more ways than one.
---
Posting Rules

You may post new threads

You may post replies

You may not post attachments

You may not edit your posts

---

HTML code is Off

---