Two wheeled bliss
---
My damn dog canít stand it when I sleep in on the weekend. She doesnít bother my wife, but If I stay in be past 5:30 am she gets all upset. So after being ousted at 5 this morning I staggered downstairs and checked out the weather, current temp 55 and cloudy,Ö hmmn. I was out late last night at a friends wedding so I wasnít really planning a ride, and now with this blistering July heat I just couldnít see myself on the bike today. I turned on the TV and after about 5 minutes of that I was more than ready to go. I trashed my cool weather riding gear a couple weeks ago due to a run in with the local deer population. I scrounged around and found a wind resistant liner and put that on under my fully perforated leather jacket and put on all my other gear. When I opened the garage door it was kind of chilly, but I have ridden in worse so I fired up the little RS125 and away we went.
I took it easy at first and stayed within the posted speed limits (mostly) all the way down to Salem where I picked up SR9 and made the 2 stroke scream all the way to Carrolton. I had to be home by 4:00 to meet a guy who was coming to buy one of my 74 360ís so I decided to head down to the Ohio River. I took 800 all the way down and had a great ride. I saw 2 deer on the road and 3 more running along the fence line on the roadside. Iím not really into hitting another one just yet. I figure 1 every 15 years or so will be enough. I stopped south of Cadiz on 22 at a nice quiet little farm.
Deserted road on a cool Sunday morning
I continued down 22 to 800 and stopped in Woodsfield at the Monroe County Courthouse.
Around 11:30 I arrived in Fly on the Ohio River at SR800 and SR7. I took in the early morning sun while I relaxed with an orange pop on a bench watching the cars roll by. There is a ferry in Fly to take cars across the river into West (by God) Virginia.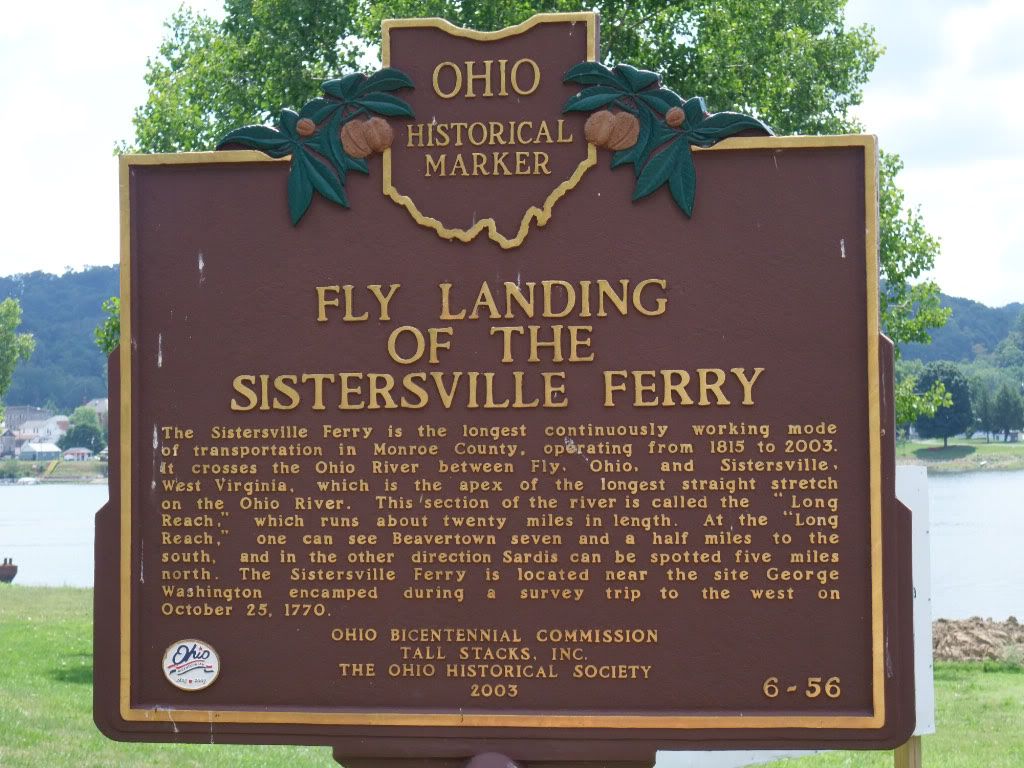 The boat waiting for some passengers
I got rid of my windproof liner and pointed north on 800 towards home. I really punished the old girl on the ride back. The more I ride this bike the more I love it. The bike seems to have a sense of urgency, like it needs to be somewhere and it is always late. The little motor screams ďfaster, harder, more, more, moreÖĒ making me behave in ways I should not. I usually try to ride at a quick pace and keep my passes safe and subdued, but on this bike that just will not do. I can see a track day on this bike in my future, but for now the street will have to do.
I stopped back in Woodsfield for fuel and a few more pictures. Here is the back of the courthouse.
Old dilapidated theatre across the street from the courthouse. Iím guessing it has been some time since the last ticket was sold here.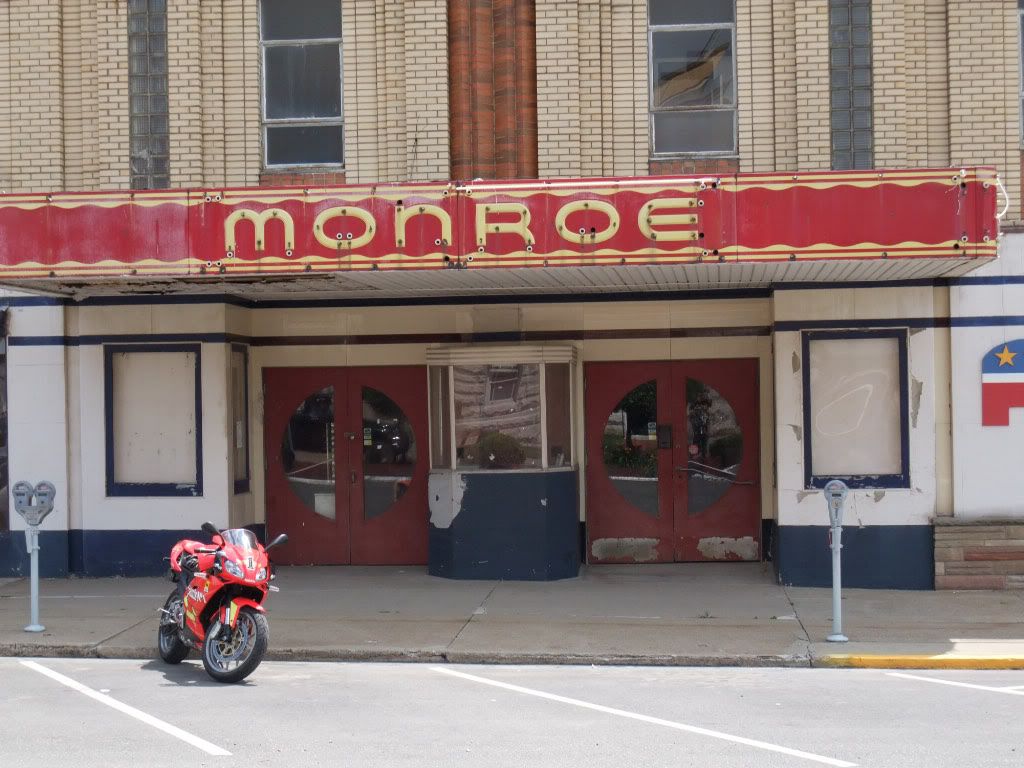 Apparently Hendrysburg is the birthplace of Hopalong Cassidy.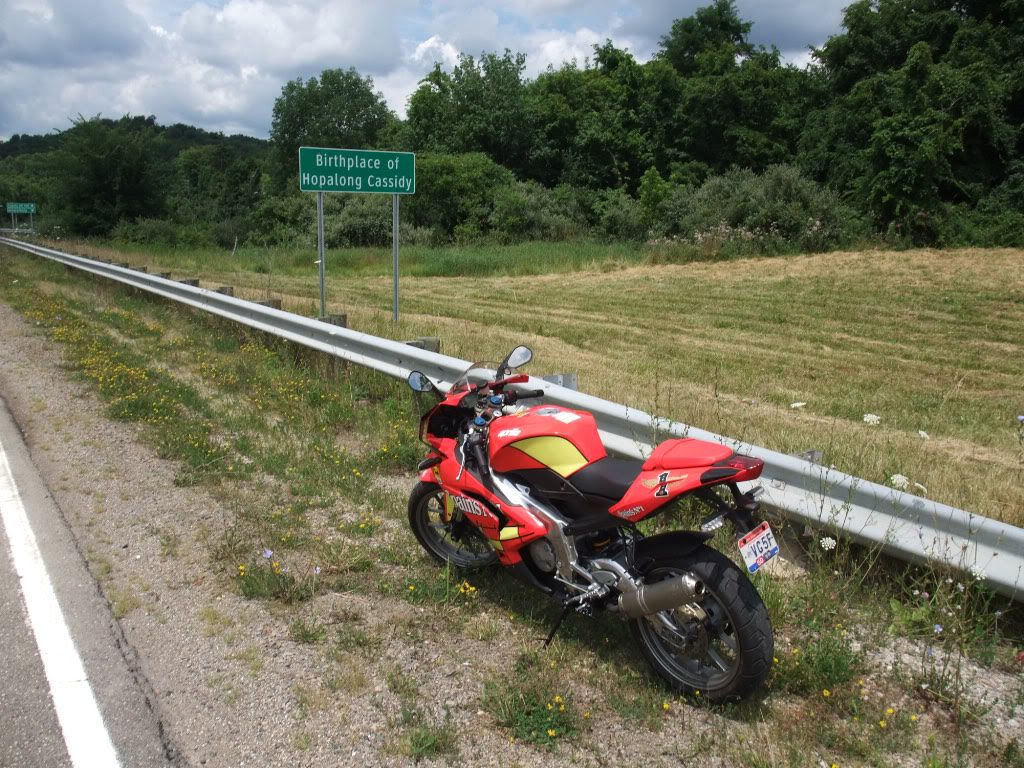 Coming back up SR9 out of Carrolton I spied a dirt/gravel road that I wanted to explore. Up we go.
An Italian among the soybeans.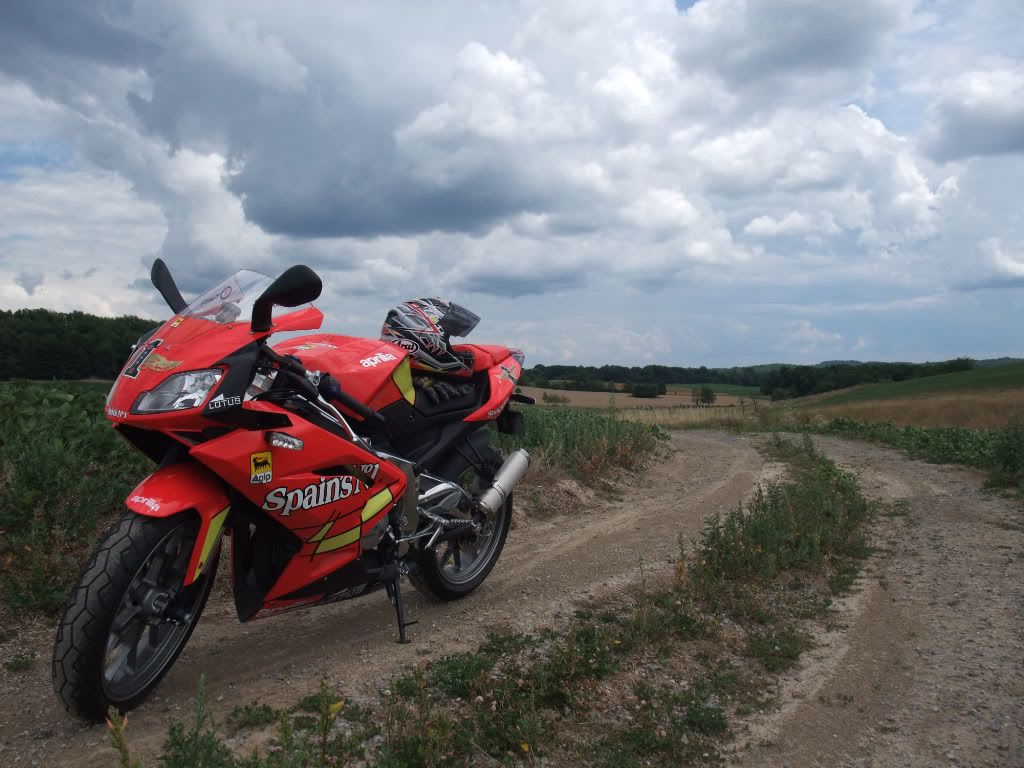 I slipped and slid back down to the asphalt and headed for home. I eventually came up behind 2 guys on sportbikes. One was on a new CBR1000RR and the other on a Suzuki GSXR of some unknown displacement (they all look the same). They were riding at a decent pace, around 65 Ė 75 so I just hung back there and enjoyed the ride. They would accelerate on the straights (not much but up to about 80 or so) and then park it in the corners. After about 3 or 4 miles my little Ďpriller wasnít having any more of this. They were riding smoothly until I tried to make a legal pass on the straight and they both kicked it up a notch. OK? Into the next turn, on the brakes again. Next straight on the throttle. There is a section on 9 that is double yellow and has a set of corners, but you can see all the way through to the other end. I made my move here. A nice safe pass giving them a lot of room and passing on the outside while they were on the brakes. After I got by it was all gas and no brakes for the next 2 miles. I usually donít ride like this on the street, but for just a little bit today I felt my inner hooligan coming out. It felt good to pass other riders on far superior equipment. Iíll bet they donít even know they got passed by a bike with 33bhp. I will give props to them though. They were wearing helmets, gloves and jackets. They didnít have boots or riding pants, but that was more gear than I saw on a hundred other riders today.
This Sunday morning ritual is becoming a regular thing for me. Reminds me of the old days when I used to ride every chance I got. Two wheel bliss!
---
After many years and many dreams I have realized my goal of riding in all 50 states!
Now the rest of the world!
Every now and then go away and have a little relaxation. To remain constantly at work will diminish your judgment. --Leonardo Da Vinci
Knees in the Breeze
Join Date: May 2009
Location: upstate N.Y. "in the sticks"
Posts: 264
Rep Power:
1
Great ride story ! Glad to see you got out for some fun. I'M stuck at work all weekend and after reading your story WITH PICS !! (Even though both my machines are parked for the weekend ) , I feel like I got to enjoy a nice morning ride !!
PS : Sweet bike.
---
Never pick a fight with an old man..if he's too tired to fight, he'll just shoot you.
1979 H-D Low Rider (orig owner)
2009 K 1300 S (Lava Orange...the faster color)
Man that's an awesome ride, and a great looking Aprilia.. Good to hear you getting back out.

Thanks for sharing.
---
Hopalong Cassidy..... Just so's you know, that pic brings back memories. I'm actually old enough to have watched all the Hopalong TV show when they were new, and the movies they made of him before they did the tv stuff..... Just a little FYI
---
Monk
Riding defensively is a pro-active must.VFR MOD's : GripPuppies;ThrottleBoss;NepThottlelock;LowCutBra; BubbleMirrors;HondaBags;GPS TomTom2ndEd(Powered,W/Tightwad'sPowerletSystem);SargentSeat w/silver piping;StockWindscreenW/LaminarLip;
3-M BlackReflectiveTape;FirstGearSilverMiniTankBag;Gez aHalfCover;AxioSilverHardshellTailbag;
HeldSpeedySeatBag;KuryakynLEDBatteryGauge;TyresMic hPR2's;NWS Hugger;RedWheelTape;RedRadiatorGrill.
nice ride report!! I'm really liking the stories from this little machine!!
---
Tribuni Angusticlavii
Join Date: Nov 2006
Location: Virginia Beach
Posts: 3,726
Rep Power:
1
That is such a cool bike! I can never get enough of the pics and ride reports
---
2008 Yamaha FZ1-
Street
2005 Honda CBR 600rr-
Track
---
After many years and many dreams I have realized my goal of riding in all 50 states!
Now the rest of the world!
Every now and then go away and have a little relaxation. To remain constantly at work will diminish your judgment. --Leonardo Da Vinci
Posting Rules

You may post new threads

You may post replies

You may not post attachments

You may not edit your posts

---

HTML code is Off

---