My Haitian Vacation ride
---
Greetings! I arrived safely back from Haiti, Saturday afternoon. As some of you may know, My National Guard unit was sent there for our summer training in order to take part in the ongoing relief efforts there.
Strictly speaking, this isn't really a ride report...but it is, sort of. This seemed like a good place to post up about my adventures.
My unit, the 220th Military Police, arrived in Haiti on May 26th. We were tasked with providing security for Task Force Bon Voizen (Good Neighbor), and the construction and medical efforts the UN is making. My platoon was posted to Cite Soleil, which is located in Port-au-Prince.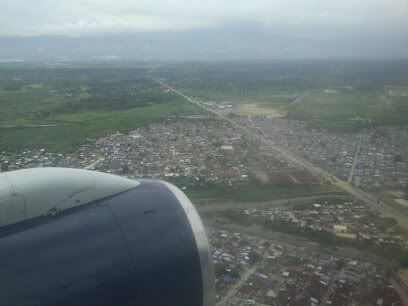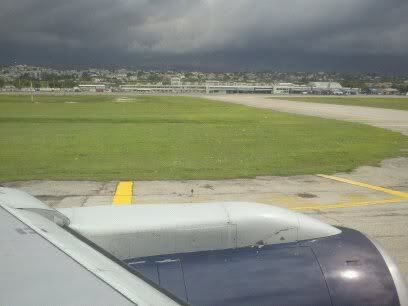 Quote:
Cité Soleil (Kreyol: Site Solèy, English: Sun City) is an extremely impoverished and densely populated commune located in the Port-au-Prince metropolitan area in Haiti. Cité Soleil originally developed as a shanty town and grew to an estimated 200,000 to 400,000 residents, the majority of whom live in extreme poverty.[1] The area is generally regarded as one of the poorest and most dangerous areas of the Western Hemisphere and it is one of the biggest slums in the Northern Hemisphere. The area has virtually no sewers, stores, electricity, health care facilities or schools. For several years until 2007, the area was ruled by a number of gangs, each controlling their own sectors. But government control was reestablished after a series of operations in early 2007 by the United Nations Stabilization Mission in Haiti (MINUSTAH). Half of the houses of Cite Soleil are made of cement with a metal roof, half are made completely of scavenged material. An estimated 60 to 70% of houses have no access to a latrine, particularly in the marshy Brooklyn area which includes Cite Carton.[2]
Armed gangs roamed the streets and terrorized the neighborhood. Every few blocks was controlled by one of more than 30 armed factions.[4] Though the gangs no longer rule, murder, rape, kidnapping, looting, and shootings are still common. The area has been called a "microcosm of all the ills in Haitian society: endemic unemployment, illiteracy, non-existent public services, unsanitary conditions, rampant crime and armed violence".
Wikipedia entry
This area that I found myself in really aint a very nice place...
The whole area looked and smelled like a homeless camp built in the middle of a landfill. The roads were like the surface of the moon, a series of crater-like potholes of all sizes, mostly unpaved. Some of the potholes were of a size to swallow my humvee. The traffic is wholly unregulated, people drive on whatever side of the road they feel like.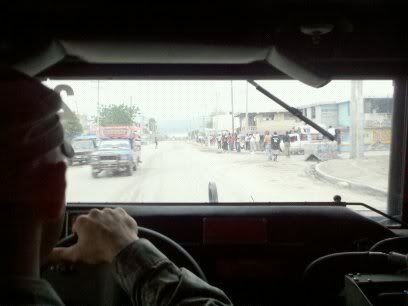 I was in charge of a guard detail at the seaport, securing an area that is used to store UN building supplies, military vehicles, and other stuff...but there was really very little inside of my perimeter. it all got shipped out as soon as it arrived.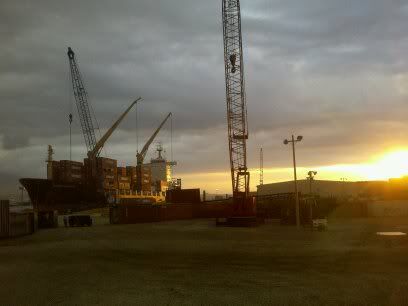 ---
Well, fire the engines! Spur this iron space-pony on!
"The Shadow"
Signs of damage from the earthquake were everywhere. Very little has been rebuilt or repaired. Half-collapsed buildings were all around, and there were fields of rubble everywhere. There is no garbage service here...the garbage piles up like beach flotsam after the receding tide. the people have very little sense of modesty...it is not unusual to see people stop to piss wherever they happen to be standing, or to squat in the gutter to take a dump...I did not take photos of this. There is no sewage system here...
There is a squalid open-air market where meat, produce and clothing is sold. it looked very chaotic, and pretty much everything was just dumped in the 6 deep mud for people to pick through. the place smelled to high heaven...itcould be smelled miles away!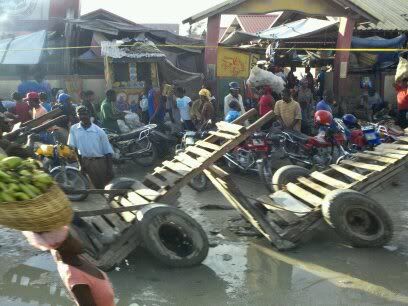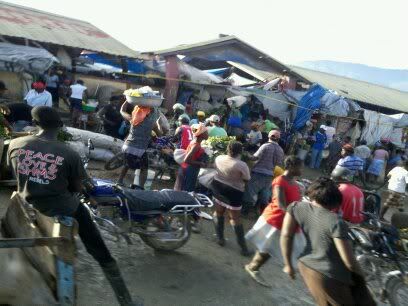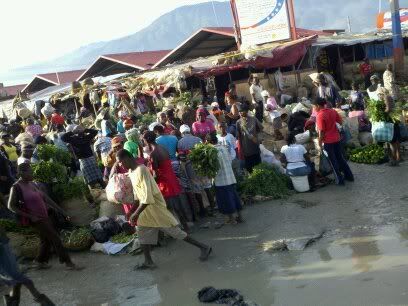 It was not all terrible, though. The people I talked to seemed fine, they were clean, they were not starving.
There is a city bus system...the buses (old school buses) are painted in bright schemes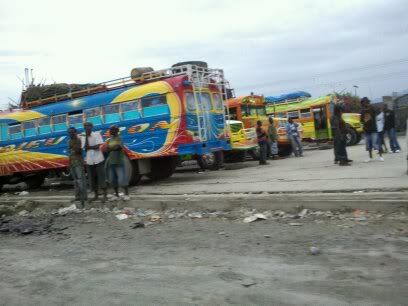 There are motorcycles everywhere...but not of any make I'm familiar with. Geely, Haojin, Fuego, they are mostly chinese manufactured. All the bikes seemed to be 125's, they were all small motorcycles. It was not uncommon to see 3-5 people riding on one bike.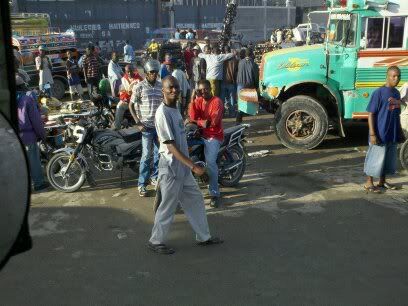 ---
Well, fire the engines! Spur this iron space-pony on!
"The Shadow"
All-in-all I'm glad I was able to go there. I would actually like to go back and do more to help put that place together again. it seems like a mostly futile effort though. Keep in mind that Haiti was already in almost this condition prior to the earthquake!
Part of the problems that this country has is their government, which is rife with graft & corruption. The parliament is controlled by the wealthy families, who seem to get into office for the sole reason of stealing as much as they can while they can. they government gets a cut of everything... of all of the donated aid money & supplies I would estimate that 75-90% ends up in the pockets of the officials. I saw vast numbers of opened shipping containers which still held the rotting remnants of donated clothing and building supplies. I don't know why they had not been put to use.
There was beauty to be found, if you looked for it...
I wish that my duty had allowed me to get out into the countryside a bit, and to see more than I did. Maybe next time...The US Army is going to be pulling out in another couple of months, but they are already planning to return in a year or so.
All of my photos can be seen here:
Haiti 2011 pictures by 220th_MP - Photobucket
---
Well, fire the engines! Spur this iron space-pony on!
"The Shadow"
Nice report. Jeez that place is f'ed.
---
Welcome back, Dec! Glad you had a safe return.
welcome back man, glad to hear ur ok.
---
....spent a couple of years in Brazil. Much the same way, in places, but not everywhere.

There is just something to be said about laziness in people as a whole. I honestly think about why our country is a bit 'better' and a lot of it has to do with work ethic.

If those potholes were in MY neighborhood? I would have organized a group to go fill them, if the government wasn't going to do it...

It's when the masses stop caring that stuff goes to whack.
---
2009 Aprilia Tuono - Ginger
2001 XR650R BRP (Big Red Pig)
2006 Honda 599 - Ex wrecked it :-D
2007 Honda CB900F (sold)
2006 Honda VTX 1300C (sold)
YouTube Channel
Glad you are home, bro.

Man, what can anyone say here? We have a fab Nation and the administration is trying to fuck us into the third world. Well, you've shown us stellar example of the third world. Personally, I want to keep working, gimp knee, elbows and shoulders and all! It's no wonder that lesser Countries want our money and assistance, then our defeat and failure!

I'm not one bit sorry or reticent for my American Heritage and my opportunities, nor is their a bit of guilt.

Even with a government overhaul (which is sorely needed in Haiti) one must wonder whether the people can adjust to the point that they can regain any drive and enthusiasm for success and self reliance.
---
"I said I never had much use for one.
Never said I didn't know how to use it."
Mathew Quigley
its sad that the media and other news outlets doesnt report on the obvious dissarray that place is still in....
---
Too bad about the country side. Haiti is a real beautiful country out there. One thing that keeps it from being a big tourist destination is the Government. As you said they get a cut of everything. Thats the real problem with the UN they know this better than anyone and yet they do nothing and dont warn people when they try and send aid. It's the main reason I never lifted a finger when it came time to send aid. Your guess of 75-90% of aid stolen is right on the noise.
---
Never Trade the Thrills of Living for the Security of Existence.
Posting Rules

You may post new threads

You may post replies

You may not post attachments

You may not edit your posts

---

HTML code is Off

---