Finally got a ride in!
---
Well, after my surgery, riding has been little to none, especially after the storm knocked the bike over and I had to replace a few bits... Anyway, it now has Renthal UL's w/Renthal bar ends (bars are gray, ends are black because it was cheaper that way), Delkevic stubby cans, PCIII USB w/TwoBros map, my custom DOD Decal holder - so I didn't have to stick the decals on the forks (I'm most proud of this, since I designed / measured / made it myself), CW Fender eliminator, Vizi-Tec brake light flasher, red-reflector license plate bolts, and the
LOOBMAN
manual chain luber. I think that's all anyway... It's a great motorcycle, and I'm glad to be able to ride it again after such a long recovery - then fixing after the storm! It's still not 100% from being blown over in the storm, but it's almost there. I still need to get a foot break lever and get around to replacing the front turn signals. I took the lens off and "adjusted" the plastic surround and then put it back on, the gasket sort of flops around in there, but it blinks. I have new lights for the front (they're dual filament lockhart phillips to match the rear) I just haven't put them on yet... I will soon... just rather ride it that sweat on it... Anyway, here's my pics.
Went a little over 200 miles today, got 58MPG on the first tank, but with only 70ish miles on the second tank, I don't know on that part yet... Stopped at the NC Zoological park and watched the elephants... They didn't move much.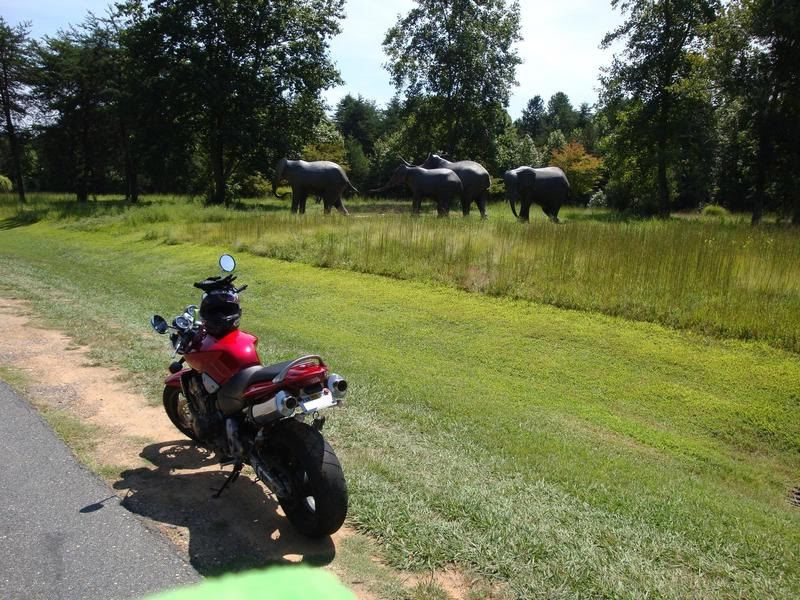 After I rode down the wrong road for a while, I actually found the Zoo, but on my way out (I though I'd try a new route...) I found a different long cut that led me to a covered bridge!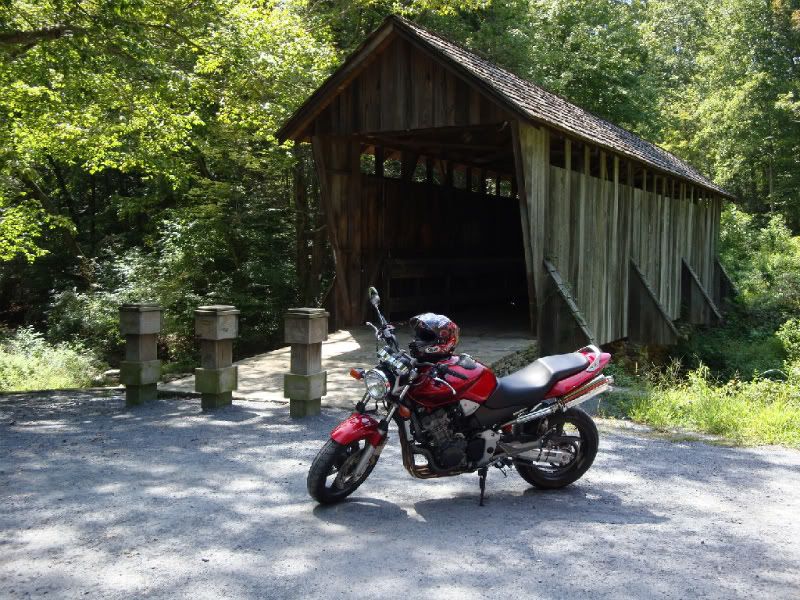 Anyway, it was a nice ride - my ankle hurts a little bit, and my bumm isn't used to riding again, but it was a good ride none the less!
Oh, one other thing, Highway 42 doesn't go north/south like Google says it does, it goes east/west, but if you do turn off highway 64 onto 42west toward who knows what, you'll find a crazy cool road to ride on. Medium traffic, speed limit 55, and plenty of windy, elevation changing turns with 35MPH signs at the entries. A little narrow, but still pretty cool. Found a new lake too up there, might have to get the kayak out soon too! Sucks I missed all of summer, but by golly I'm going to make up for it now!
Ride safe -
-Adamjayp
PS: I swear I put 800x600 for the pic size in photobucket, but it's photobucket - who knows. I'll see if I can fix them.
---
Very cool, thanks for sharing
---
2003 Honda RC51
Posting Rules

You may post new threads

You may post replies

You may not post attachments

You may not edit your posts

---

HTML code is Off

---