Broke my personal record for most miles in a day
---
Okay so this kid that comes into my work is always chewing my ear off about random crap. He rides an intruder 750 or something of the sort. He is always telling me about his uncle and how he owns all these rare Ducatis and Harleys. Tells me his uncle knows of this great place to ride called "13 Mile Woods"
So the forcast for the weekend was great. I google 13 Mile Woods and discover it's not an actual road but a State Forrest preserved land. But there is a road that goes right through it. Runs right along a river. That has to be what all the ranting and raving is about. So we set a course for 13 Mile Woods departing from the Laconia NH area.
We started the ride with a road that we frequent for a quick blast through some nice twisties and smooth pavement that runs almost along the most major highway in NH which is 93. Rt. 132 travels from exit 20 to exit 24 all in a nice curvey wooded area.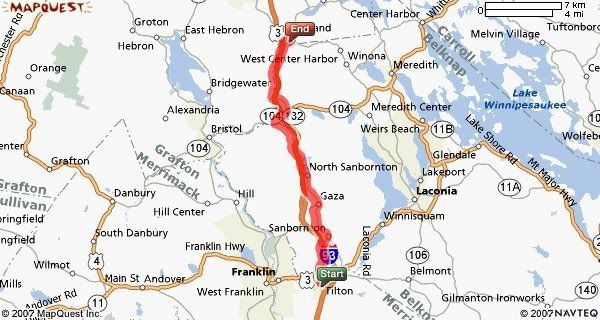 The weather was a bit cool for August, but
www.weather.com
claimed highs in the mid 80s by noon. We had departed late morning...
Next by recommendation of my father we took Rt. 175. The road was like a race track with houses on the side. Unfortunately we got stuck in a long line of traffict and most of the chicane like corners were spent in 1st gear at about 12-15 mph.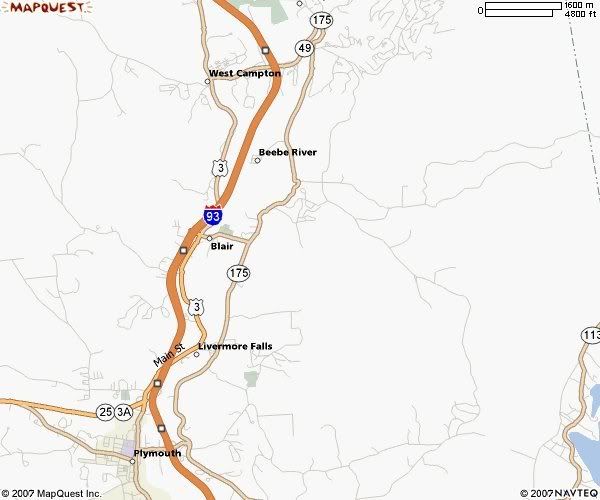 As you can see 175 kind of turns into 49 and connects to Rt. 3 which is the road we had to travel to get to our ultimate destination which was Errol NH where 13 mile woods begins.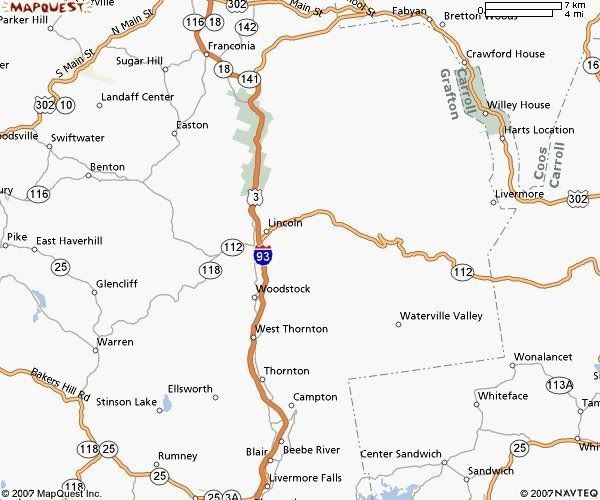 The map here doesn't really show Rt. 3 very well but it basically goes way North, following I-93.
So we were supposed to stay on 3 for a lot longer, and then eventually meet up with Rt. 16 go DOWN 16 and meet up with Rt. 2 and cut across back west. Unfortunately I ****ed up and went East to soon, and we ended up taking Rt. 115 to Rt. 2 which met up with 16 and we went UP Rt. 16 as shown on this map: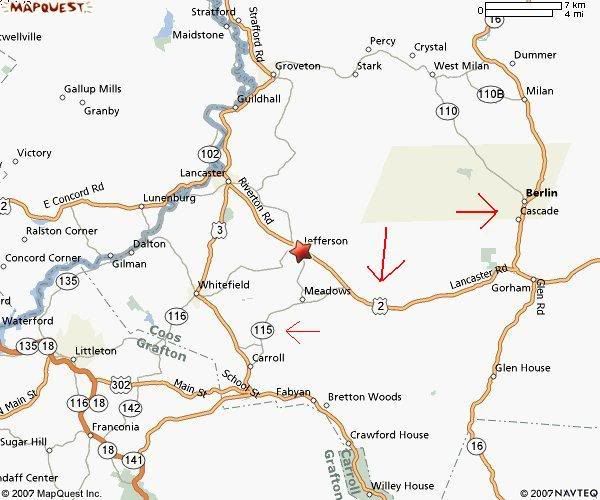 At first I didn't think this was bad, all it meant is we were going to slightly reverse part of our ride. Enter the ****tiness of Rt. 16...
One thing I've yet to mention is that when I checked the weather for our place of departure and our destination it read the same: Mid 80s Sunny, 10% chance of rain. Once we were well on our way into Rt 3 the sky became increasingly darker, and the temp couldn't have been much more than the high 50's low 60's... We weren't exactly sure where this famed 13 Mile Woods was but we new it was along Rt 16.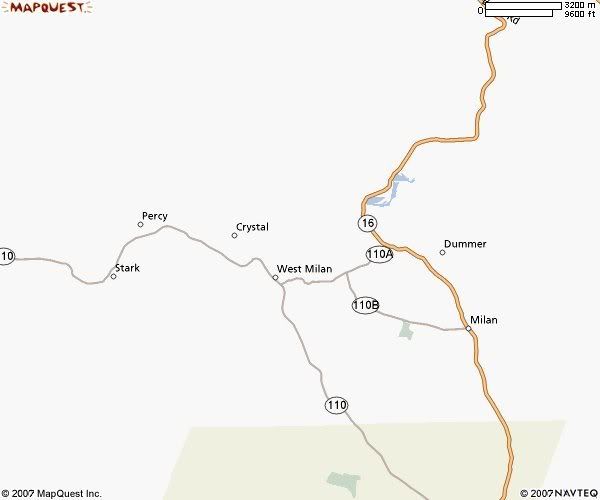 This is a very close view of 16 (and yes there is a town called Dummer) Rt. 16 was probably the bumpiest road I've ever traveled in my life. EVER. I thought numerous times I was going to crash because my chassis was so disturbed. In fear of bending a rim I drastically reduced my speed, which I did not want to do, I wanted to exit the area as quickly as I could as we were constantly threatened by splashes of rain.
We kept pressing North on 16 in hopes that the road would smooth out. And this is where it gets confusing. We definitely went way way to far North.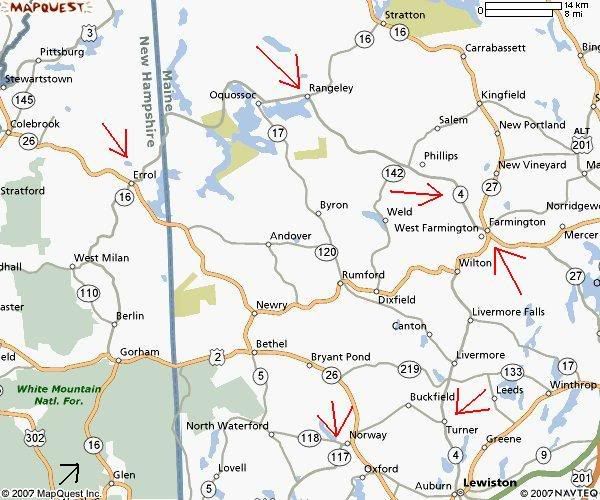 The black area in the bottom left shows where we were coming from on 16. Errol is wear 13 Mile Woods supposedly started. But it was so terrible we kept pressing North. The next arrow towards the top of the map is Rangley Maine. We came to a T in the road. The pavement finally did smooth out, but the road straightened as well as you can see in that stretch to the left of Rangley.
There was a decent sized group of people pullved over at an information booth. We stopped hoping to make some small talk and find out where the **** we were. "How you guys doing?" I asked. The 10 people of the group just stared and gave me confused looks. I shot a quick glance at a license plate...Quebec. Only two of them spoke any English. They were friendly enough, but weren't much help. "NH? Just head that way!" pointing in the direction from which we had just come. And I wasn't riding back down that Hellish road. So we took our chances on Rt. 4 South. We you can see indicated on the map just above.
When we started to head South the weather began to adjust into a nice day, but by then it was around 4:00 and we knew we didn't have much daylight left. We were glad to be getting away from Canada (can't believe we were that far North) but Rt. 4 was pushing us just as much East as it was South, and we ended up in Farmington Maine.
That's when we smartened up and bought a map. We were on Rt. 2 again (except way more East) We picked up a small road (shown on the map but not numbered) called Rt. 140 and then hopped on Rt. 117 which was the best road of the whole ride! You can see Rt. 117 indicated by the red arrow at the bottom of the map.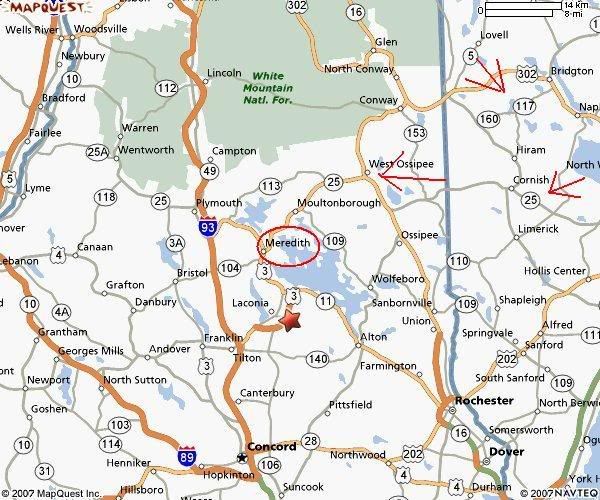 As indicated by the arrows 117 led us to Rt. 5 (not shown) and from there we picked up Rt. 25 (a road I ride all the time in NH, had no idea it went to Maine) and back into Meredith and Laconia where we stopped at a Friendly's for dinner around 9. We had ridden 375 miles total, and the warmest part of the ride was coming into Meredith at 9 at night.
For the most part the ride sucked. The only good riding was late in the day when we were lost and trying to find our way home, which I couldn't really enjoy because I was slightly worried that we woudln't make it back until extremely late.
This thread got skipped somehow.

That looks like fun and the map for those roads look like a blast, jealous.
---
'02 RC-51
'10 Unicycle
How does a thread get skipped like that? Looks like a fun ride and right now I am just happy to sit on the bike and make vroom vroom noises.
---
Paul

Live to ride, but ride to ride another day!
Chuck Norris has lost in battle with this Member
Join Date: Jan 2006
Location: Massachusetts
Posts: 10,498
Rep Power:
1
Quote:
This thread got skipped somehow.

That looks like fun and the map for those roads look like a blast, jealous.
I ridden a few of those roads going to and from Mt. Washington. I can tell you that Rt. 2 and Rt. 4 can be great fun.
---
Quote:
I ridden a few of those roads going to and from Mt. Washington. I can tell you that Rt. 2 and Rt. 4 can be great fun.
Let's go.
---
'02 RC-51
'10 Unicycle
Wow.... all the way From August?!

looks like a whole new meaning to the term LOST!
---
I LOVE Tig Bitties!
Fool in the Rain
Join Date: Feb 2006
Location: Louisville, Kentucky
Posts: 10,288
Rep Power:
1
I started reading this, and the description of warm weather, and had to back up and look at the date.

I hate winter.
---
"Towards the end of the vid, it looks like she may have had a bafflectomy." - MarylandMike
Good question, how did this thread get missed?!?
Looks like a sweet ride and a good write-up Force. Man Winter needs to end soon for more of these!
---
Proud member of Wristtwisters, where we drill things the right way.
Posting Rules

You may post new threads

You may post replies

You may not post attachments

You may not edit your posts

---

HTML code is Off

---