Alaska Trip Report
---
Alaska Trip Report; The Final Five
Friday August 25th
This trip has been 6 months in the planning and probably 10 years in my imagination. I am about to embark on a journey that I have dreamed about for most of my adult life. I have always wanted to go to Alaska and since my first motorcycle trip in 1999 the idea of going by motorcycle has grown from crazy fantasy to full blown reality. I have just watched my crated bike being taken into a warehouse to be loaded onto a truck and shipped to Seattle, Washington. This is really happening. Less than a week from now I will board a plane to Seattle to pick up my bike and start the journey of a lifetime. The anticipation is building, all my planning and hard work are about to be tested, I cannot wait.
I would like to thank all the people who made this trip possible; My loving and understanding wife who supports all my crazy obsessions. My father who is no longer with us, but who always had the dream of going to Alaska to see his final state, and who gave me a case of wonder-lust from all our family travel over the years. My ever helpful support network of internet forum members, a band of strangers who will go out of their way to help a person they have never met. I thank you all.
I would also like to give kudos to a few of the suppliers and service shops that have proven that good work and great service still exists in today's world. First of all I would like to thank Kent and Tracey Soignier of GMD Computrack in Atlanta. I shipped them my forks for inspection/rebuild where they straightened my one bent fork and rebuilt them. I installed the forks and found what I thought was a leak and instead of arguing over the phone with me, they gave me their shipping account to pay for shipping to them and installed a new bushing/seal in my fork even though they could not duplicate the leak and shipped it back to me in a hurry. I would highly recommend this shop for service. They are honest and do great work. I will be sending them all my future business. I would also like to thank Sargent Seat for making my 500+ mile days possible on this bike.
Thanks for following along on my adventure.
Saturday July 3rd Seattle WA to Missoula MT 571 miles
I did not sleep much last night. I never really sleep the night before a trip, I am always too excited. It rained off and on last night and the remnants of the weather were still apparent when I ventured outside to start loading the bike up. Once I got everything tied down and lashed it was time to get this adventure started.
This is a strange first day, usually I am leaving my own driveway, but this time I am already 2500 miles from home. I almost always get lost or miss a turn on the first day of a trip as well, but not in the first 5 minutes. Riding south on 99 I went right past the left turn onto 516. It took me a couple of miles to realize I had gone too far. The funny thing is I stopped for gas right at the 99/516 junction but failed to see it. I had to laugh out loud inside my helmet at my mistake, and hoped over the next 4 weeks that this little error would be the worst thing to happen on this trip.
Once we made our way through the city streets and traffic and were headed up 18 to I 90 the weather started to turn colder and the route took us ever higher towards the mountains and up into the clouds. The road was wet and the air was thick with fog, but it never really rained on us. After a cold ride over the Snoqualmie pass I had to stop on the side of I 90 and put on my rain pants to block some of the cold air. It was cold, wet and the traffic was surprisingly heavy for a Saturday morning, but there was nowhere else I would rather be at that moment. It was a glorious beginning to a month long odyssey.
Once I donned my rain pants the weather started to clear up and the temperature seemed to increase by 1 degree every 10 to 20 miles as well. We stopped for fuel in Vantage and the clouds had all but disappeared leaving behind blue skies and sunshine. It was still only 58 degrees which is just about perfect for motorcycle touring.
We crossed the river over the long bridge and bid a thankful farewell to the boring I 90 and turned our wheels east on 26. Miles later I started to miss I 90, as 26 was flat and straight two lane that reminded me of the western part of my own state, Ohio. In Washtucna we turned onto Rt. 261 and shortly thereafter stopped for a break.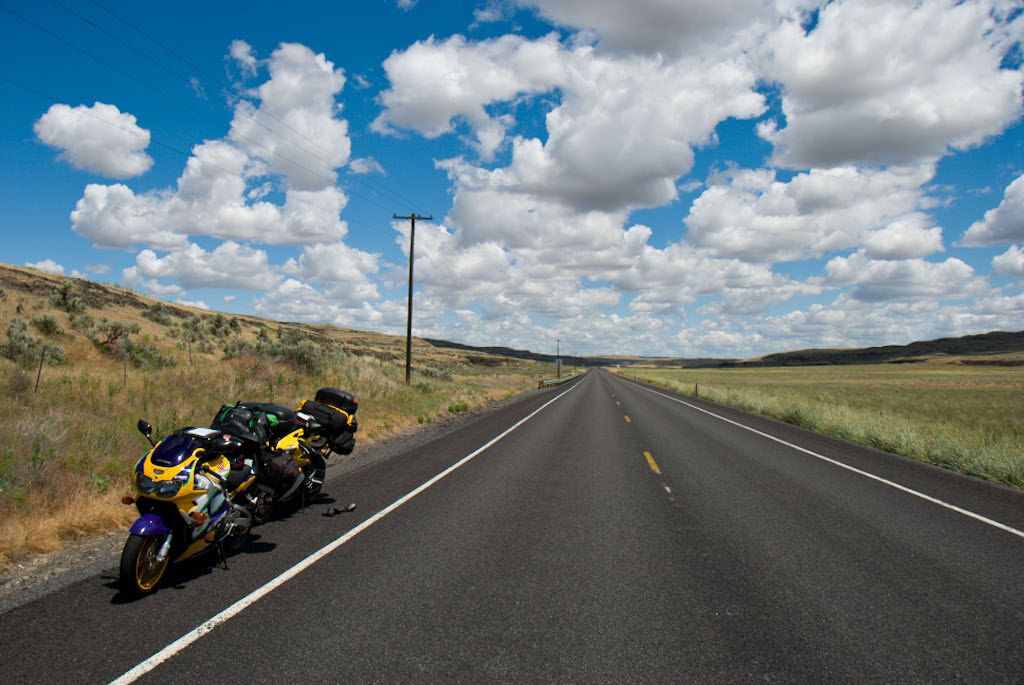 25 minutes later we stopped for another break after a great section of road. 261 from Sperry all the way to Lyons State Park where we stopped to photograph the railroad trestle was an amazingly fun ride. There were lots of switchbacks and even some decent elevation changes. Roads like this are what make motorcycle travel worth the effort.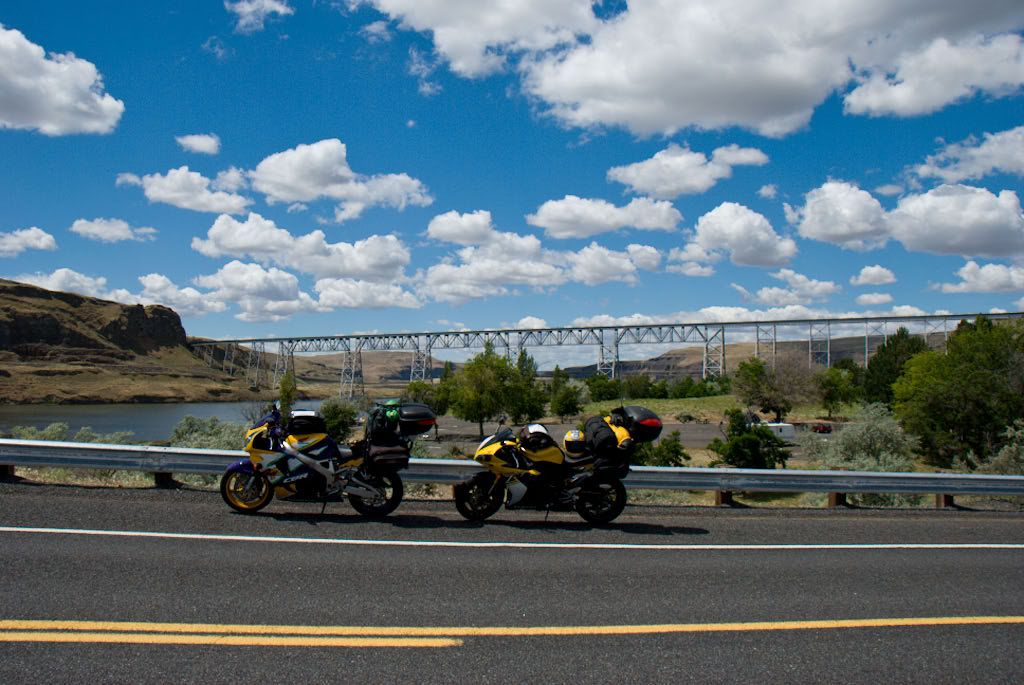 We stopped again less than a half hour later in the town of Pomeroy for lunch at the Town and Country Restaurant. I had a decent burger and fries.
Once we had ourselves all fueled up we headed east on Rt. 12 into Idaho. The weather was just about perfect, but I knew colder temperatures were coming as we rode towards Lolo Pass and into Montana. We had to stop at the Idaho/Washington border towns of Clarkston and Lewiston to get the required state welcome sign pictures. Getting near the Idaho sign in Lewiston proved to be a challenge with one way roads and crazy traffic patterns, but in the end we were victorious.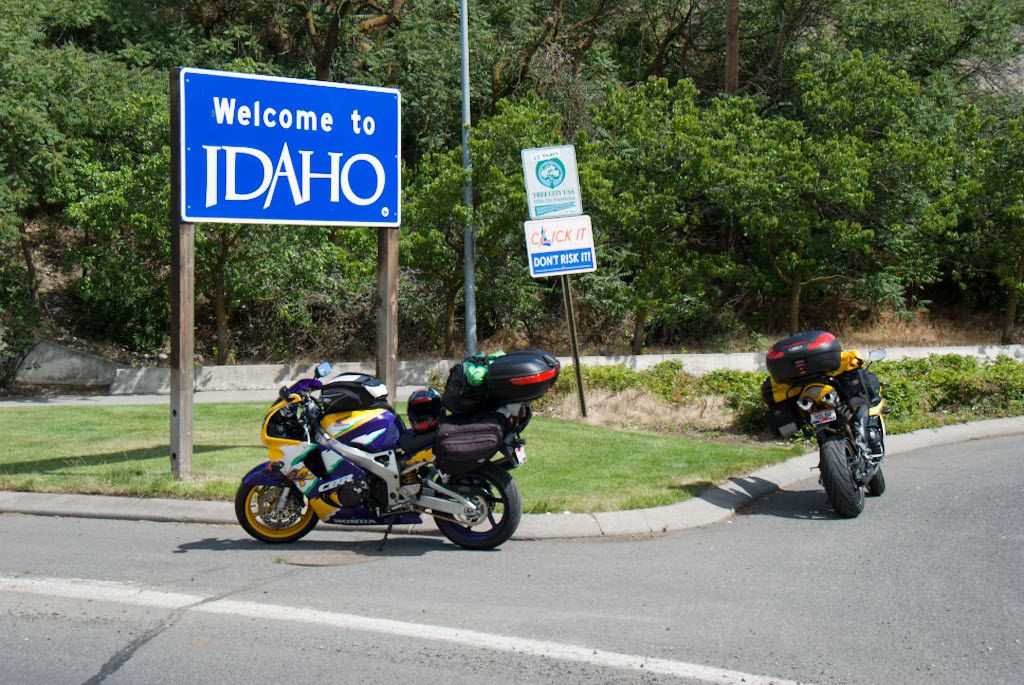 Once we left the town of Lewiston US Rt. 12 got interesting, the road followed a river valley through the Nez Perce Indian Reservation and into the Clearwater National Forest. We got so caught up in the riding that we forgot all about our bikes limited ranges. Eventually my riding partners R1 showed the first signs of low fuel with a warning light. My 900rr started to sputter about 20 miles later and I switched to my reserve. Luckily for us just as the R1 was nearly empty we stumbled upon a gas station. Sometimes it is better to be lucky than smart and aware, but I did not want to take that chance again and vowed to myself to pay closer attention in the future.
The road continued to twist and turn all the way to the Montana border. Once again the road was the focus of my attentions and there were plenty of missed photo opportunities along the way. We had missed an excellent sign on the way up 12, but there just happened to be another one on the way down. This is a sign that every motorcyclist dreams of seeing.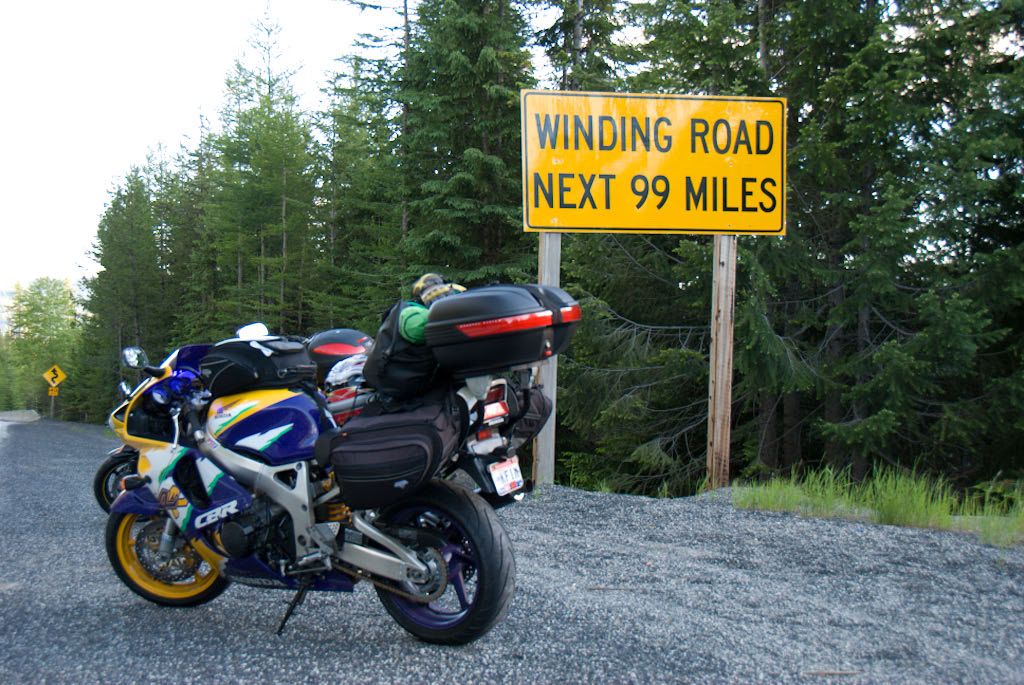 By the time we reached the Montana border it was after 8 pm and we snapped one quick photo and got back on the road. Light was running out and the wildlife was starting to run about. After last year and my near bike ending deer strike I wasn't in a hurry to hit anything with antlers.
Our final destination was Missoula Montana. The town had all the usual stores and restaurants which made my riding partner gleefully happy. This would be our last night in civilization so I told him to make the most of it. We stayed at the Hawthorn Suites outside of town near the airport. The room was a steal at $112, it had the square footage of a small house and most of the amenities as well. Tomorrow we were headed to Banff for our first of many nights of camping. It was a great first day of riding.
---
After many years and many dreams I have realized my goal of riding in all 50 states!
Now the rest of the world!
Every now and then go away and have a little relaxation. To remain constantly at work will diminish your judgment. --Leonardo Da Vinci
Sunday July 4th Missoula MT to Banff, Alberta 480 Miles
It is 7:30 am and it is only 41 degrees. We pull around back of the hotel to fuel up and get a snack before we hit the road. I wanted to be on the road really early today as there is a lot of great ground to cover, but after yesterday I needed some rest. The air is cold, but at least it is dry, cold and wet are a bitter combination on a motorcycle.
Near Fort Connah on 93 about 45 miles north of Missoula
Flathead lake and valley from scenic viewpoint on 93
We turned off of US 93 onto route 35 which follows the lake on the east side. Riding along the edge of the lake I would catch a glimpse of the beautiful blue water through the trees. If only it were a little warmer a swim would be inevitable. Eventually we turned onto a local road that went down to the lake.
This dock is just begging for someone to run down it and leap into the lake.
We met a guy named Larry riding a blue Harley heading to Alaska. I am sure he will not be the last person we meet heading that way on this trip. Eventually we have to leave the peaceful shore and continue north towards Glacier National Park. Every mile I ride makes me realize why Montana is called big sky country. Near the junction of route 35 and 206 I just had to stop for a picture or two.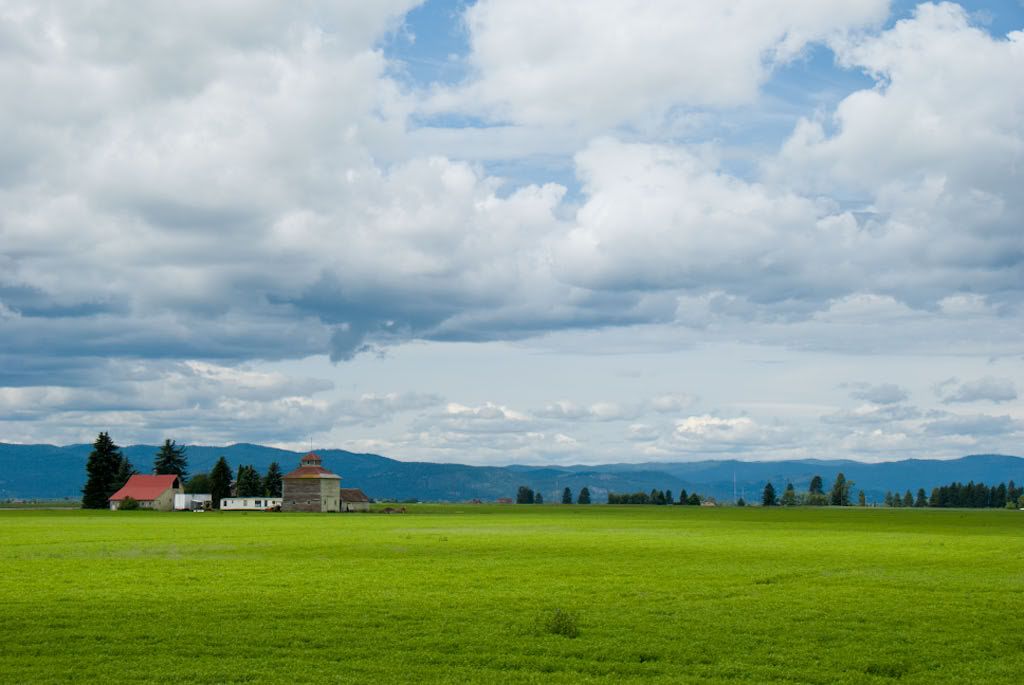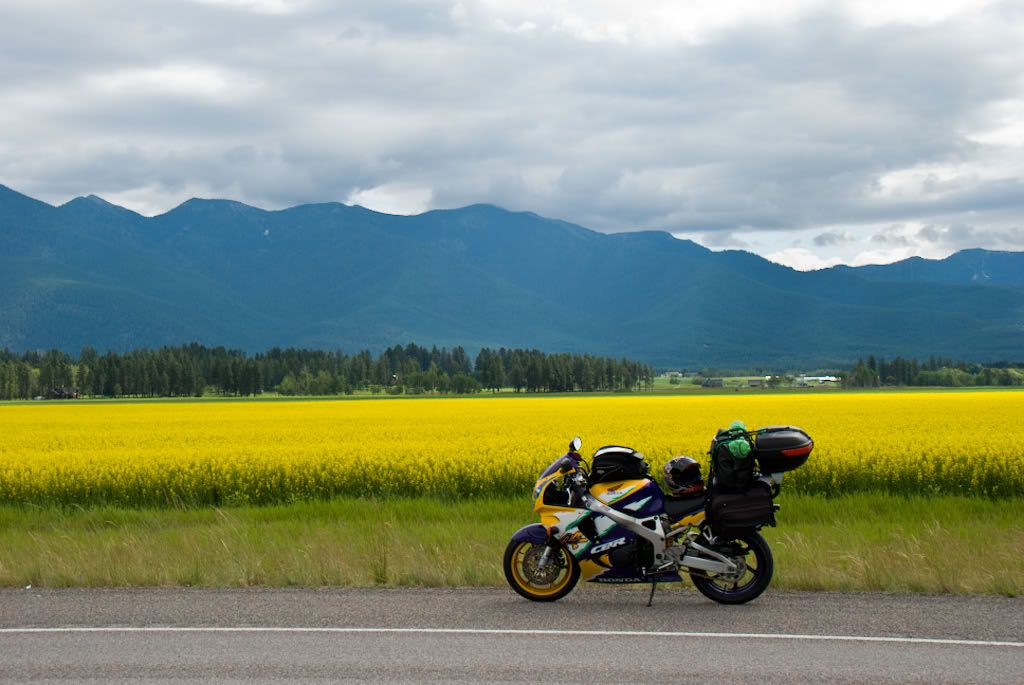 A short ride along 206 brings us right to the beginning of US 2 which leads right up to the entrance to Glacier NP. After paying the $25 entrance fee for 2 bikes we set off on the Going to the Sun Highway. The scenery was breathtaking, which draws quite a large number of people. This is the downfall of the park system. The next couple of hours would be very slow going, but worth it.
Narrow roads and tight tunnels
Lucky for us we got here today. A few days ago they were still clearing this snow.
The higher we climbed the worse the weather looked. I knew it would get colder as we gained elevation, but the black ominous clouds were what concerned me. We stopped at the Logan Pass Visitor Center for a short break that turned even shorter. As soon as I got off the bike the wind started to pick up. In a matter of 5 minutes it was gusting freezing cold wind and then it started to rain. We suited up in our rain gear and decided to get off the top of the mountain before it really cut loose.
For the next hour it was raining heavily, the wind was nearly blowing us off the mountain and the narrow road got progressively worse. Nothing wakes you up like riding down a steep winding mountain pass that is riddled with sand, gravel and potholes all while freezing rain pounds you from above. The sick thing is I had a smile on my face the whole time. No matter how terrible the conditions were I was on my bike with a month off work and headed to Alaska. Awesome.
Finally the rain had stopped and we approached the US Canadian Border. Every time I travel I get stopped at border crossing, flight terminals and pretty much anywhere you need to show a passport. After a 20 minute Q and A session upstairs at the border while I presume they searched our bikes they turned us loose into Canada.
Yay! My first Province!
At this point I realized we had taken a lot of time in Glacier NP and we still had almost 300 miles to go. We pretty much hunkered down and rode nonstop towards Banff, only stopping for fuel and once to eat. It was nearly 9 pm when we finally arrived at our primitive campsite on Tunnel Mountain just outside of Banff. We got checked in and grabbed a spot. Bear activity was high here so we had to take all out food, toiletries and anything else with a scent and put them in a bear proof locker. I was hoping to see a bear, just not in my tent. The forecast was calling for a near freezing night so I got all my cold gear out and crawled into my tent for the night, but the night took forever to arrive. This is the one thing I am not looking forward to as we head north, the increasing amount of daylight.
---
After many years and many dreams I have realized my goal of riding in all 50 states!
Now the rest of the world!
Every now and then go away and have a little relaxation. To remain constantly at work will diminish your judgment. --Leonardo Da Vinci
Very nice so far, you are still missing the part where we meet
Not because I'm canadian but I think the nicest part of the trip was Yukon
---
Quote:
Very nice so far, you are still missing the part where we meet
Not because I'm canadian but I think the nicest part of the trip was Yukon
Sorry bro, I have been busy, busy, busy. I am working on continuing the trip report right now.
Yukon was nice, but I really enjoyed Alaska as well. Too many good places to single one out.
---
After many years and many dreams I have realized my goal of riding in all 50 states!
Now the rest of the world!
Every now and then go away and have a little relaxation. To remain constantly at work will diminish your judgment. --Leonardo Da Vinci
Posting Rules

You may post new threads

You may post replies

You may not post attachments

You may not edit your posts

---

HTML code is Off

---