BrokeRecord
Join Date: Jul 2007
Location: West Monroe,La
Posts: 1,180
Rep Power:
1
Warning Tie Straps
---
I hope this is the right catagory.
For 20 years I have listened to Bike shop people, and general know it alls tell me that 4 tie down straps on a bike is kinda nerdy, you know " Over Kill ". Well, I've always been hardheaded. I have always worked jobs where one slip and you are hurt, dis-membered, or dead.
So, safety means everything to me, while I can still enjoy life.
This past week-end we went to the cabin on the lake, for my 62nd birthday and looked like Sanford and Son when we got all loaded up. I had 2 straps on the forks,I will not use a handle bar sleeve strap! And 2 straps on the rear foot peg brackets that were just snug, because the brackets will bend on the Hornet. We hit a speed bump without seeing it and bumped our head on the roof of the truck. I looked back at the bike and it really did a dance. It looked OK so we keep going and out on the Hwy at 70mph, it appeared to lean a tad. I found a place to pull over and nearly had a stroke! One strap on the fork had compressed so much the hooks came out of the eye bolt. The only thing holding it was the strap on the rear set.
I then put the hooks back on facing each other and wrapped them with duct tape so they couldn't come un hooked. If I had gone the macho man route with only 2 straps, my bike would be history and maybe someone elses car and family too. Please use at least 4 straps at all times, I always have and always will in the future.
Don't forget the duct tape.
---
[
I killed Barton664
Join Date: Jun 2008
Location: Home is Warrenton VA, School is JMU.
Posts: 1,653
Rep Power:
1
Great advice!!! or just ride your bike everywhere
Secure the load.
Check the load.

Drive some.

Check the load.
---
Quote:
Secure the load.
Check the load.

Drive some.

Check the load.
Yup. I check after 25 miles, then again every couple hours or if I hit a bump hard.
---
Press Any Key To Continue.
BrokeRecord
Join Date: Jul 2007
Location: West Monroe,La
Posts: 1,180
Rep Power:
1
I could have ridden over on the bike, but, I didn't have room for Dee, the bicycles, ,kayak, casting rods, canned food, clothes, and Dee's 27 lbs purse!
---
[
I've used 6 straps before when going long distance. No shame in redundancy.
---
Primus Pilus
Join Date: May 2008
Posts: 3,400
Rep Power:
1
It's real easy to say "Two straps is all you need" when its
not
your bike!
This is my quad on the back of the truck... You better believe I had about 10 straps on that SOB. Plus a few attached to the quad in the front!!! That way he remembered to take it easy, because if mine fell out... So did his!
---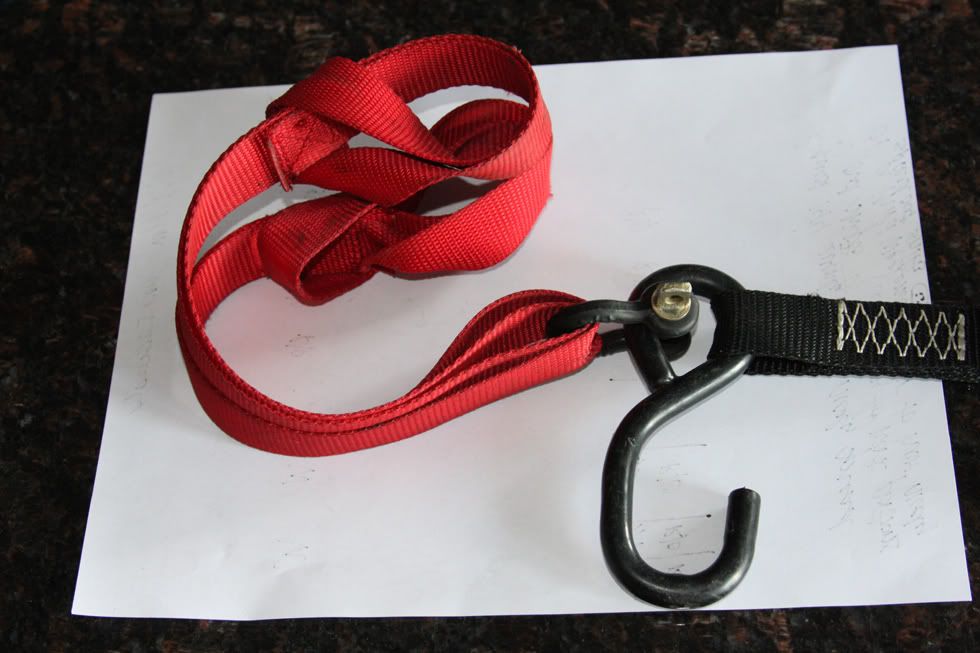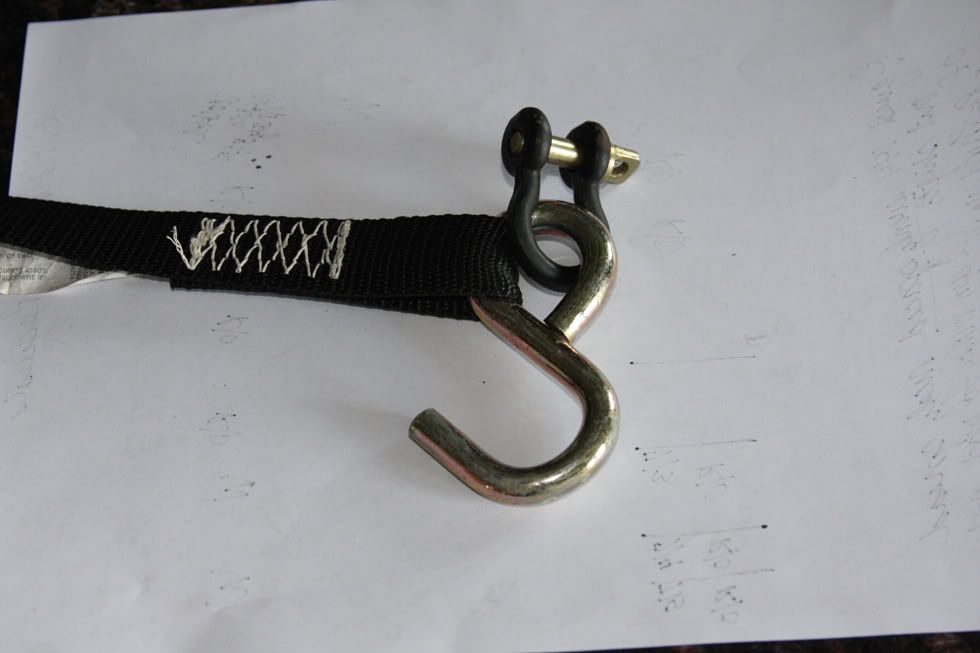 I like this system on the left and right sides of the bike....It also keeps the tiedowns from "accidently" walking away at the track.
The tiedowns have no way to come out of the "D" rings or the double soft ties with the use of the shackles.
---
Glad you had her good 'n tied down, Dickey!
Posting Rules

You may post new threads

You may post replies

You may not post attachments

You may not edit your posts

---

HTML code is Off

---