Join Date: Sep 2007
Posts: 3,339
Rep Power:
0
EVS give away
---
So, your new to the dirt or your starting to pick up speed and want some more protection - heres a chanvce to win a new snazzy neck protector. EVS is rolling out thier new RC Evolution neck brace and to show it off they are giving away one. Just go to this site and fill out the form -
http://www.evs-sports.com/contest/
Hope someone I knwo wins, just to get thier feedback -
---
competition for the leatt brace eh?
I know that more & more of the pros are wearing the leatt or similar neck protection nowadays, but with all-do respect to the people who make & sell these things, I just don't see myself wearing one. I know, spine protection, "you could end up paralyzed" yadda yadda yadda... I get it.
Believe me I get it.
My decision comes from my experience wearing a chest protector when I ride on public tracks. I've noticed that my helmet gets snagged on it & limits my range of motion. I have this phobia that the neck braces like these will do the same thing.
I'm not trying to start an argument or down-play the importance of good protection by ANY means, I'm just sayin' I'm a little paranoid & can't come up with a good enough essay as to why I should win one.
---
Abba Zaba, you my only friend.
Join Date: Sep 2007
Posts: 3,339
Rep Power:
0
You could use that argument against, maybe then they would give you one ot try and be "won over " ?
---
Primus Pilus
Join Date: May 2008
Posts: 3,400
Rep Power:
1
The Leatt and this new one are great Ideas. Being a fairly new item it will be a few years till someone perfects it and all the worries of range of motion and what not will be gone. For now it is all that is available and will have to do.
---
Does this fall into the same category as the HANs device? SAme concept?
---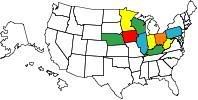 Chuck Norris has lost in battle with this Member
Join Date: Aug 2008
Location: ft lauderdale fl
Posts: 12,874
Rep Power:
1
i always get a ace bandage and wrap it around my neck with pieces of foam rubber and duct tape.. cuts down on the side to side vision .... and the ability to breath deeply..




Join Date: Sep 2007
Posts: 3,339
Rep Power:
0
Quote:
Does this fall into the same category as the HANs device? SAme concept?
Kind of, but, it works diffrently - the HANS tethers the wearers neck to a frame, devices like this stop the wearers head from being snapped around -
---
A friend of mine bought the EVS one.
His opinion after the first weekend is it's crap.
Chafes his neck, Have to pull the helmet off to remove, The padding is glued on & was coming apart after only one weekend.
Limitations were not much of an issue. More or less forgot it was there until he tucked for high speed sections.

He recommends going for the Leatt. Much better & higher quality.
He kicks himself now for getting the EVS.
---
You just answered alot of my questions. Thanks Mikey!
---
Professional
Posting Rules

You may post new threads

You may post replies

You may not post attachments

You may not edit your posts

---

HTML code is Off

---