They call me a ride whore
Join Date: Jun 2011
Location: Bostic, NC
Posts: 49
Rep Power:
1
Pics & video from Sundays dirt ride
---
Went out again with my buddy Scott sunday (as we do every weekend), and headed up to Brown Mountain OHV trails, as it was their first day open for the year. This was the first time there for both of us, but we've been wanting to get up here for awhile now just waiting for them to open. It's really the best deal... we both bought the season pass for $30 for the entire year, go as much as you want. Plus you can camp out there for $5.00, either up by the parking lot or out in the woods, and it's open 24 hrs so if you wanted to ride at night... well...
Anyways... all loaded up and on our way to sunday morning...ummm.... church service... yea!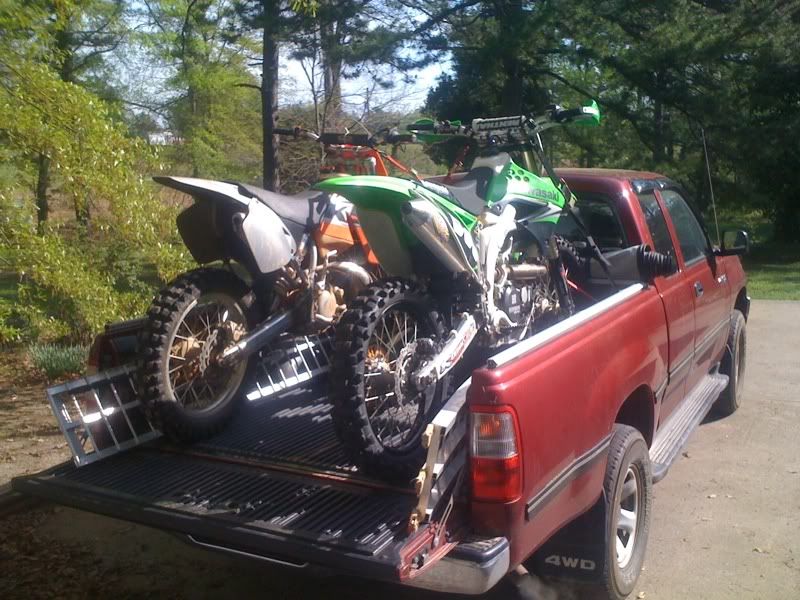 Conditions were absolutely perfect.... around 70-75 or so, kinda scattered clouds, perfectly dry trails but wasn't dusty either. Got a real light rain sprinkle later in the day, but it wasn't anything really... sun came out again after a few mins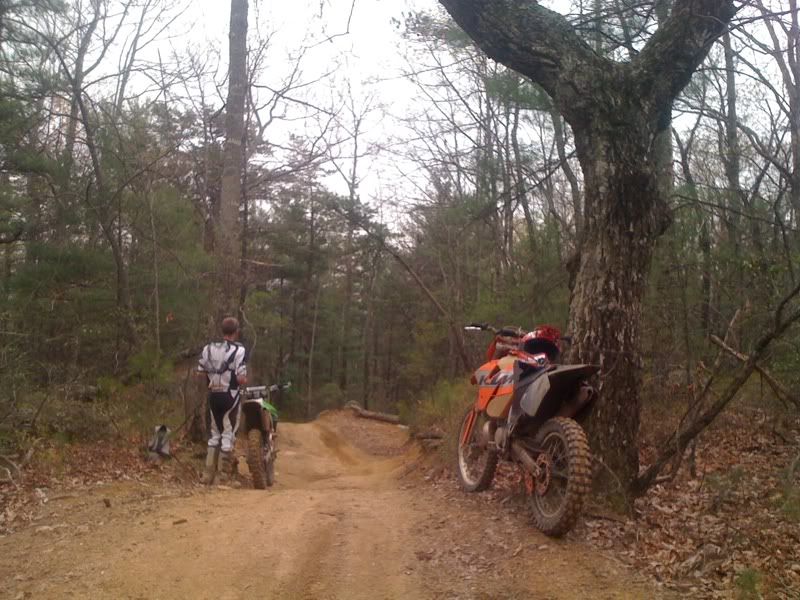 Supposedly there's some real nice scenic overlooks in here somewhere, but didn't run across any on the trails we were on that didn't have trees in front of it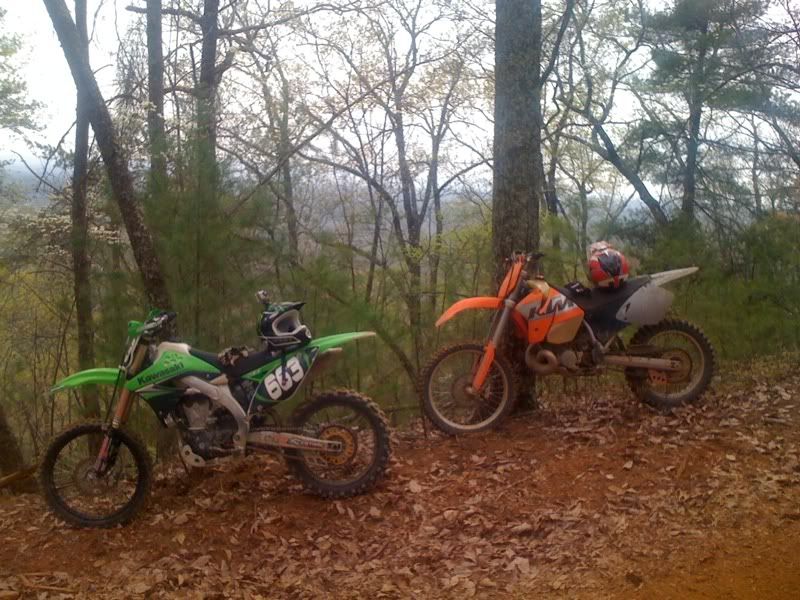 Since it was dry and not much mud at all, bikes didn't even get that dirty
Video.... Scott is riding the Kawi, I'm on the KTM. I'm still a dirt n00b, this is only my 3rd time out in the dirt. So needless to say I'm slow as crap, lol.... that's why I put the camera on Scott... he's been riding dirt since he was a little kid and is much MUCH faster, and doesn't crash nearly as much (or at all), lol. He's awesome though and has the patience of a saint... always stops and waits up for me, and if we get to something tricky that I'm not quite sure about he stops and runs back down and either helps me out with which line to take, or a couple times just rode it up for me when I really wasn't feeling it (not to mention he's letting me ride his bike... shopping for one of my own though). We ended up on more 'difficult' rated trails than easy or moderate ones, so we had to do that several times, lol. I'm still learning though and getting more comfortable every time we go out, so I'll get there eventually. We both had a blast, and liked this place a lot better than any of the others we've been to so far
I'll give fair warning.... vid is 25 mins long and kind of a big file, so may take a bit to load. Sorry for the annoying clicking noise... I forgot the little rubber clip for the GoPro mount, lol. May have to turn HD off to load a lil faster too
Dirt bike trail riding at Brown Mountain OHV trails #1A, 1B, 4, 9 - YouTube
---
-Jared
Black/Red '04 CBR 600 F4i - 238,500 miles and still kicking
Black '89 Accord LX-i sedan - 427,300 miles still running strong
States visited on my F4i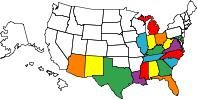 facebook.com/thirdgenlxi
Glad you had fun, dirt riding is a blast! Keep at it, you'll get better real quick.
I did a desert poker run a few weeks ago and am itching to get back out there soon.
---
Posting Rules

You may post new threads

You may post replies

You may not post attachments

You may not edit your posts

---

HTML code is Off

---