new 919 pilot
Join Date: Sep 2008
Location: hawaii
Posts: 104
Rep Power:
1
Onboard Camera Test
---
Here's a short test video of the 919 tooling around Oahu with the go pro 960hd camera mounted on the handlebar, the tank, the helmet, and the left passenger footpeg. The footpeg mount was a bent piece of aluminum but I might try steel next time, the aluminum seemed to vibrate alot and pick up alot of transmission noise. Rather sedate, safe riding action going on nothing crazy. I used the seatpost/handlebar mount accessory kit and that had enough extensions and 90 degree parts to make it work. Next time the tank mount will be higher and maybe I can work out some kind of frame slider mount. I noticed that I may have to dampen/strengthen the tank mount better. Also I've been researching and seen that the sound can be out of sync. That sucks, good thing I'll be able to separate the sound on my video editing software and paste it back on correctly. I guess a longer video will be out once I get more footage of some cool spots.
YouTube - Honda 919 GoPro test
---
Cat Herder
Join Date: Sep 2007
Location: Winchestertonfieldville
Posts: 1,788
Rep Power:
1
Damn those Yoshi's sound nice!!

I have one of the $1 keyfob cameras, and the video quality is actually on par with what you have....until the bike moves. No matter where I put it, the pictures vibrates. It seems no matter where you put the gopro, it doesn't vibrate. I also have a tachyon XC which is very similar to the gopro. I am going to find a way to rig that up.

As a suggestion for a mount location, I removed my front right fork reflector, bent the bracket down to level, and mounted my keyfob camera on that with velcro. It was the most stable location I tried. I am going to try to fab up something to hold my tachyon down there.

Can you post a pic of your footpeg mount?
---
2015 Ducati Monster 1200S
"Anyone who says money can't buy you happiness has obviously never used money to buy a Ducati motorcycle."
Great experimental video. I picked up a GoPro HD this Winter and have yet to try it out due to the weather. What memory card did you install and what software editing program are you using?

Doc
---
"FRIENDS DON'T LET FRIENDS EARLY APEX."
I had mine attached to the swingarm last year.. before the cam just decided to stop working all together. I tried probably all the same places.. seems to me like, at least with the goPro, helmet cam is the only way to go. Maybe some of these other peoples cams are alot fancier and take out most of the vibration, but I couldnt mount the goPro anywhere near the handlebars or it would suffer a seizure. Its probably why it eventually died, even though its supposed to be well protected from this lol.
---
new 919 pilot
Join Date: Sep 2008
Location: hawaii
Posts: 104
Rep Power:
1
Flycatcher: I like the reflector mount idea, gonna have to try that. I need one of those keyfob cameras I like to put them on model airplanes. Yes the vibration will cause the video to have wavy lines, I have tried foam in the past it helps. Will take a pic of the footpeg mount soon.

St-Doclizard: I'm using an old sony vegas movie studio program, and put in a Transcend 8GB sdhc card. At my default resolution, supposed to have 16min/GB...a little over 2 hours. I also use the snapshot function every 5 seconds (adjustable for 2, 5, 10 seconds and up to a minute I think)

Dr1: How did the swingarm location work out? I was surprised that the helmet location looked pretty good. I hope I can limit vibration, it killed one of my airplane cams eventually. I'm going to fab up a chest mount I think that may offer a different, stable view.
---
Thanks for the post. I have a Hero HD sitting on my desk at home waiting for the first ride of the season. I also have a little trick up my sleeve for getting some awesome sound.....time will tell.
---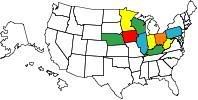 Good job on the video! I like the view from the handlebar the best - the passenger peg was good too. Top of the helmet seemed a bit high, but still cool to see. Is there a way to mount it to one of your frame sliders? Watching the front wheel spin as the road whizzes by seems like it might be an interesting view...
Keep the cool videos coming!
---
Fun video! Keep experimenting! You'll get it.
---
Well I had the standard lens model, and mounted towards the back the shot captured the front wheel action, and the right foot peg was just at the top of the picture. My boot had center stage.. lol

It would be a fantastic location if you were doing some aggressive riding, but otherwise you dont see much
---
new 919 pilot
Join Date: Sep 2008
Location: hawaii
Posts: 104
Rep Power:
1
the peg mount
---
Here's the pic of the peg mount. I had to remove the peg itself and also that black wire foot guard thing. Aluminum bent and drilled, and another (thinner) piece I had laying around so I made a brace. Small machine bolts and nuts hold them together. The original wire foot guard bolts are used as there will be more thread available. The shoelace wrap is an attempt to cure vibration; but I think it came out good enough but will try more experiments. [IMG]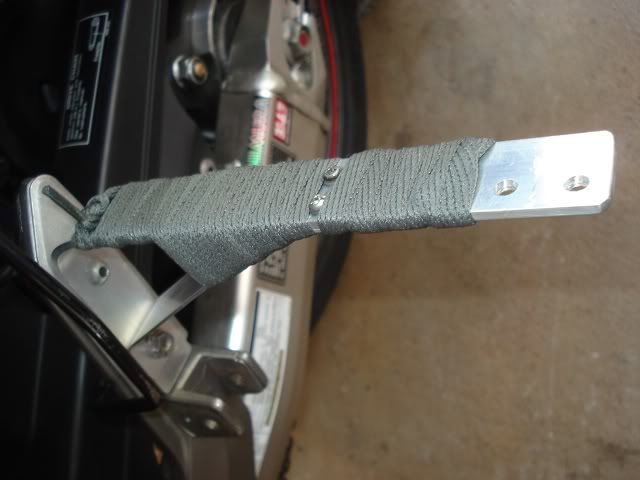 [/IMG]
---
Posting Rules

You may post new threads

You may post replies

You may not post attachments

You may not edit your posts

---

HTML code is Off

---