They call me a ride whore
Join Date: Jun 2011
Location: Bostic, NC
Posts: 49
Rep Power:
1
Couple videos from this past weekends ride
---
A buddy and I went out riding saturday afternoon...... beeeaaauuutiful day out, nice and cool, bright and sunny.... lots of fun
As with all my rides, it's nothing super fast.... I don't haul ass on the street, just a reasonable pace to have fun and get back home safely
NC 80, aka "Buck Creek" is always one of my favorites, headed north towards the Blue Ridge Parkway. We got stuck behind some cars towards the end but not for too long
NC 80 - YouTube
Short ride on the Blue Ridge Parkway.... and as you can see, I caught a stinkin' bug right on the lens of my GoPro, lol
BRP 9-10-11 - YouTube
Then we rode up to the summit of Mt. Mitchell, which is the highest peak on this side of the Mississippi @ 6,684 ft
Mt. Mitchell - YouTube
---
-Jared
Black/Red '04 CBR 600 F4i - 238,500 miles and still kicking
Black '89 Accord LX-i sedan - 427,300 miles still running strong
States visited on my F4i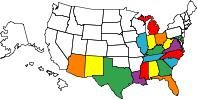 facebook.com/thirdgenlxi
Damn you for making me miss Carolina more!
---
Never Trade the Thrills of Living for the Security of Existence.
Tirone Choolaces
Join Date: Aug 2007
Location: USA
Posts: 11,178
Rep Power:
1
Very cool vids. Is that the F4i with 200K miles? It sounds great.
---
They call me a ride whore
Join Date: Jun 2011
Location: Bostic, NC
Posts: 49
Rep Power:
1
Quote:
Very cool vids. Is that the F4i with 200K miles? It sounds great.
Thanks!! And yup, that's the one....she's just a little over 223,000 here. Actually sounds alot better in person... my GoPro really doesn't like being mounted on the tank, and it adds lots of funny noises that really aren't there, I guess cuz it's just a little to loud for it there. When I have it mounted on the side the sound comes out much better. The bike itself though runs flawless!
---
-Jared
Black/Red '04 CBR 600 F4i - 238,500 miles and still kicking
Black '89 Accord LX-i sedan - 427,300 miles still running strong
States visited on my F4i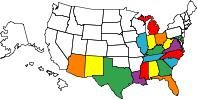 facebook.com/thirdgenlxi
Posting Rules

You may post new threads

You may post replies

You may not post attachments

You may not edit your posts

---

HTML code is Off

---