They call me a ride whore
Join Date: Jun 2011
Location: Bostic, NC
Posts: 49
Rep Power:
1
Another weekend... another ride & hike... 5-6
---
I know I know.... you guys are prob getting sick of these damn things already, lol. But I can't help it... I snap pics of everything, so might as well share, right?? Actually don't have a ton of pics this time, believe it or not, lol
Anyways, Scott and I got kind of a late start on saturday as we had to go into my work in the morning and mount a new set of tires on his bike, as his were also about down to slicks like mine were last weekend. So we did that, grabbed some lunch in town then headed back to get the wheels back on his bike. Got it all set and headed out by about 4:00 or so. We decided to head back up to the Blue Ridge Parkway and check out a place with a couple more waterfalls, and then later find a good spot to catch the big moon that would be coming up after nightfall.
So up to the Blue Ridge Parkway we went, via some local twisty fun roads to get there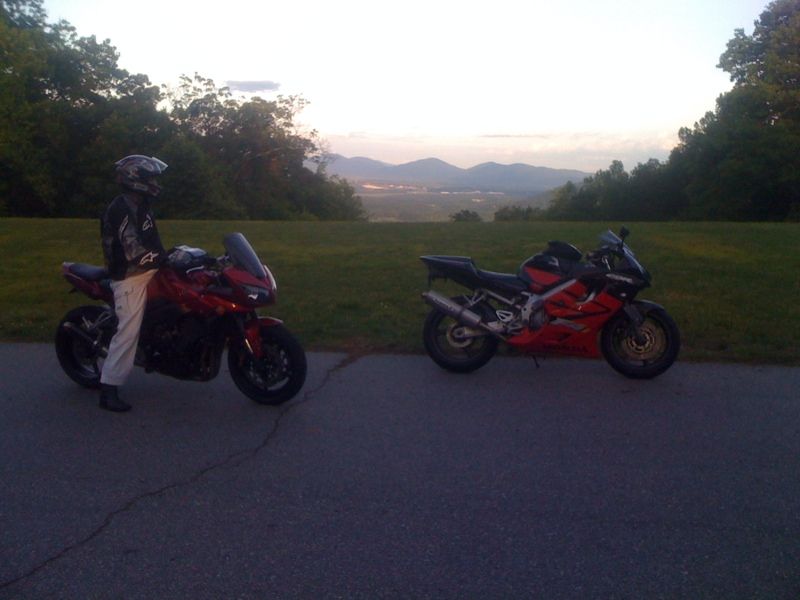 It was getting close to being dark by the time we got up to the trails with the waterfalls, so we could only go on the shorter trail, which I believe is the smaller waterfall. But we checked it out.... nothing spectacular but still pretty cool. Real nice little swimming spot underneath it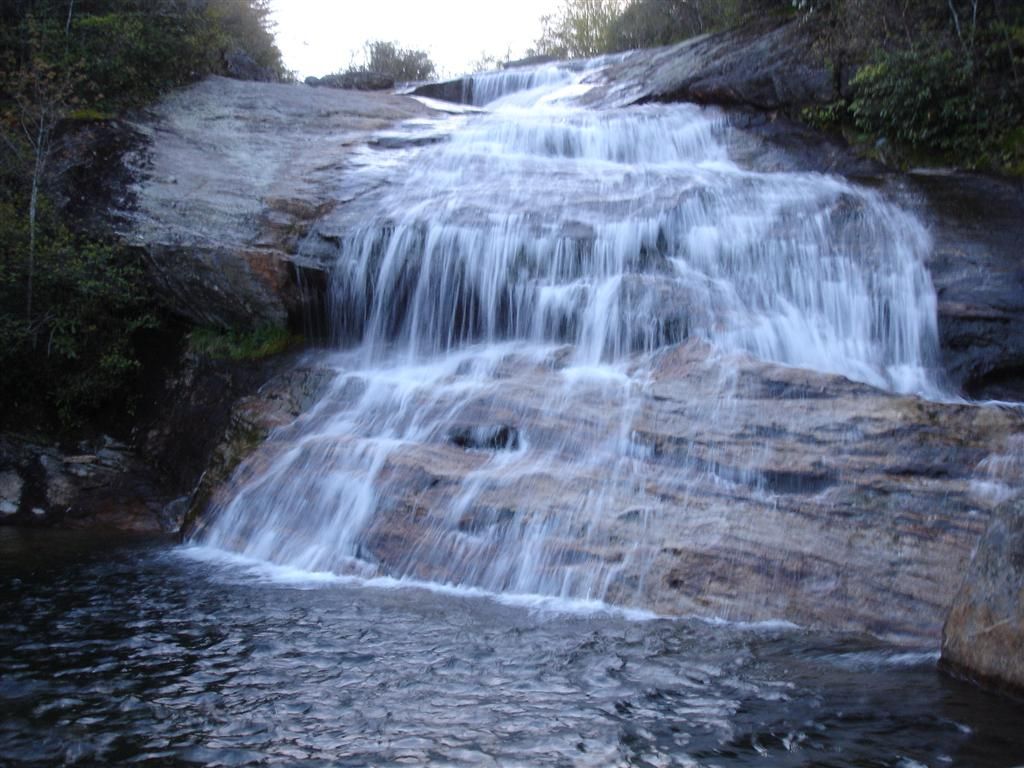 We continued our way up the parkway, going up to the overlook at the highest elevation point along the parkway. Ended up not being a real good spot for moon gazing as the overlook was pointing in the wrong direction from where we needed to be looking, and there was a huge rock in the way, lol. So we went back to the one before it which was a much better view, but a big cloud kept shadowing it. So we kept going back north to try and get around the other side of the cloud, and finally got to a real good spot where we could see it perfectly. Picture really sucks cuz I was just using my little point n shoot, but you get the idea, lol. It was indeed big and bright though, especially from about 5200 ft or so where we were here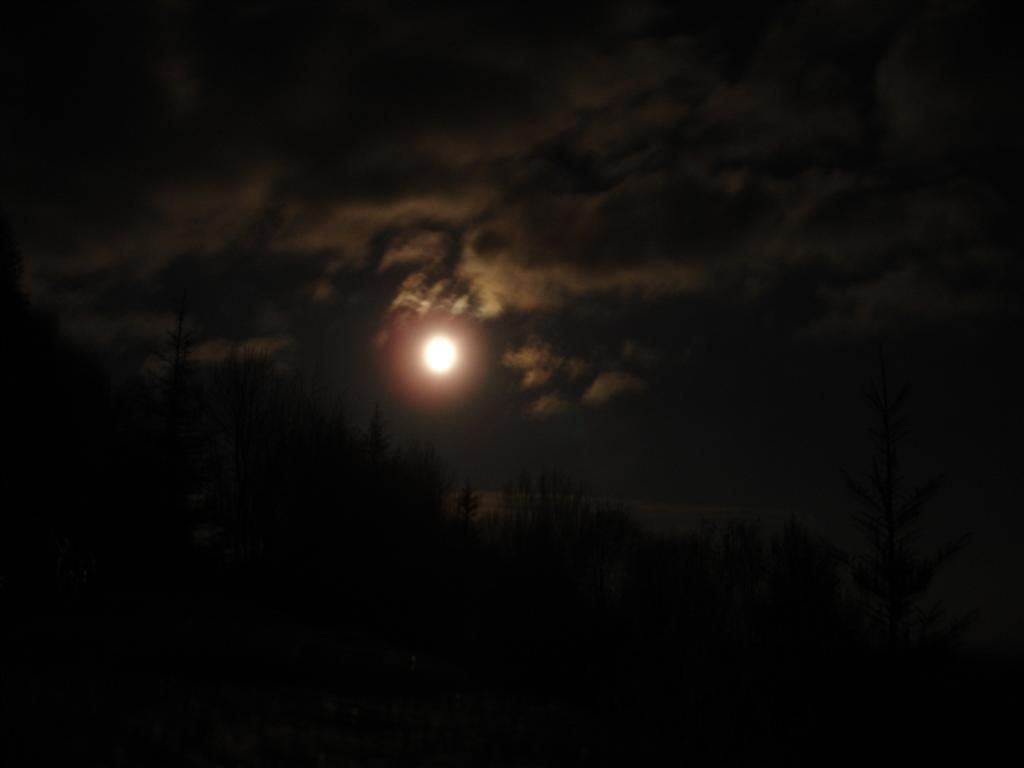 We sat and watched it for awhile, as well as a pretty cool lightning storm that was going on right below it which was quite cool to watch as well. But it was getting late, and we were still 3 hours or so away from home by this point and we're both pretty wiped, so we make our way back home and get some rest
Sunday morning we get another kind of late start.... about 11:00 or so cuz we were both really tired saturday and needed some good rest. But we head out and decide to head up NC 80, one of our local favorites that we're on pretty much every weekend, lol. We stopped here to let a few people get ahead.... kinda funny cuz I've been up and down this road 100 times and never once noticed that there was a dam here, lol. Kinda cool too cuz it's a private drive on top of the dam (not sure if it goes to a house or what)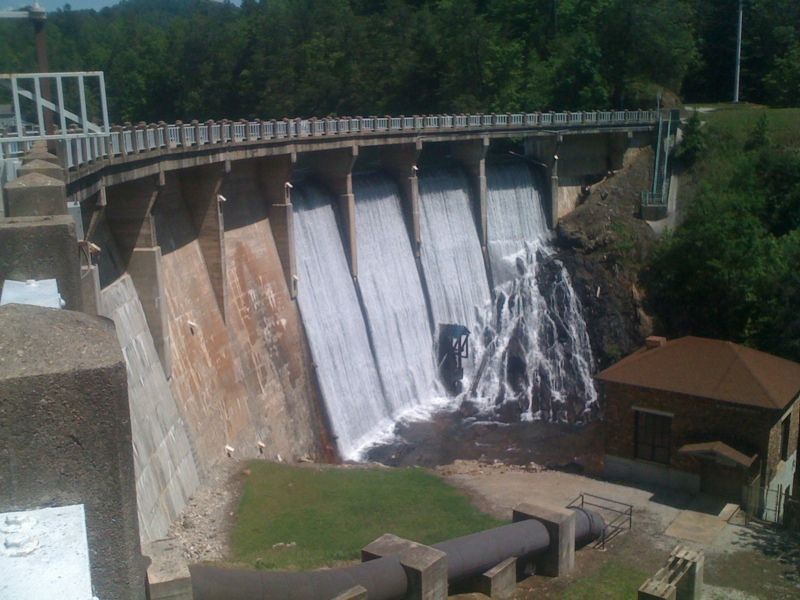 We made our way up to Tennessee again via the same route as last weekend, across Roan Mountain. But we wanted to check out a couple other roads in that area, so we split off from there and went a different way. We stopped for lunch in Roan Mountain, but they had a large power outage and everybody was closed, so we had to continue on (hungry, lol)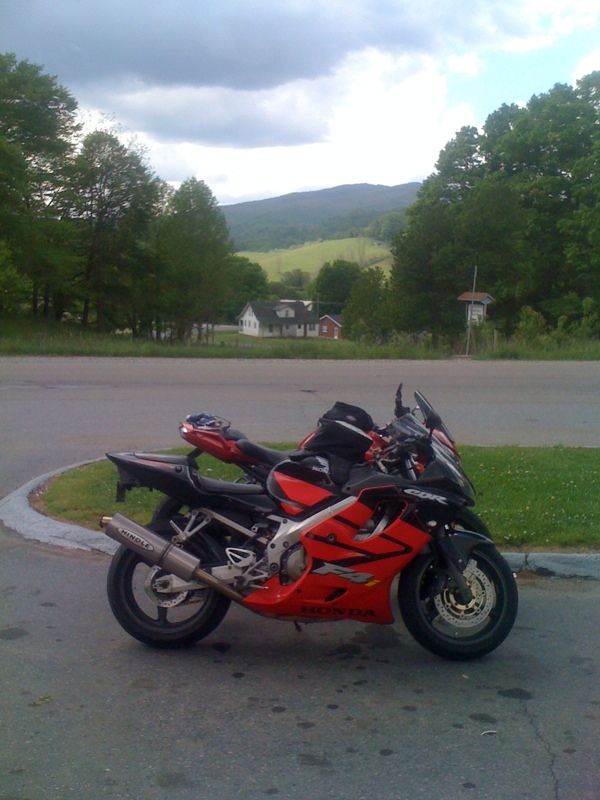 This is the Road we wanted to check out... NC Hwy 88. It starts off in Tennessee for a few miles, then turns into 88 in NC. Nothing super tight or anything but not bad either.... lots of nice easy sweepers, and decent scenery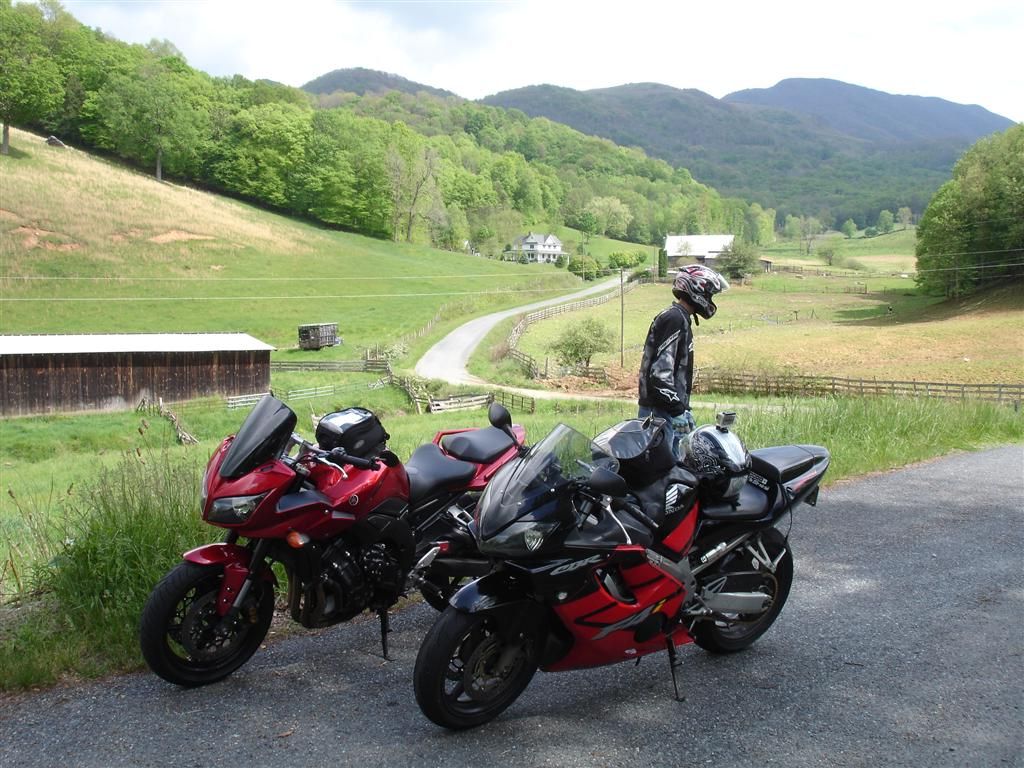 Made a little video.... as usual nothing fast or anything. Had to pull off a few times to let slow cagers get ahead a ways.... we always try and be respectful
Riding down NC Hwy 88 - YouTube
After that we took some more backroads through NC to get back to the parkway up near Blowing Rock, NC. Took one road (194) which was simply awesome.... in the freshly paved area, but the rest the pavement was in such bad shape + construction that it was a mess. It'll be awesome when they finish with it though.... def gotta go back. But we get on the parkway for a ways and head south for a bit, then jump off at 221, which more or less parallels the parkway for a good bit. Definitely a fun road as well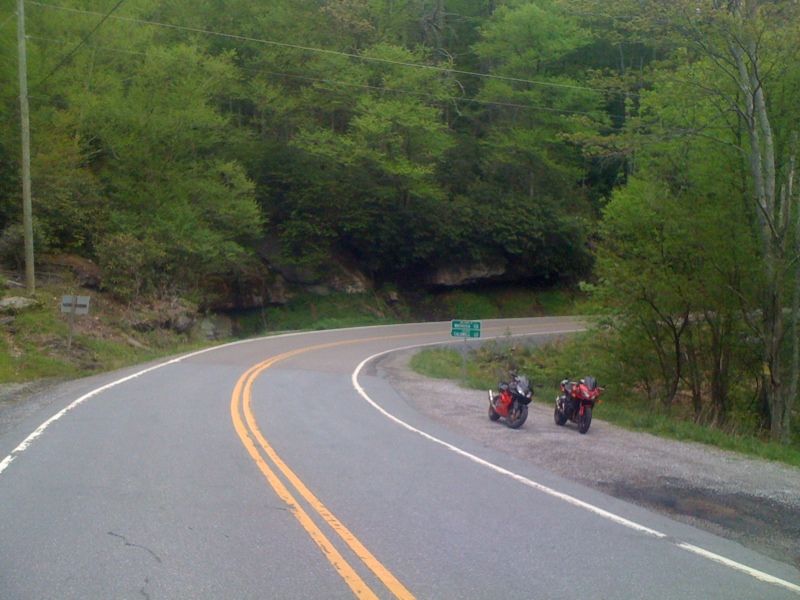 But something caught our eye when we came around this particular corner above.... a little waterfall right off the side of the road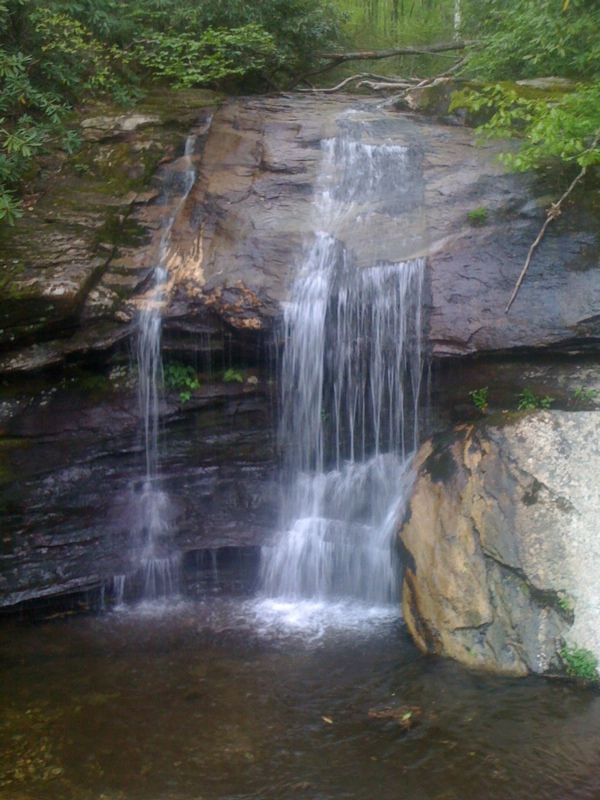 It went under the road then came out the other side as well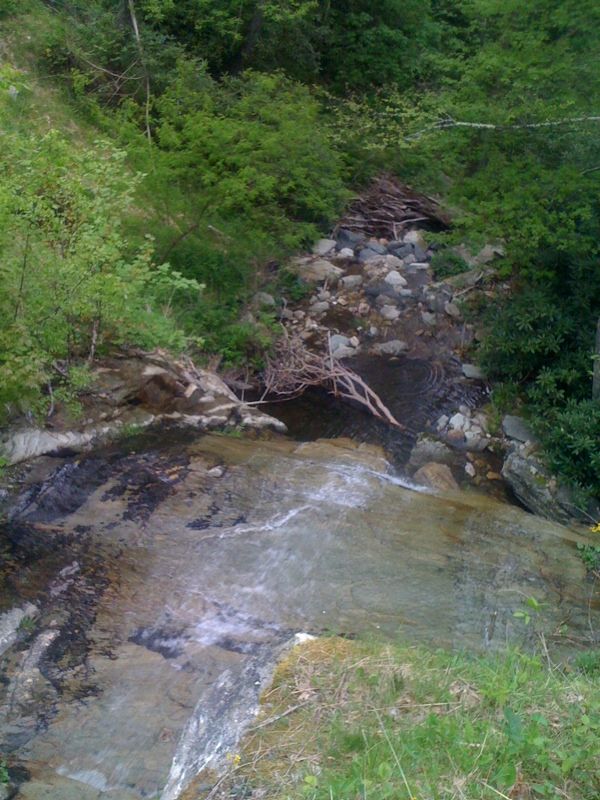 Looking up the stream leading to the waterfall, we noticed something weird way back in the woods... something big and white in a forest of green and brown. It almost looked like a birch tree, but seemed waaaay too big to be that. So of course we had to check it out, so we set out into the woods and hiked all the way up the stream via the slightly rocky route, lol. Looking up...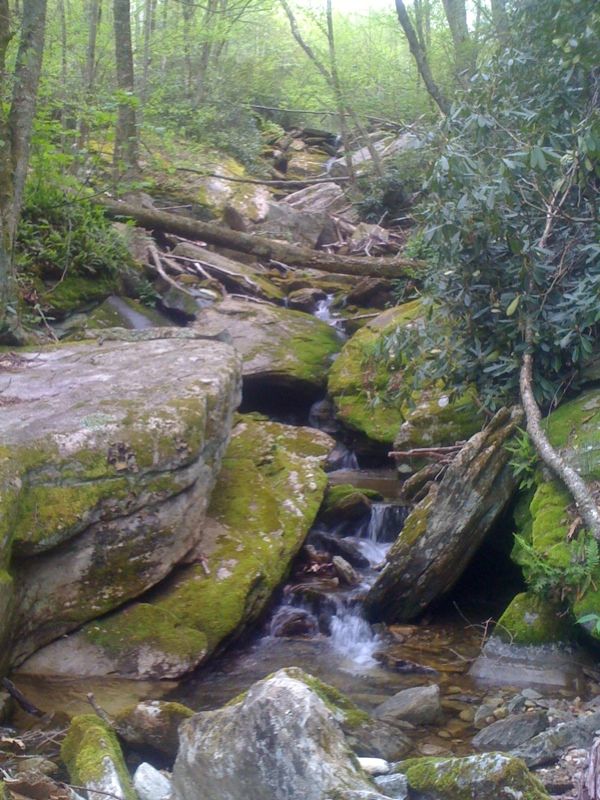 Looking back down.... we were about half way up or so here and above pic
Finally made it to the top and we both couldn't help but laugh..... it was a big cement pillar for holding up the roadway of the Parkway right above us, lol... DOH! But yea.... blurry pics as I was balancing on a fallen tree myself, but somehow every ride we always seem to end up in one of these predicaments.... our bike rides never quite stay on track, hahah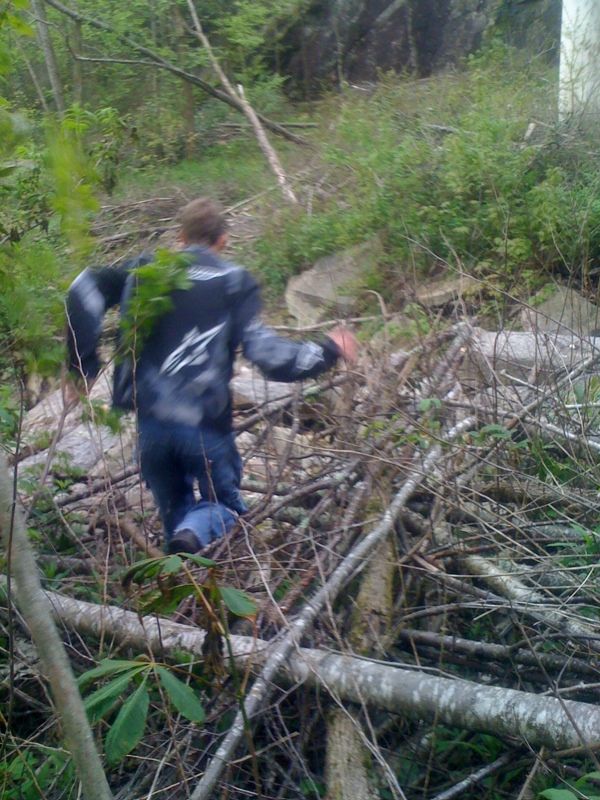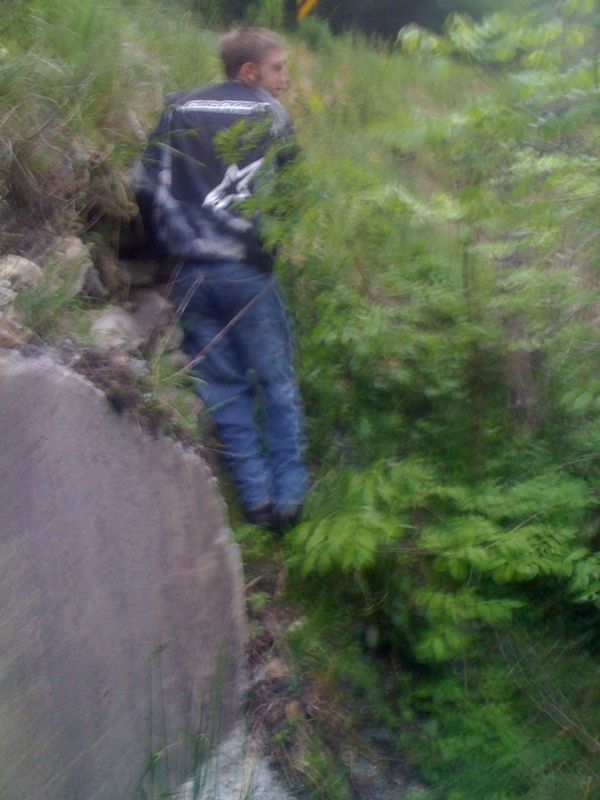 I forgot to reset my trip odo this weekend so no odometer shot, but all in all we ended up doing about 530 miles for the weekend. Fun fun times as always =). Did I mention I absolutely love where I live?? heheh
---
-Jared
Black/Red '04 CBR 600 F4i - 238,500 miles and still kicking
Black '89 Accord LX-i sedan - 427,300 miles still running strong
States visited on my F4i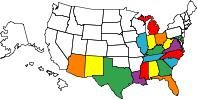 facebook.com/thirdgenlxi
Tirone Choolaces
Join Date: Aug 2007
Location: USA
Posts: 11,122
Rep Power:
1
Awesome! Getting tired of it? Hell no! This is what it's all about, getting out and riding. Great pics and vid. Thanks for taking the time to post it.
---
cool man, F4i looks great, really makes me miss mine... 01 white/red
---
14 Ducati Monster 1200, termi's
07 VFR Anniversary Edition-SOLD
02 919-SOLD
01 CBR F4i-SOLD
02 CBR F4i-SOLD
92 Kawi EX 500-SOLD
Hey! I rode NC88 this weekend too! We took US 58 out of Galax into Tennesee, then down 91/421 to 88, wound back to the parkway, then back to Galax... great ride. Here is the route:
Galax-Fries-Mountain City-BRP - Google Maps
---
Don't stop now, you're giving me so many ideas for places to ride when I'm there next week!

Thanks for sharing all these great pics/vids!
---
Erik
2005 Honda 919
I've got a lot of places to see!
(on the bike) :-)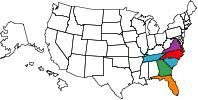 Posting Rules

You may post new threads

You may post replies

You may not post attachments

You may not edit your posts

---

HTML code is Off

---