MT 01 - Simply Amazing
---
Here I found a great picture of a modified MT 01. I have always had a thing for this Yamaha but this is something else. Chasis and the front side including the brakes are from R1.
I couldn't find any detailed info about the engine power of this bike...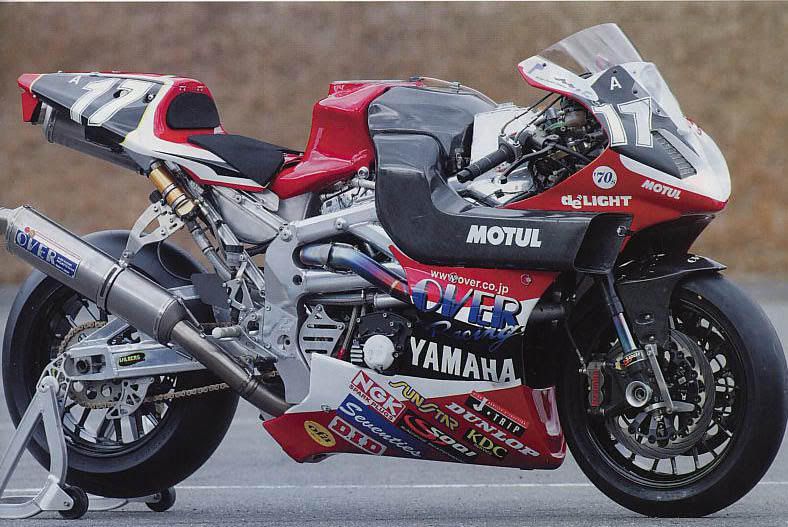 ---
Fool in the Rain
Join Date: Feb 2006
Location: Louisville, Kentucky
Posts: 10,285
Rep Power:
1
That's a wild machine.
---
"Towards the end of the vid, it looks like she may have had a bafflectomy." - MarylandMike
(Quintus) Pilus Prior
Join Date: Dec 2007
Location: San Antonio, TX
Posts: 2,776
Rep Power:
1
---
if you love your motorcycle, set it free.. if it comes back and hits you.. you highsided
Gets censored
Join Date: Jun 2009
Location: FL
Posts: 1,839
Rep Power:
1
the chain is on the wrong side...
---
Quote:

"Power 66.3 kW (88.9 hp) @ 4,750 rpm
Torque 150.3 N·m (110.9 lb·ft) @ 3,750 rpm"
Just guessing that that particular one puts a bit more power to the ground.....
---
"In my opinion, the M1 rifle is the greatest battle implement ever devised."
General George S. Patton
Over.co.jp makes some cool sh*t.
You should have seen some of the srx600's they put out.


MT01
Engin: Aircoold V-Twin OHV
Borex Stroke: 97.0X113mm
Capasity: 1670cc
Compretion: 10.5:1
EFI: Modifide ECU
Start: Moter
Max Power: 110ps/5500rpm
Max Toroqe: 16.0kgm/5000rpm
Gear Box: 5 Speed Standard
Resio: 2.375/1.579/1.160/0.935/0.800
Frame: OVER oval Aloy Frame
Swing Arme: OVER Aloy Original
Lengh: 2146mm
Wide: 580mm
Hight: 1130mm
Wheel base: 1517mm
Seat Hight: 846mm
Head angle/Trail: 24°/110mm
Tiresize: F:125/80R420-16.5 R:195/65R420-16.5
Dry Weight: 215kg
Fueltank capasity: 20liter
---
Posting Rules

You may post new threads

You may post replies

You may not post attachments

You may not edit your posts

---

HTML code is Off

---