Final Round Sept. 29th-Oct. 1st
---
Anyone else gonna be there???

Angela and I will be of course. FX is about the only title to be decided. It should be the best race of the weekend. Although the Heat races should be cool since it is a different format.
---
Well after a nice but cool Friday the rain came on Saturday and no real on track action. No fear there was plenty of drinking and hangong at the track. I met a group of guys from MI that do lots of track days through a mutual friend. We all camped and had a great time.

Great racing Sunday and finally got to see Josh lock up the championship!!!!

Tons of on track action even with the riders protest and tons of crazy schedule changes.

Pablo had a great time and Angela will follow on his section with pictures. Fun weekend at the track. Nice little get together at the track afterwards that I provided music for. Not sure how many pics and stories can be shared in order to protect the innocent.
---
Bitten
Join Date: Jan 2006
Location: Virginia Beach
Posts: 5,451
Rep Power:
1
Haha! Wish I were there, but I had a good alternative.
Join Date: Jan 2006
Posts: 607
Rep Power:
0
Well, the weekend was fun even though Saturday was a complete bust as far as motorcycles on the track went. I'll let Nathan do the write up on it, he's better at it than me. I can just say it was a great weekend over all and Josh winning the FX championship was AMAZING!!!!! So happy for him, he kicked ass this season. Bittersweet for E-Boz, if not for that 22nd place earlier in the year it was his championship. Oh well, that's racing. Here's some pics from the weekend.
Tommy and Ben at the end of the Superbike race
Neil doing a burnout after the Superbike race
Mat and Ben congratulating each other
---
Join Date: Jan 2006
Posts: 607
Rep Power:
0
DiSalvo
Eslick
Gobert (the No-Show)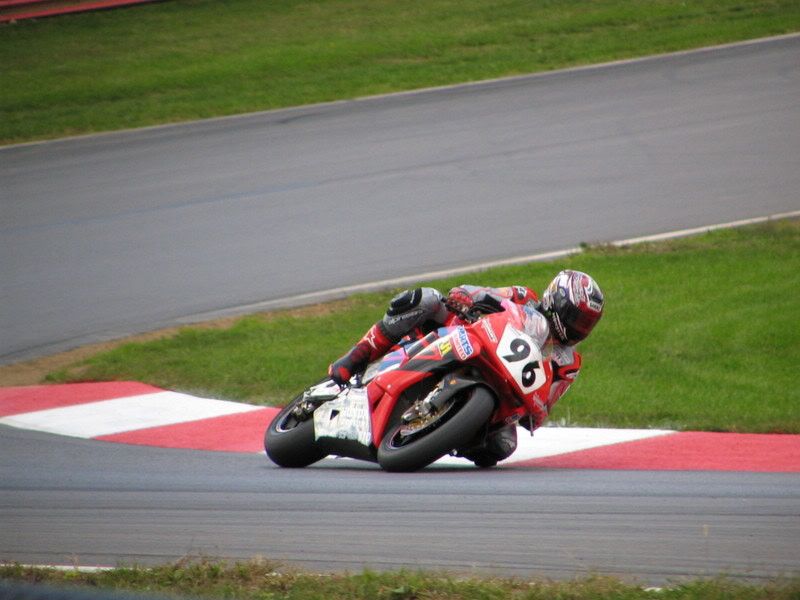 Joshua Kurt Hayes
---
Join Date: Jan 2006
Posts: 607
Rep Power:
0
No idea what was going on here, but I don't think these people quite drinking all weekend!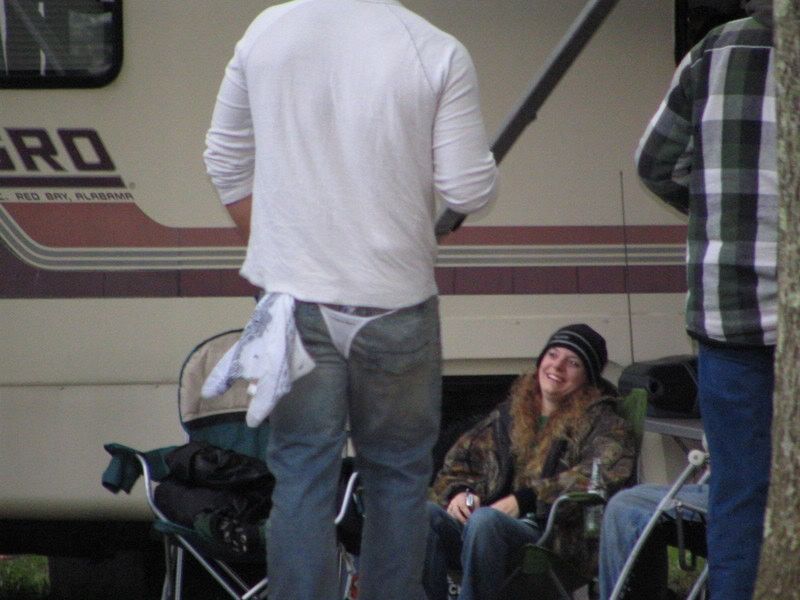 ---
Join Date: Jan 2006
Posts: 3,705
Rep Power:
0
Did Someone Bleach Moto's Yellow Thong?!
---
Join Date: Jan 2006
Posts: 607
Rep Power:
0
The year end party was a lot of fun even though most of the riders didn't attend. Here's a few pics from there.
Me with the 2006 Formula Extreme Champion Josh!
Nathan with Miguel and Linnea (it's all Nathan's fault. ;-))
Nathan with Jessica Zalusky, she was drinking a bit!
Me with Hodgson. He was diluting the margarita's with the beer. haha Gotta love the Bostrom sticker he's wearing. Ben was wearing a Neil sticker on his hat, but I didn't take a picture.
Dave
I asked him to say unbelievable and he did! It was hilarioius. Nathan and I were thinking of you.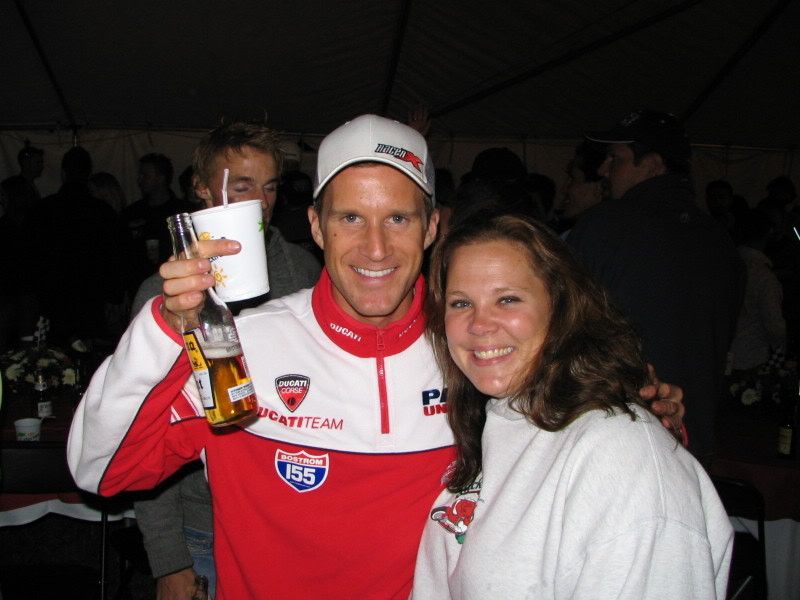 ---
SWEET PICS..... looks like a fun time!

Thanks for sharing!
---
I LOVE Tig Bitties!
Jealous is an understatment. Would have loved to had a beer with Hodgson. Looks like he forget it was gonna be a little chillier than SoCal this time of year.

He's sporting the 155 fleece, hahaha. Who ever that goober is!
---
Quote:
Dave
I asked him to say unbelievable and he did! It was hilarioius. Nathan and I were thinking of you.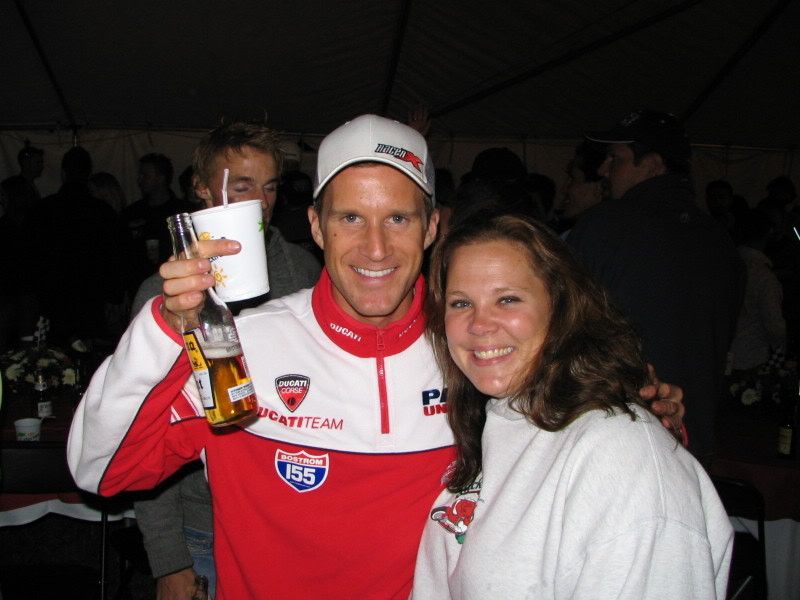 too funny! "Its Unbelievable...!" (Inside joke from VIR this year)
---
-Dave


"I live my life in a confused haze only to be interrupted by moments of brilliance..."


It was a great time. After we got Neil to say "Unbeleivable" he made Angela say it than tried to mimic her Mid-West/Canadian sounding accent she has.

Great guy to talk to and very down to earth. he was talking with anyone and said he would love to stay in the States and race.

I felt bad for the riders, crew and track people Saturday. It rained and then they dried the track. few bikes went out and it rained again. Dried the track again and bikes came back out for just the rain to start. The day was then called.

Riders, crew and everyone hung out in the cold all day signing and just talking to people. It was nice to get to talk to some of our crew friends for a change without them being so rushed.

I also got a nice souvenir clip on. Buckmaster destroyed the ladder the flag man uses when his bikes went nose first in to that and the wall. A guy I know from Attack threw it at me but it actually held up fine.

Desoite the bad weather it was a good time and we met some great guys from MI. I tend to drink a bit more when there are no bikes to watch just sitting at the track.

I also have to say the amateur racers were so excited to get a shot to ride in front of the crowd. Great group of guys who had a great race.

All the riders are looking forward to next year and testing starts soon. just want to see who lands where. I have my theories.
---
Great pics and write up Nate and Angela!

I have a friend that went out there with AMA racer #19 Jason Curtis,
Jason Finished 12th in the race and 13th in the season point standings
he's the highest ranked privateer!
---
Posting Rules

You may post new threads

You may post replies

You may not post attachments

You may not edit your posts

---

HTML code is Off

---